Nu Eta Chapter of Omega Psi Phi Fraternity, Inc., Presents President Bennett with Custom Commencement Stole
Wed, 03/24/2021 - 03:21pm | By: Jim Coll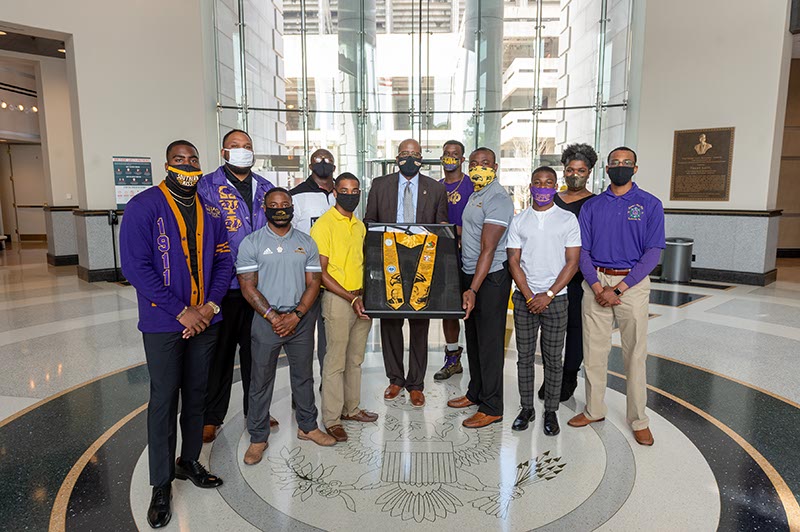 The Nu Eta Chapter of Omega Psi Phi Fraternity, Inc., has presented Rodney D. Bennett, president of The University of Southern Mississippi, with a custom Commencement stole in honor of Bennett's achievement as the first African-American president of the University.
Omega Psi Phi was chartered at the University in 1975. Bennett has served as the University's 10th president since April 1, 2013.
The custom stole features images of Bennett, Martin Luther King, Jr., former President Barack Obama, and the Southern Miss eagle logo, among other markings. Interim Assistant Director for Fraternity/Sorority Life Valencia Walls joined current Omega Psi Phi members in making the presentation.
Under Bennett's leadership, USM earned the Carnegie Classification of Institutions of Higher Education's "R1: Doctoral Universities – Very high research activity" designation in 2019, and its robust research enterprise includes experts in ocean science and engineering, polymer science and engineering, and large event venue safety and security, among others. USM is also one of only 37 institutions in the nation accredited in theatre, art and design, dance and music. As an economic driver, USM generates an annual economic impact of more than $600 million across the state. Today, USM welcomes a diverse student body of more than 14,000, representing 71 countries, all 50 states, and every county in Mississippi.