USM Nursing, Hattiesburg Clinic Partner to Distribute COVID-19 Vaccines
Thu, 04/15/2021 - 16:22pm | By: Margaret Ann Macloud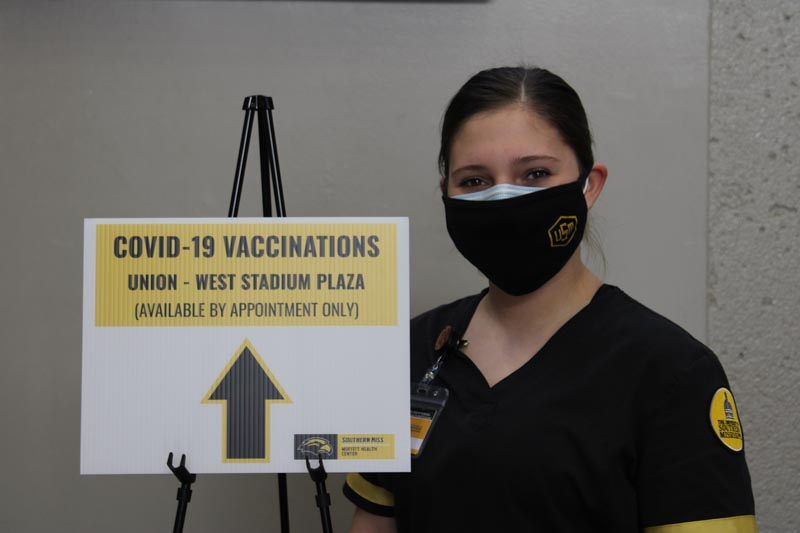 Nursing student Kayla Pate (BSN '21) assisted with vaccine distribution at USM and Hattiesburg Clinic.
When Hattiesburg Clinic was given 48 hours to put a vaccine distribution plan in place in January, Jamey Davion, the clinic's Director of Value-Based Care, and a 2005 University of Southern Mississippi (USM) nursing alumnus, knew they were going to have to call in outside assistance.
"When we were informed that we were getting shipments of the COVID-19 vaccine through our partnership with Forrest General Hospital, we realized that with the demand, we may be overwhelmed," Davion recalled. "The question was, how do we operationalize this mass vaccination effort when we have a limited supply of staff?"
Insert USM's College of Nursing and Health Professions. Hattiesburg Clinic leadership reached out to the University about getting senior-level nursing students to help administer vaccines, both at Hattiesburg Clinic's main location and during vaccination weekends at the C.E. Roy Community Center in Hattiesburg.
"It was out of necessity," Davion said of calling on nursing students. "We knew this was, hopefully, a once-in-a-lifetime opportunity."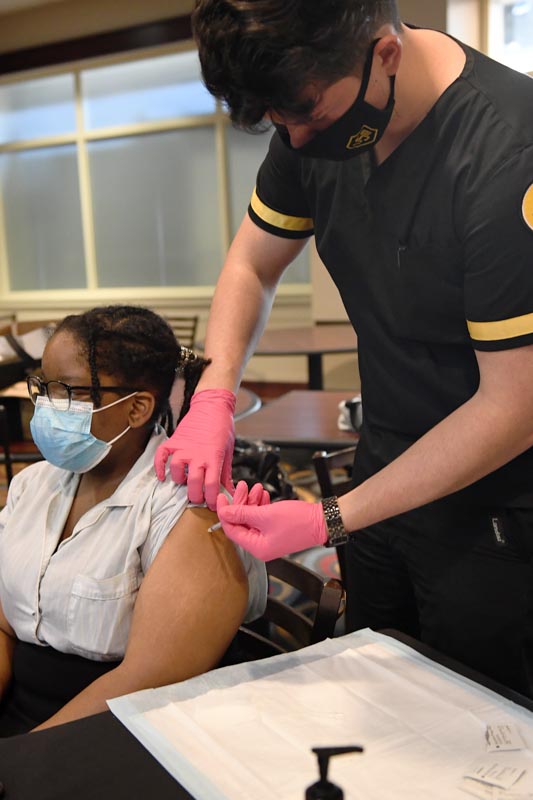 USM nursing seniors Kayla Pate and Brandon Cloud were two of those chosen to volunteer. Their senior year has been full of online learning and adjusted clinical opportunities to comply with safety measures, so getting this hands-on experience was an opportunity of which they both took advantage.
"Giving the vaccines has probably been the most I've felt that I helped in the community during my time in the nursing program," Cloud said. "The whole reason I wanted to go into nursing was to help others, and with COVID-19, it's made me want to help even more."
Pate echoed that sentiment. Volunteering during the city's vaccination clinics at C.E. Roy made her realize the value in community health care. Sharing a story about a man who thanked her and the other volunteers for what they were doing, Pate said the magnitude of the moment sunk in.
"We're not just administering vaccines," said Pate. "We're actually helping make a difference in these people's lives."
The clinic utilized up to 20 students at any one time over several weeks of vaccine distributions. USM students were also joined by students from Pearl River Community College and William Carey University. The USM students have continued administering vaccines as they have become available on the USM campus.
"We are proud that our students have been not only a part of history but are contributing in such a meaningful way on the COVID-19 frontlines," said Kim Smith, Assistant Director of USM's School of Professional Nursing Practice. "Community collaborations, such as the vaccination effort with Hattiesburg Clinic, are essential in affording our students a wonderful opportunity to learn, practice vital skills, and to serve our city and community."
Davion noted that what started as a necessity in calling on these students has resulted in an opportunity to expand as community partners to take care of patients. While Hattiesburg Clinic and USM partner in various ways, the clinic knew that by engaging more with the nursing program, nursing students would have a valuable experience in population health initiatives, and it would also give the community a better chance of being vaccinated; thus hopefully finding an end to this pandemic. The timing of the need for this group of students, however, was not random in his eyes.
"Every one of those nursing students was chosen for this moment."