USM Students to Wear Special Pathway Cords during December Commencement
Thu, 12/02/2021 - 10:56am | By: Van Arnold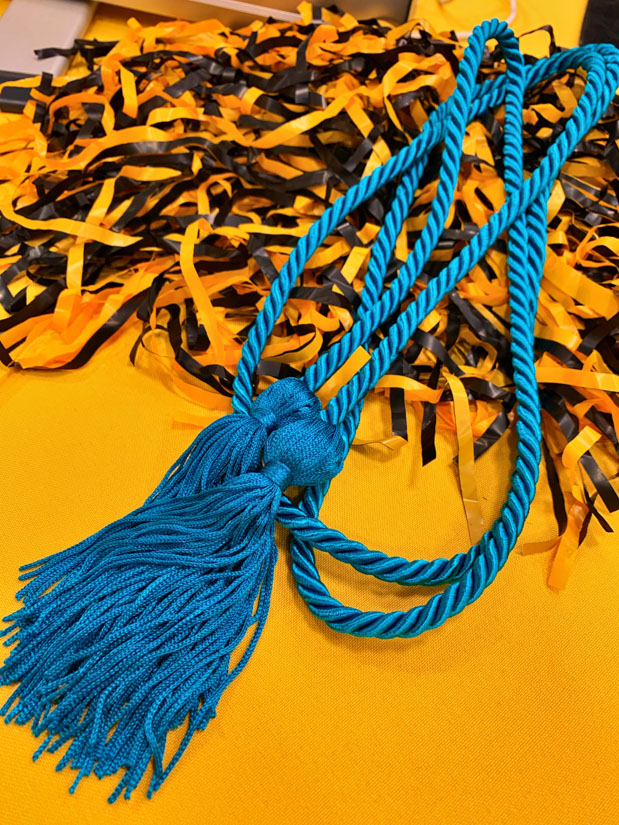 Approximately 350 students at The University of Southern Mississippi (USM) will be wearing special Pathway Graduation Cords as part of their commencement attire during the annual ceremony set for Dec. 9-10 on the Hattiesburg campus.
Students earned the unique recognition by completing a Pathway Experience, then submitting a Pathway Cord Reflection form.
Elyssa Klipsch, Program Director, Center for Pathway Experiences at USM, explains that pathway experiences include:
Internships (on and off campus; paid or unpaid)
Student teaching, clinicals, practicums, externships
Research (scholarly and/or creative)
Entry-level jobs related to field (on or off campus, including part-time jobs or co-ops)
Field work/other activities that provide the student with experience related to their chosen discipline and/or to the student's post-graduation goals
"Having a pathway experience can be instrumental in the development of skills needed to go into the field of interests for our students," said Klipsch. "Along with skill development, students can start building their network and learning what they could be doing in their future. I encourage all students to complete a pathway experience throughout their time at Southern Miss."
Klipsch points out that the mission of the Center for Pathway Experiences is to assist undergraduate students in finding, funding, and finishing pathway experiences that connect to their post-graduation goals.
"It is important for USM to recognize our students who are completing a pathway experience so that we are able to capture and share what our students are doing to become career ready," said Klipsch. "It is important that our students know that they are completing incredible experiences and understand how they can begin connecting what they have learned to future job interviews and beyond."
To learn more about a Pathway Graduation Cord and the Center for Pathway Experiences, contact Klipsch at Elyssa.KlipschFREEMississippi