Quinlan-Hammond Hall of Honor Taking Shape on USM Campus
Thu, 07/08/2021 - 01:05pm | By: Van Arnold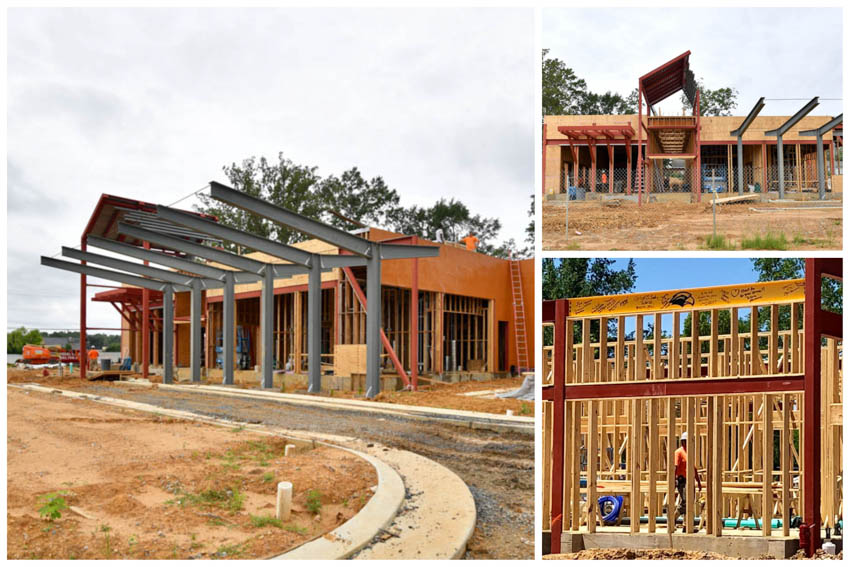 When Maj. Gen. Jeff Hammond outlined his vision for a first-class veterans program at The University of Southern Mississippi (USM), the retired U.S. Army commander was clear-eyed about the challenges involved. He never flinched, or lost faith in a mission that began seven years ago.
Today, USM's Center for Military Veterans, Service Members and Families ranks among the nation's elite, serving more than 1,700 military students. In the very near future, USM's commitment to these patriotic Americans will reach even greater heights with the opening of a new veterans center on the Hattiesburg campus.
Construction is well underway on the Quinlan-Hammond Hall of Honor – a spacious, state-of-the-art facility named after the lead benefactor and USM alumnus Joe Quinlan and the center's founding director Maj. Gen. Jeff Hammond. The 5,500-square-foot center is scheduled for completion by the end of this year.
Hammond, a 1979 USM graduate and former Golden Eagle quarterback, served in the U.S. Army for 32 years. He says that the construction of a new veterans center still feels like a dream.
"Needless to say, that dream is fast becoming a reality and each day starts with a short prayer thanking God for such an incredible blessing," said Hammond. "From the inception of our veterans program, I believed we would eventually find ourselves in a position to construct a veterans center. Such is the mindset of an old army general officer like myself. We tend to operate particularly well at the tactical level, but always think deep strategically with a successful end-state in mind and a remarkable appetite for hard work leading to mission accomplishment."
The Quinlan-Hammond Hall of Honor will include a conference room, study space for small groups or individual work, a lounge and study, as well as other meeting areas and staff office space.
The USM Foundation launched a fund-raising initiative in 2019 to build the new veterans center and an official ground-breaking ceremony was held last November on Veteran's Day. The Quinlan-Hammond Hall of Honor represents the first 100-percent privately funded building initiative through the USM Foundation. Thus far, more than 150 alumni and friends from across the country have donated in excess of $3 million, successfully reaching the fund-raising goal.
"I find myself energized every time I drive by the construction site," said USM Foundation Executive Director Stace Mercier. "Our University project team from the Physical Plant and the crew at Codaray Construction are tremendous partners. It is our communal goal to cut the ribbon and open the doors to our military-students with great fanfare. They have earned this special facility."
USM is nationally recognized as a top military-friendly institution and maintains esteemed designations in other renowned publications. In its "Best for Vets: Colleges 2021 Rankings", the prestigious resource guide Military Times rated USM at No. 3 nationally and No. 1 in the Southeast. Center staff provide guidance and support as student-veterans move through the admission process, on to graduation and career placement.
When the current center opened in 2014, only 300 student-veterans were enrolled at USM. As that number continues to grow, so does Hammond's passion for serving the University's military students in every way imaginable. His vision for the program and new center includes speaking engagements at every opportunity to promote USM's commitment to military-students.
Much like he demonstrated as a first-string quarterback and U.S. Army general, Hammond maintains a "fire in the belly" barometer as the new building takes shape.
"The emotional excitement that comes with any successful program is oftentimes extraordinarily contagious and 'that feeling' is promoted daily by our staff, supporters and most importantly – our student veterans, service members and their families," said Hammond. "Many across the campus community and South Mississippi have embraced our program with their respective support, pride and care for veterans and an appreciation for those who served our military."
Hammond insists that the desire to elevate USM's veterans program and push for a new center occurred organically. He also credits the University's administration for consistently supporting efforts on behalf of military students.
"Our veterans and their families are the ones who elected to enter (at the risk of loss of life) onto the proverbial 'playing field' in support and defense of our Constitution and, as such, deserve our very best," said Hammond. "These wonderful patriots understand service and sacrifice. How could we not step up and create a program to honor their commitment?"
To support the building initiative, visit usmfoundation.com/veterans.