U.S. Secretary of Commerce Raimondo Visits Mississippi Gulf Coast and USM's Marine Research Center
Wed, 06/30/2021 - 14:29pm | By: Jenny Tate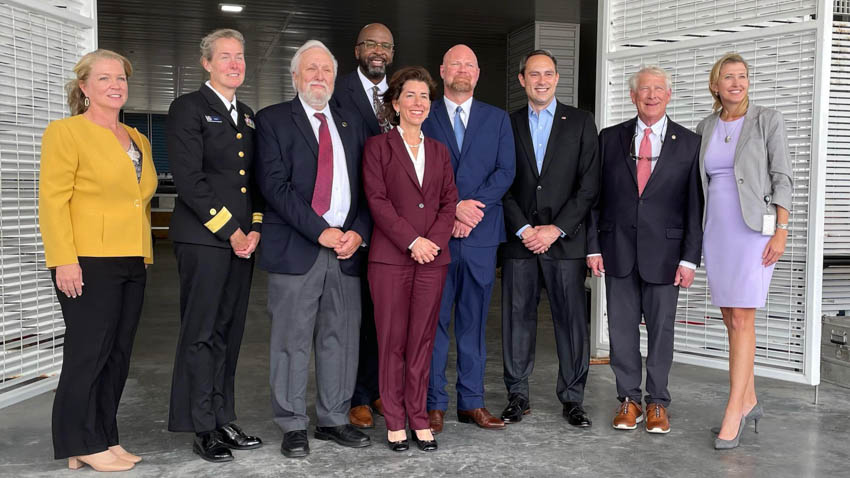 Gina M. Raimondo, U.S. Secretary of Commerce, and U.S. Senator Roger F. Wicker made a scheduled visit to the Mississippi Gulf Coast on Friday, June 25. As part of the trip, Secretary Raimondo and Senator Wicker toured The University of Southern Mississippi's (USM) Marine Research Center at the Mississippi State Port Authority at Gulfport. The visit provided an opportunity for Secretary Raimondo to obtain a first-hand view of the significant progress being made to promote research and job creation through long-term infrastructure investments.
"The University of Southern Mississippi remains committed to growing coastal research and economic development initiatives, in collaboration with our coastal partners, to meet the needs of our communities, our state, and our country," said University President Rodney D. Bennett. "We were honored to share just a sampling of this critical work with Secretary Raimondo and Senator Wicker, and we look forward to continuing to advance our collective coastal partnerships far into the future."
As part of the visit, Dr. Kelly Lucas, USM Associate Vice President for Research, Coastal Operations, shared the University's vision of being a national leader in addressing issues relevant to people in coastal and maritime settings.
"We are honored that Madam Secretary Raimondo chose Mississippi to be the first state she has visited since her appointment. Her encouraging words affirmed that our university's collaborative partnerships are helping shape economic growth," said Lucas.
The U.S. Department of Commerce's National Oceanic and Atmospheric Administration (NOAA) will house its Uncrewed Maritime Operations in Gulfport through a long-term lease with USM. In Fiscal Year 2021, NOAA received $13.7 million from Congress to improve and expand Uncrewed Systems operations across the agency, including the creation of the Office of Marine and Aviation Operations (OMAO) Uncrewed Systems Operations Center — a key goal of NOAA's Uncrewed Systems Strategy.
Rear Adm. Nancy A. Hann, deputy director for operations for NOAA's OMAO and deputy director of the NOAA Commissioned Officer Corps, briefed the group about how the partnerships will aid in advancements in weather modeling and forecasting.
The University's partnership with and presence at the Mississippi State Port Authority at Gulfport provides federal, state and private entities with access to facilities situated at front door to the Gulf of Mexico, including the Marine Research Center and the future Roger F. Wicker Center for Ocean Enterprise.
"Our collaboration with USM provides us with a unique opportunity to expand the development of our state's blue economy," said Jon Nass, Port of Gulfport Executive Director and CEO. "We are thankful for Senator Wicker's support and the opportunity to showcase the thriving educational and technology growth that is happening in Mississippi with Secretary Raimondo."
The visit also included a demonstration of Ocean Aero's uncrewed maritime vessel as an example of advanced innovations and new practices.
Since the passage of the Commercial Engagement Through Ocean Technology (CENOTE) Act of 2018, authored by U.S. Senator Roger F. Wicker, new strategic partnerships have formed among USM, NOAA, Navy, and private-sector companies to advance innovations supporting commerce related to the blue economy.