Savell Named Entrepreneur of the Year by USM College of Business and Economic Development
Mon, 11/08/2021 - 02:03pm | By: Van Arnold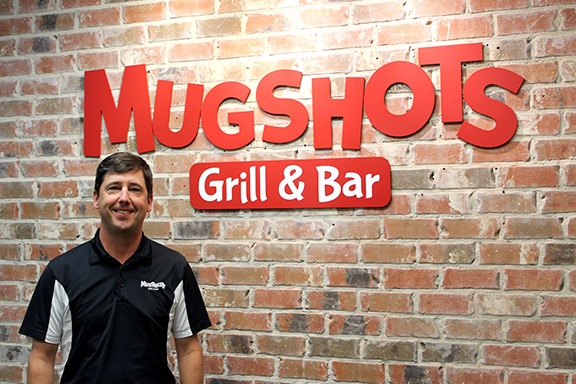 Successful restaurateur Ron Savell has been selected as the 2021 Boardman Distinguished Entrepreneur of the Year by the College of Business and Economic Development at The University of Southern Mississippi (USM).
Savell, a 2002 graduate of USM, is the owner and founder of Mugshots Grill and Bar and Patio 44. He will be recognized during the University's annual Golden Idea Pitch Competition on Thursday, Nov. 11, from 5:30 p.m. until 7:30 p.m. at Scianna Hall on the Hattiesburg campus.
"We are so happy to honor Ron as CBED's 2021 Entrepreneur of the Year. Ron is not only a worthy recipient because of his successful business endeavors, but he is a great example of a successful entrepreneur that gives back to his community and university in order to make them better. He epitomizes the qualities we look for in this award and we are proud to celebrate Ron's success and contributions," said Dr. Bret Becton, Dean of USM's College of Business and Economic Development.
Savell has made a tremendous impact on the city of Hattiesburg since he began calling it home more than 25 years ago. With close to 18 years of invaluable restaurant ownership experience, he has been able to expand his once small investment in a Hattiesburg dive bar into 23 successful restaurant locations.
"I'm honored and thrilled to receive the Entrepreneur of the Year award from Southern Miss," said Savell. "While it certainly takes an army to run my company, I proudly accept this award on behalf of my family and all of our wonderful employees."
Savell grew up in the restaurant industry as his parents owned and operated a Sonic Drive-In in Natchez, Miss. His love for the industry continued into college while he worked as a bartender to put himself through school. Shortly after completing his degree at USM, Savell decided to purchase a local bar named "Mugshots" in January of 2004.
He kept the name and transformed the business model, making it Mugshots Grill and Bar. Years later, Mugshots has expanded to 20 locations in four states, several of which are now franchised. Savell later founded Patio 44 in 2013, which now has three locations in the state, including Hattiesburg.
In addition to his impact on the restaurant industry, Savell has also generously contributed his resources and time to support local nonprofit initiatives, including the American Heart Association, Homes of Hope in Purvis, and Abbie Rogers Civitan Camp. He also served on the USM's Athletic Foundation Board of Directors for 12 years and currently serves as a Benedict Day School board member.
Savell was among a select few chosen by the Mississippi Business Journal as the Top Entrepreneurs in Mississippi for 2018 and served as Partner of the Year for the 2016 Passions of the Palette, hosted by the Hospitality and Tourism Management program at USM. Additionally, he was awarded the 2015 Citizenship Award by the local Civitan camp.
He and his wife, Caitlin, have been married for 12 years and have four children: Hailey, Emma, Meg, and Duncan.
The Entrepreneur of the Year event is sponsored by the late Joseph Boardman Jr., a 1953 graduate of Southern Miss, who majored in marketing. A past president of the Southern Miss Alumni Association and former member of the USM Foundation Board, Boardman also served 18 years on the Harrison County Development Commission.