Chi Omega to host 70th annual Songfest Nov. 16 at Reed Green Coliseum
Fri, 10/15/2021 - 16:32pm | By: David Tisdale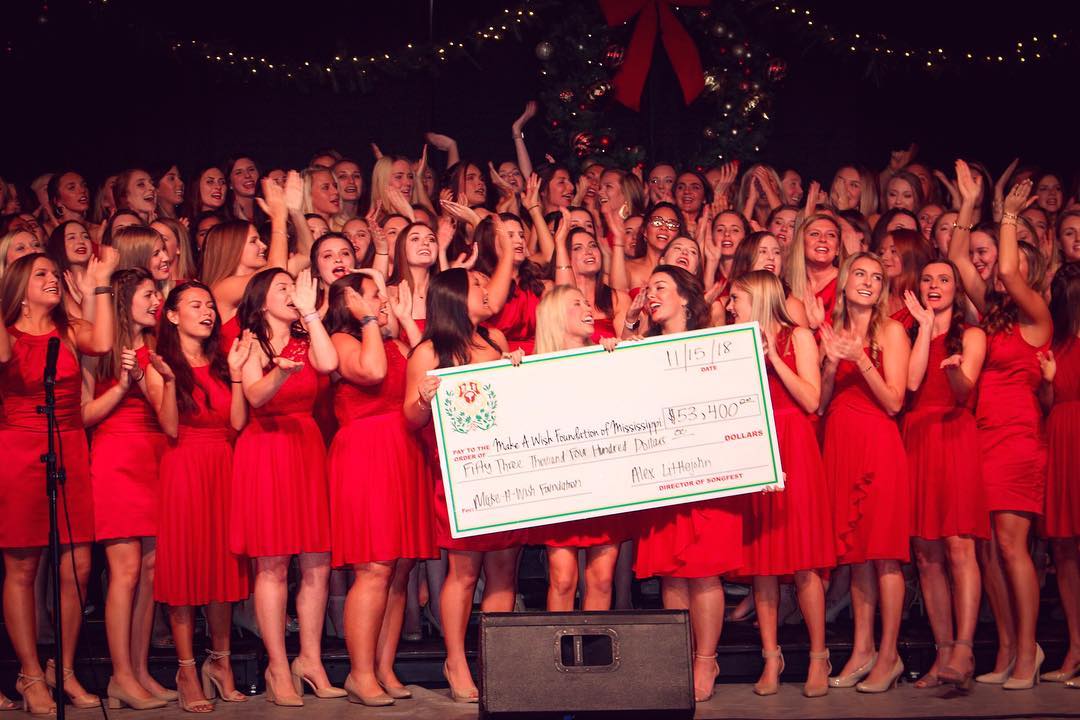 An annual holiday tradition spanning seven decades returns to The University of Southern Mississippi (USM) Hattiesburg campus when its Epsilon Delta Chapter of Chi Omega Sorority hosts Songfest Tuesday, Nov. 16 at 6:30 p.m. at Reed Green Coliseum. Admission is free, but donations in support of the event's benefitting charity, Make-A-Wish Mississippi, are welcomed.
Now in its 70th year, Songfest features holiday-themed musical performances, including those by USM's Fraternity and Sorority chapters, along with a silent auction to support Make-A-Wish Mississippi's mission to grant wishes to children with terminal or life-threatening illnesses.
"Songfest contributes to our year-long efforts of making connections with these children, by allowing us to provide them with entertainment and the support and encouragement they need to further ease any hardships," said USM Chi Omega President Raven Harris, a junior nursing major from Gulfport, Mississippi. "It truly is a joy to see how much this event allows the children and their families to take a break from stressing about their diagnosis or treatment."
Chi Omega Songfest Director Kragen Lewis, a junior from Moselle, Mississippi, said that due to COVID-19, the sorority was unable to have a traditional Songfest in the last school year, but is thrilled to be back in person in Reed Green Coliseum for the 2021 event.
"In 2019, we raised approximately $68,000 to donate to Make-A-Wish, which granted about nine wishes, as it costs about $7,000 to grant a wish," Lewis noted. "This year's goal is to raise as much money as possible for this organization, and to hopefully grant one additional wish more than the last event."
USM alumna Laura Laughlin, director of the university's orientation and transition programs, has served as the programming advisor for Chi Omega since 2016; she joined the chapter as an undergraduate in 2006.
"Songfest is a beloved, decades-old USM tradition that ushers in the holiday season on campus and in Hattiesburg," Laughlin said. "One of the most special parts of the event is getting to meet Make-A-Wish children and watch them enjoy the performances while being the stars of the night."
Laughlin further noted that it has been a pleasure assisting the sorority's student leaders in planning the 2021 Songfest.

"They are working so hard to make sure the event lives up to its potential, and that the chapter is able to raise funds for Make-A-Wish," she said. "The excitement and spirit on campus this fall has been palpable because so many people are craving a sense of normalcy because of the pandemic, and in the wake of what has been a difficult two years, the joy and spirit that Songfest brings will be so welcome."
Longtime USM Chi Omega chapter advisor Ginny Graham concurs with Laughlin, noting that the event is "especially near and dear to my heart because of what a long-standing tradition it is."
"Generations of students have been able to participate in this event with memories to cherish as they finish their collegiate careers at Southern Miss," Graham continued. "I love the fact that this event has evolved over the years to reflect today's trends yet has still held fast to some of the original traditions, including Chi Omega's singing of 'O Come All Ye Faithful' by candlelight, and walking down the coliseum steps in pairs and forming the X and horseshoe as they make their way to the risers to perform."
For more information about Songfest 2021, including how to support the event and Make-A-Wish Mississippi, contact Kragen Lewis at kragen.lewisFREEMississippi.