USM Social Work Students Bring Joy to Nursing Home Residents During Pandemic
Wed, 04/14/2021 - 14:14pm | By: Karelia Pitts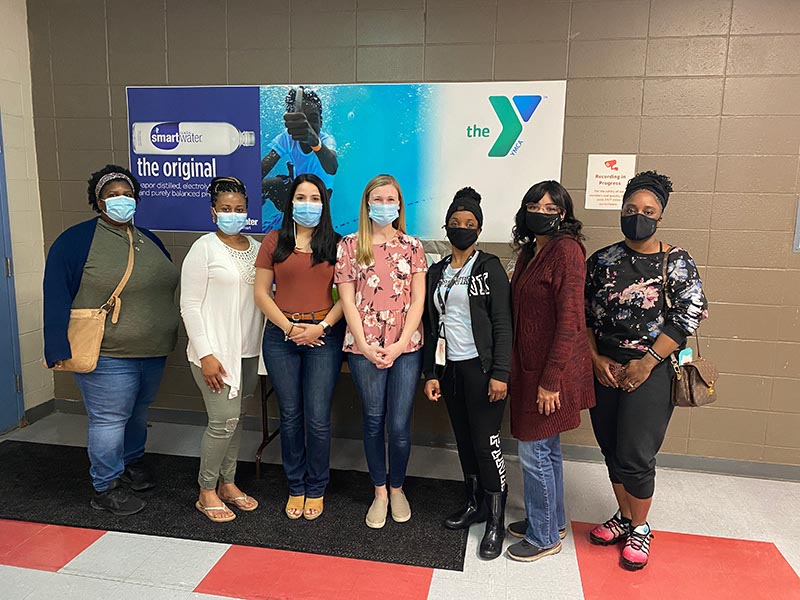 USM MSW students (second from the left) Samantha Brown, Angela Mata and Karla Danner with the mothers of Pine Burr Area Council Boy Scouts who donated multiple care packages to the Waking Joy Project
When many agencies with a longstanding history of hosting interns from The University of Southern Mississippi (USM) School of Social Work had to decline student involvement because of COVID-19 safety concerns, instructor Karen Aderer, LMSW encouraged her students to get creative with their field experiences.
Master of Social Work graduate students Samantha Brown, Karla Danner, Angela Mata and Christina Powell stepped up to the challenge and created the Waking Joy Project to safely assist local nursing home residents and bring them mirth, joy and connection during trying times.
Through a combination of classroom teaching and field work experiences, students in the School of Social Work are trained to address complex, multidimensional problems in virtually any social context. With one of their central goals being advocacy for the health and well-being of all people, Aderer and her students shared a concern for elderly adults in nursing homes. They were sensitive to the reality that many residents have experienced isolation and loneliness during the COVID-19 pandemic as a result of long-term care facilities going into lockdown.
"Our older population has suffered greatly during this pandemic," said Danner. "I'm extremely grateful that so many wonderful people came together and helped make a small difference in the lives of nursing home residents through the Waking Joy Project. It is so important that these members of our community know they have not been forgotten."
After completing a needs assessment for Bedford Care Center in Hattiesburg, Miss., the Waking Joy Project team determined a pen pal program would work well to connect residents with members of the Southern Miss and Pine Belt communities. Participants were paired with residents and agreed to send one care package and as many cards or postcards as they desired.
With assistance from social workers employed at the nursing home, they identified individual resident needs, snack and color preferences, hobbies and interests to customize the care packages. Thirty residents received the added bonus of bright and cheery works of art donated by local artists.
"During this project, I've thought about my own grandparents and how much I would appreciate someone doing this for them if they didn't have anyone to show them love and appreciation," said Mata. "This project has been so rewarding, and I'm glad we've been able to remind these nursing home residents that they are worthy and so loved."
To date, the Waking Joy Nursing Home Project has served 155 residents in Bedford Care Center of Hattiesburg and Memorial Driftwood Nursing Center of Gulfport, Miss. Partnerships with Pine Belt Boy Scout troops have increased their impact and sparked conversations about expanding the project to include other facilities in the area.
Members of the Pine Burr Area Council Boy Scout troop gathered at The Family YMCA in Hattiesburg for swimming lessons and delivering care packages they collected for the Waking Joy Project
"I could not be more proud of the hard work these students have put into this project and the care and compassion they have shown this vulnerable population," said Aderer. "We have all seen how social isolation has impacted us during the pandemic. Imagine being an older adult in a nursing home who cannot have visitors, attend group gatherings, leave their room or even see anyone besides a few staff members throughout the day. Our hope was that this project might bring a smile and a moment of social connection to residents. It's gratifying to see our collective efforts have achieved that and more."
Although their goal was to bring joy to others, the participants have also experienced a great deal of happiness in the process.
Brown said, "Although we may not hear from the residents again, I'm delighted to know we were able to put smiles on their faces. From the planning phase to shopping for items for the care packages to finally delivering all of the gifts we collected, I have loved every step of the process."
"While working with these wonderful individuals, I have gained a deeper appreciation for how wise, humorous and resilient these older adults are," Powell said. "The Waking Joy Project has been the single most rewarding experience of my college career!"
To learn more or get involved with the Waking Joy Project, contact the USM School of Social Work at 601-266-4163 or karen.adererFREEMississippi. For information about the School, visit usm.edu/social-work. For information about the College of Education and Human Sciences, which houses the School of Social Work, visit usm.edu/education-human-sciences.