USM's Children's Center Hosts Surprise Room Naming Ceremony
Wed, 05/12/2021 - 08:44pm | By: Courtney Tesh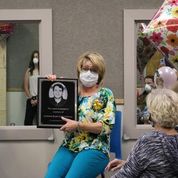 Mother's Day can be a wonderful opportunity to celebrate, honor, and remember the moms and the like-moms in our lives. But for many, the feelings of joy and celebration are accompanied with grief, loss, and sadness. And somehow, when the world seems to be celebrating, it can make the grief that much more noticeable.
Jean Lincoln knew this feeling all too well as her son, Matt, passed away in 1998 at the age of 20. Knowing this, Jean's family and friends were determined to surround her with love and support by dedicating a room at The Children's Center for Communication and Development at USM in Matt's name.
"This gift has been a blessing in so many ways," said Kristy Gould, who says Jean is like a mother to her. "Not only was it a joy to be in the moment and celebrate Matt while providing a tangible gift to Jean, we are also helping these families be able to watch their children play, learn and grow. It was just as much a gift for us and something we will continue to cherish."
The 'Wiggle Room,' as it is affectionately called, will forever be known as the Matthew Bryan Guice Freeman Room. The contributions made to the Center in naming this room will help ensure that babies and children with complex disabilities will receive the therapy they need at no cost to their families.
Jean's husband, siblings, and the Gould family surprised Jean on Mother's Day with this gift, thereby adding another happy memory for her to recall on this day for years to come. The family agreed that they couldn't think of a better way to honor Matt's memory and to celebrate the lives he touched. His legacy now lives on through the lives changed at The Children's Center. "Matt was loved, so much. And we hope we can extend this feeling to these families," said Gould
"We were so honored to be present to witness such a beautiful exchange," said Sarah Myers, Director at The Children's Center. "And we are beyond grateful for the generosity of these families. The support provided through the naming of this room will help us continue providing life-changing services to our families at no cost. Words can't express
the value of this gift. We are so proud to have Matthew's name on this room, and to help honor his life and his legacy in this way."
---
About The Children's Center for Communication and Development
The Children's Center for Communication and Development at The University of Southern Mississippi is a non-profit that provides cost-free communicative and developmental transdisciplinary services to infants, toddlers, and preschoolers while educating, training and supporting families, university students and professionals. For more information, visit www.usm.edu/childrenscenter or www.facebook.com/thechildrenscenterusm