USM Rolling Out the Gold Carpet for Golden Eagle Welcome Week Aug. 14-22
Wed, 08/11/2021 - 10:30am | By: David Tisdale

Incoming freshmen, transfer and international students will get a taste of Southern Hospitality – University of Southern Mississippi (USM) style – during Golden Eagle Welcome Week (GEWW) Aug. 14-22 on the Hattiesburg campus, incorporating the theme "Back in Black and Gold."
New students at the University will have multiple opportunities through GEWW programming to get to know all about USM and the Hattiesburg community as they move into their residence halls and settle into campus life. Academic and student activity information sessions, talent and magic shows, a live music event in historic downtown Hattiesburg, and a longtime popular tradition now in its 24th year, the Painting of Eagle Walk at M.M. Roberts Stadium as well as Friday Night at Spirit Park, are among the plethora of activities scheduled.
"It's more important than ever that we offer opportunities for new students to feel connected," said Laura Laughlin, USM's director of Orientation and Transition Programs. "We want our incoming students to experience all of the fun and tradition associated with being a Golden Eagle. During GEWW, new students will participate in dozens of exciting events throughout the week, including the first two official University traditions, the Painting of the Eagle Walk and Friday Night at Spirit Park.
"Students will create bonds with other new students, student leaders on campus, and will be sure to get all of their final questions answered before the semester begins during this exciting time. We're thrilled to be Back in Black and Gold this fall."
Highlights of the week include:
Saturday/Sunday, August 14-15, 7:30 -11:30 a.m., USM Residence Halls - New Golden Eagles will be moving to campus and into their respective Residence Halls; as they move in, they will have the opportunity to check-in for Golden Eagle Welcome Week, hear from Moffitt Health Center about vaccination opportunities, and visit with Center for Student Success staff members.
Sunday, August 15, 6:30 p.m., Reed Green Coliseum: Curtis Zimmerman: Life at Performance Level. This nationally recognized keynote speaker will inspire new USM students as they begin their journey at Southern Miss. Zimmerman's message centers around an empowering metaphor: Your life is a show, and you are the star. You are challenged to Be the Director, Write Your Script, Define Your Character, Cast Your Show Wisely, and Be the Star of Your Life.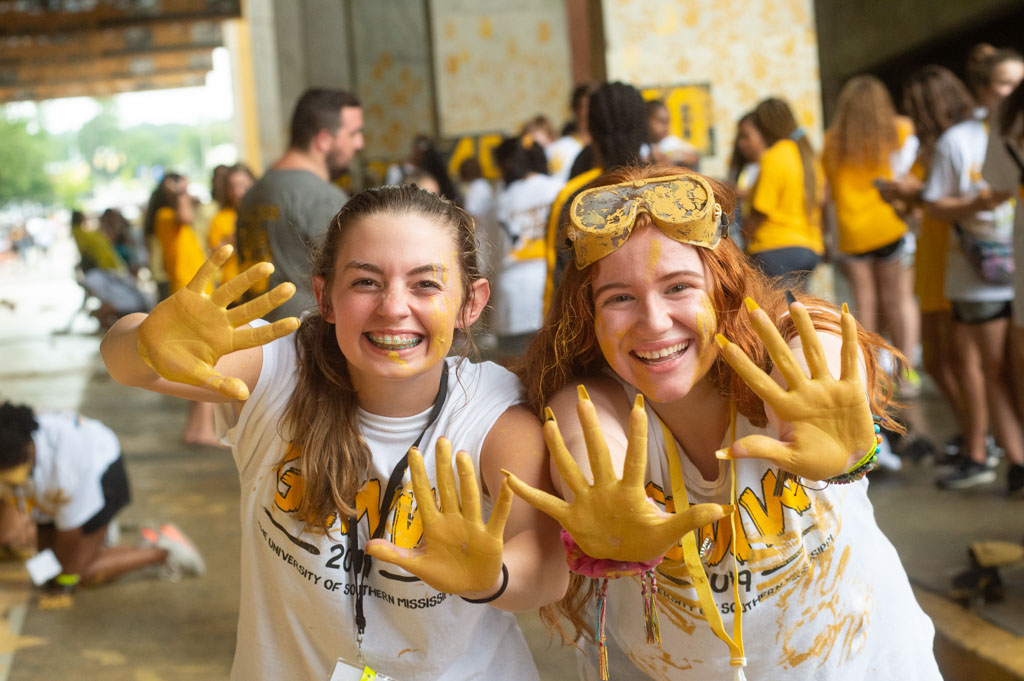 Tuesday, August 17, 3-5:30 p.m. - Painting of the Eagle Walk at M.M. Roberts Football Stadium (east stands thoroughfare). Join in the celebration of a 24-year tradition, the "Painting of the Eagle Walk." Students will meet in designated small groups at the Eagle Walk during one of three waves to leave their mark on Southern Miss. Music will pace the fun and Kona Ice will be available for participants. This event is hosted by the Southern Miss Alumni Association and Student Alumni Association.
Friday, August 20, 11:30 a.m. - Closing Ceremony, Reed Green Coliseum. Incoming students, along with USM Orientation and Transition Program staff, will meet to reflect on the past week together and prepare for the new academic year. Hattiesburg Mayor Toby Barker, a USM alumnus, will be on hand to welcome new students to both the Golden Eagle family and the Hattiesburg community.
Service with United Way – Saturday, August 21, at various locations throughout Hattiesburg. Students will have the opportunity to serve the greater Hattiesburg community alongside the Office of Inclusion and Multicultural Engagement and United Way. This year students will be transported to service project sites that include the Edwards St. Thrift Sore, The Arc, Neighbors at Hawkins, Mississippi Inland Cleanup, Piney Woods Conservation & Pinebelt Blueways, Southern Pines Animal Shelter, and The Family YMCA.
Saturday, August 21 - Home Sweet Hattiesburg. Incoming students are not only joining the Southern Miss community, but also the Hattiesburg community. As the newest 'Hattiesburgers,' they will be encouraged to go off campus Saturday, August 21 and explore their new home. Transportation will be made available for students to take them to the Hattiesburg Zoo, the Pocket Museum, the African American Military History Museum, and many more locations, culminating in a music event that evening at Town Square Park, "Southern Miss SummerTunes."
To access the full GEWW schedule, visit GEWW: Events Calendar (modolabs.net); additional information on GEWW is also available at Golden Eagle Welcome Week | Orientation and Transition Programs | The University of Southern Mississippi (usm.edu).