The NCS4 National Intercollegiate Athletics Safety and Security Forum to be held Jan. 17-18, 2023
Wed, 12/14/2022 - 09:15am | By: NCS4 Staff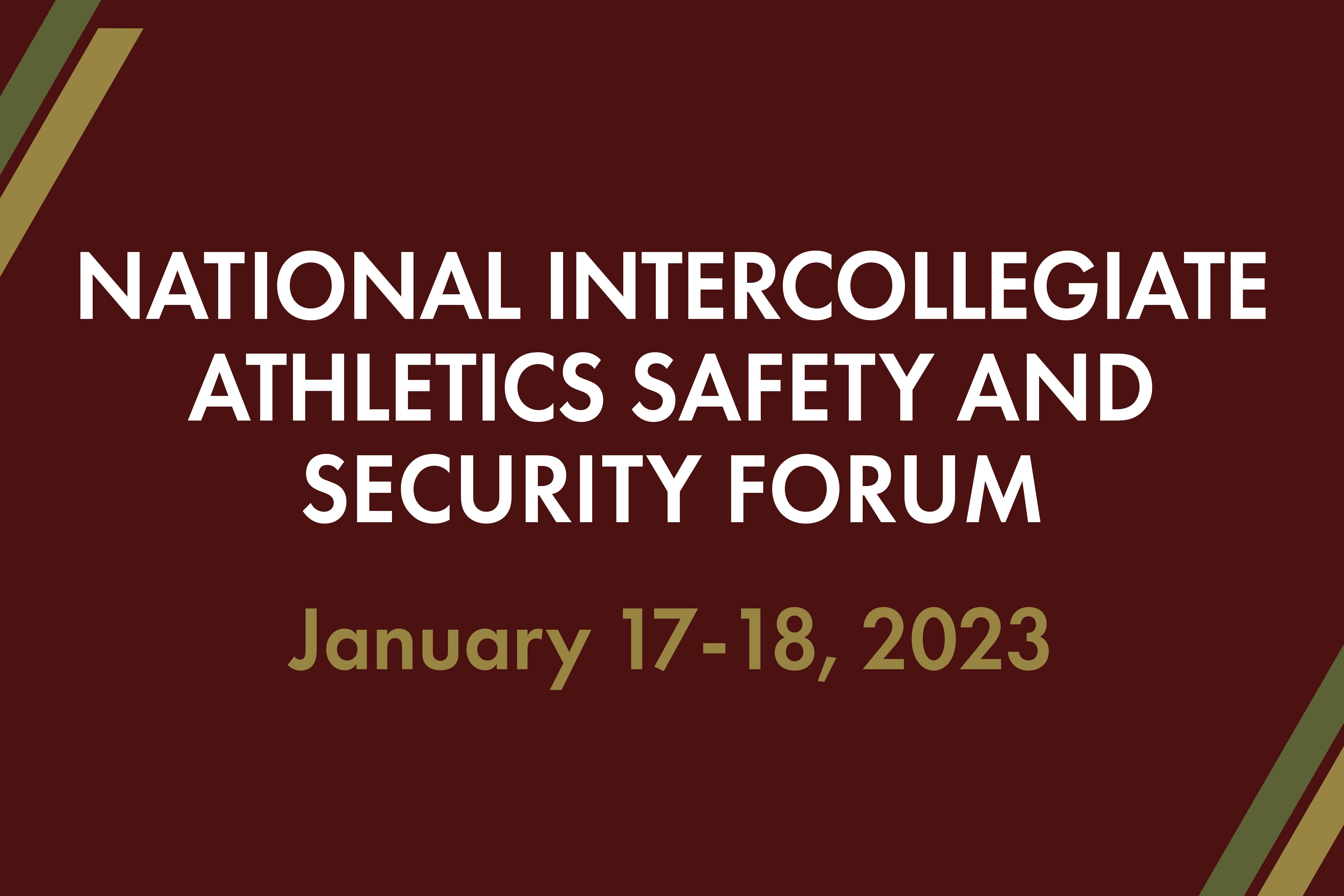 The National Center for Spectator Sports Safety and Security (NCS⁴) at The University of Southern Mississippi (USM) will host its 10th National Intercollegiate Athletics Safety and Security Forum on January 17-18, 2023, in College Station, Texas, with Title Partner, Landmark Event Staffing Services, Inc. The objective of the forum is to address key safety and security challenges facing intercollegiate athletic programs and to share best practices for continuous improvement.
Collegiate athletic programs and venues attract a large number of athletes and spectators, making safety and security a top priority for venue operators, public safety officials, and local communities. Discussing current issues and exploring solutions in a forum environment will help colleges and universities, athletic conferences, and associations enhance safety and security plans and operations.
"I have found the Intercollegiate Forum to be an excellent opportunity to collaborate with peers, discuss industry best practices and strategize on emerging public safety trends and challenges that are unique to our campus facilities and environments," said Matt Davidson, Associate AD - Event Management & Operations, University of Nebraska Athletics.
Attendees will hear from keynote speakers and expert panels on topics such as crowd management, hostile vehicle mitigation, legalized sports betting, severe weather, and safety and security in atypical environments, such as events like commencement that are held in intercollegiate sporting venues. In addition to general programming sessions, attendees will participate in moderated discussions to review the NCS4 Best Practices for intercollegiate athletics (available online here).
"We are excited to gather once again with our intercollegiate athletic community to discuss emerging threats, protective measures, and mitigating strategies. The forum also helps us collect pertinent information to update our Best Practices and share the most relevant resources with our members," said Dr. Stacey A. Hall, NCS⁴ Executive Director and Professor of Sport Management.
Attendees will also have the opportunity to engage with Solution Partners whose participation makes this event possible. Solution Partners include Title Partner – Landmark Event Staffing Services, Inc.; Presenting Partner – Xtract One; and Signature Partners – 24/7 Software, Axis Communications, BEST Crowd Management, CEIA USA,
CSA360 Software, Inc., Echodyne, Fortior Solutions, LLC, Hanwha Techwin, Meridian Rapid Defense Group, Milestone Systems, Veritone, Inc., and Western Kentucky University.
"One of the most beneficial takeaways from the NCS4's Intercollegiate Forum is the ability to network with and share ideas and concerns with your peers. In past forums, I have been able to learn something new and take it back to our organization to improve our operations," said Joe Monroe, Chief of Police, University of Kentucky Police.
The target audience for the event includes athletic administrators and staff from NCAA Division I, II, and III institutions, athletic conference administrators, football bowl administrators, NCAA representatives, campus law enforcement, local and state law enforcement, facility managers, government officials, emergency managers, fire/HAZMAT, emergency medical services, city planners, governing bodies, sports commissions, and invited Solution Partners.
Pricing for attendees is $425. Limited space is available. Visit http://ncs4.usm.edu/intercollegiate to register for the event or for additional information. Hurry, the room block ends on Saturday, December 17. Only corporations that are sponsors of the event may attend the forum.
---
About NCS4:
Established in 2006, the National Center for Spectator Sports Safety and Security (NCS⁴) is the nation's only academic center devoted to the study and practice of sports safety and security. The NCS4 is partially underwritten by grants from the Department of Homeland Security (DHS) and the Federal Emergency Management Agency (FEMA). The NCS4 mission focuses on three key pillars – Training and Education, Research, and Outreach. For more information about NCS4, call 601.266.6183 or visit ncs4.usm.edu.