USM Hosting Events Associated with National Disability Employment Awareness Month
Mon, 09/19/2022 - 01:08pm | By: Jerry Alliston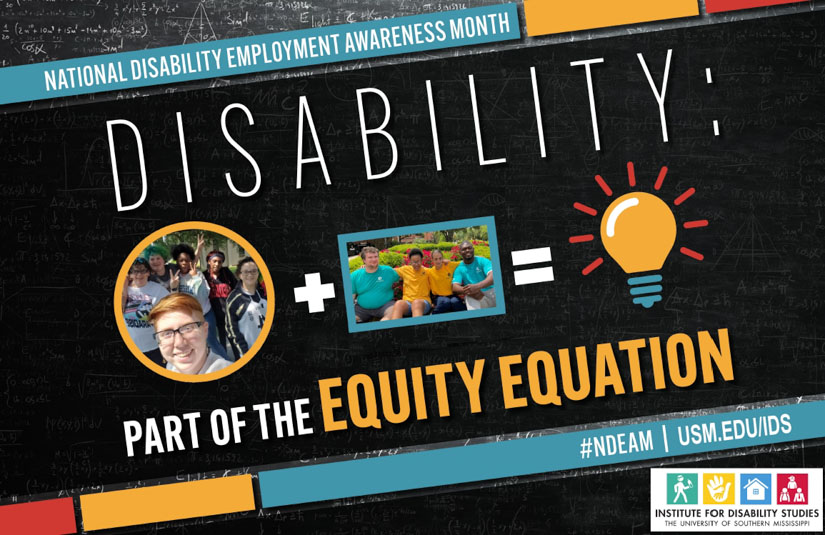 Throughout the month of October, The University of Southern Mississippi Institute for Disability Studies (IDS) is hosting a series of activities in conjunction with National Disability Employment Awareness Month (NDEAM).
National Disability Employment Awareness Month is part of an annual awareness campaign designed to educate about disability employment issues and celebrate the many and varied contributions of America's workers with disabilities. This year's national theme is "Disability: Part of the Equity Equation." Each year, IDS receives permission from the Department of Labor to adapt the national poster into a Mississippi focused one featuring youth and young adults with disabilities.
IDS' 2022 NDEAM activities will include:
The first ever Together Employing All Mississippi Students (TEAMS) Awards in which two Mississippi Special Education Teachers and two Vocational Counselors will be recognized for their contributions.
A virtual Career Informational Interview Event on October 18.
Weekly employment-focused Facebook posts recognizing youth and young adults with disabilities who are making strides toward employment (https://www.facebook.com/msusmids/).
Featured NDEAM activities and informational sharing through weekly trainings in schools, Advocacy Ambassador training series, Postsecondary Education training series, Adulting 101 training series, and Socialization Groups.
All of this year's events are a collaboration with the Mississippi Department of Rehabilitation Services, funder of the Transition of Teens to Adult Life (ToTAL) Program, which is a work-based training and internship program for teens and young adults with disabilities ages 14 to 21.
"The Institute for Disability Studies is honored to be part of celebrating employment equity and awareness for everyone," said Dr. Jerry R. Alliston, IDS Associate Director. "We continue to spread the important message that all perspectives are valued including those from people with disabilities. We focus on preparing Mississippi's next great workforce and leaders."
"Our national recovery from the pandemic cannot be completed without the inclusion of all Americans, in particular people with disabilities," said U.S. Secretary of Labor Marty Walsh. "Their contributions have historically been vital to our nation's success and are more important today than ever. We must build an economy that fully includes the talent and drive of those with disabilities."
Employers and employees in all industries can learn more about how to participate in National Disability Employment Awareness Month and ways they can promote its messages — during October and throughout the year — by visiting https://www.dol.gov/agencies/odep/initiatives/ndeam.
IDS is Mississippi's University Center for Excellence in Developmental Disabilities (UCEDD) and has a mission to enhance the quality of life across the life span for citizens with disabilities and their families, regardless of culture, ethnicity, or socioeconomic background. To learn more about IDS or the ToTAL Program, call 601.266.5163 or visit http://www.usm.edu/ids.