A Remembrance of the Distinguished Dr. Robin M. Overstreet
Tue, 06/28/2022 - 01:19pm | By: Michael J. Andres and Reginald Blaylock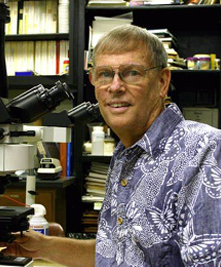 Robin (Bob) Miles Overstreet died 21-May-2022. He was born to Laura and Robin Overstreet in Eugene, Oregon on 1-June-1939. Bob spent his youth hunting, fishing, playing sports, and building/racing cars. After high school, he followed a path that relatively few academics follow today, enlisting in the US Navy. His time in the Navy ended up being formative as he was an assistant to an oceanographer onboard an Antarctic icebreaker. During this period, he was tasked with helping collect water samples and biological specimens using a variety of collection techniques. Many of the specimens he helped collect are still vouchered in the Smithsonian Institution in Washington, D.C. Many years later Richard Heard (SOSE Professor Emeritus and Bob's first PhD student) described a few of the specimens Bob collected while sailing in the Antarctic.
Upon leaving the Navy, he returned to Eugene to attend the University of Oregon where he received his BA degree and ultimately met his late wife Kim. Kim and Bob would go on to have two sons, Eric and Brian, and two "grandkiddos", Jackson and Maddison. His path again was not direct, first focusing on business before switching back toward spending time on vessels collecting specimens on the Oregon coast. There, he furthered his interest in marine biology, fisheries, and parasites. He choose to attend the University of Miami's Rosenstiel School of Marine and Atmospheric Science (RSMS; then the Institute of Marine Science) to pursue his MS degree, in-part because of the opportunity to learn from faculty that were biologically oriented and in-part because of the rich diversity of organisms that would be at his fingertips. During his time there, he met many established and visiting ichthyologists who provided him the opportunity and guidance to pursue a study of fish parasites. His thesis helped lay the foundation for his work as a fish parasitologist with expertise in parasite ecology and taxonomy.
Bob stayed at RSMS for his PhD, but took a very indirect route that seemed to guide his approach toward mentoring students later on. He largely directed his own PhD, traveling to other universities to gain expertise from a variety of parasitologists (Paul Beaver at Tulane, Raymond Cable at Purdue, and Harold Manter and Mary Lou Pritchard at Nebraska) that would ultimately culminate in his dissertation monograph in which he examined over 110 species of fish for parasites, erecting new genera and describing 13 species. His dissertation established him as one of his generation's most prolific parasite taxonomists and one of the world's experts on digeneans (parasitic flatworms). His monograph still serves as a foundational text for those studying fish parasitology. His next stop was a return to Paul Beaver's lab, but this time as a National Institutes of Health postdoctoral fellow at Tulane University Medical School. At Tulane, his fascination with nematodes began to grow, and he developed his idea that parasitologists should serve both their science and their communities. For the remainder of his career he always took the time to respond to and assist anglers, hunters, state officials, industry professionals, and everyday citizens concerned about animal (and occasionally human) health concerns. Many of his students and technicians have wondered why they were being asked to look at seemingly random specimens from the ends of the earth (and rear ends of an almost unfathomable variety of animals).
In 1969, Bob was hired as Head of the Parasitology Section at the Gulf Coast Research Laboratory where he quickly developed a highly influential Marine Parasitology course. Many young parasitologists, including his good friend and future colleague at Southeastern Louisiana University, the late Bill Font, were influenced by this course. While Bob held academic positions at many universities in the US and abroad, he remained at GCRL for his entire career and saw GCRL transition from a state marine lab to part of The University of Southern Mississippi. During his career at USM, he helped develop the toxicology and aquaculture programs. As a result of all his work, he became the first recipient of USM's Innovation Lifetime Achievement Award in 2008.
Although his passion was always with marine parasites and systematics, he was a well-rounded biologist. He prided himself on being a solver of "tricky" problems that ultimately led to him acquiring more than $50 million in external funding from a variety of funding organizations both nationally and internationally. The advice he often gave his developing students when applying for funding or pursuing research questions was "follow the cheese" and work on "good" problems. This exact mantra led to him working with the catfish farming industry to help address major trematode infections occurring in their ponds. During his prolific career he served as an editor or associate editor for 12 journals, produced 22 graduate students (14 of which were PhD), produced nearly 400 publications, and received many international and national awards. Furthermore, more than 30 species have been named after him as a testament to his contributions to helminth taxonomy. Bob always held academic societies and their journals in special reverence, especially the American Fisheries Society and the American Society of Parasitologists, which he served in many capacities, most notably as president in 2003. He also was awarded the Society's Eminent Parasitologist Lectureship Award in 2014.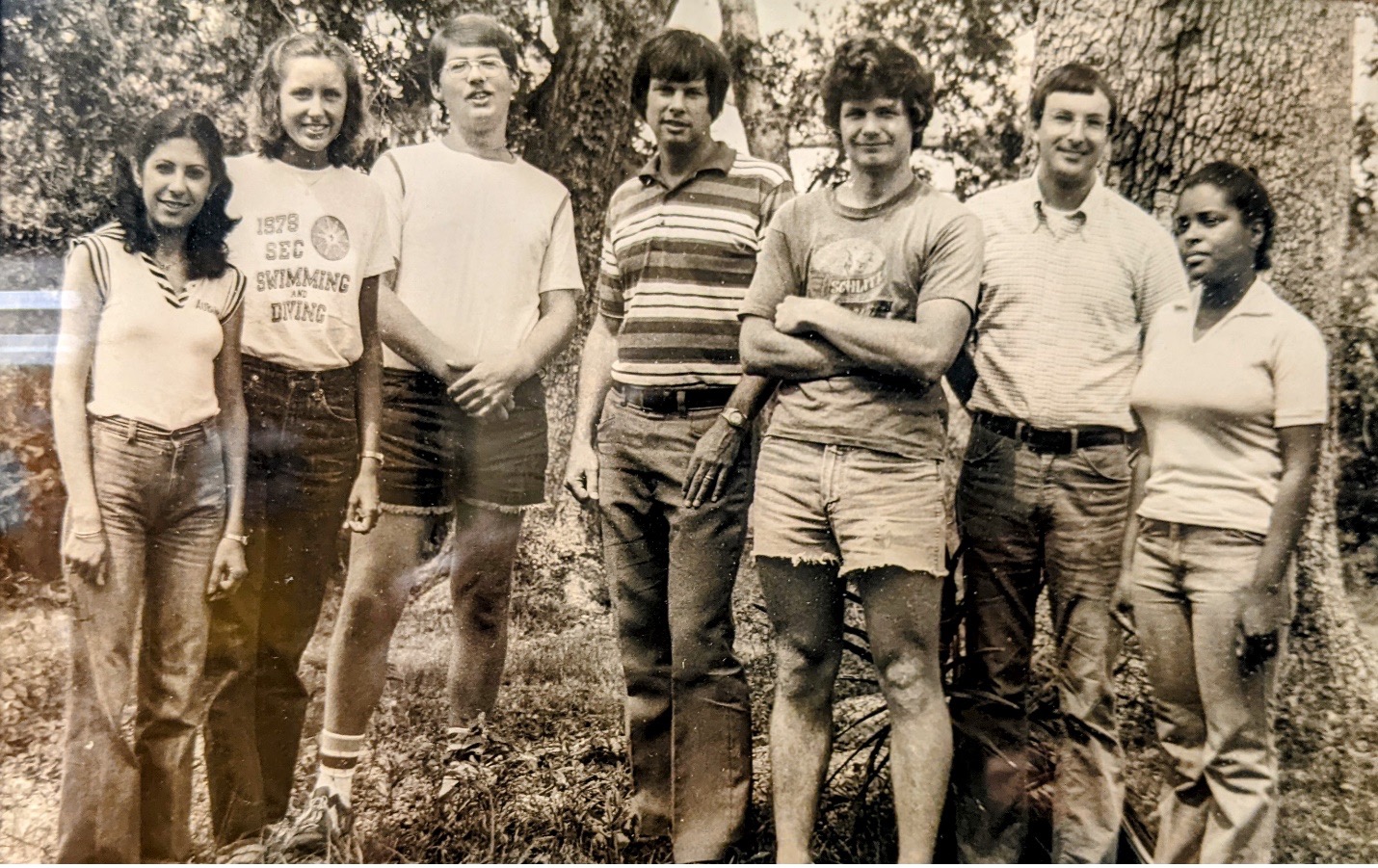 Bob Overstreet (center) with his second Marine Parasitology course in 1980; his friend and colleague William "Bill" Font is second from the right.
---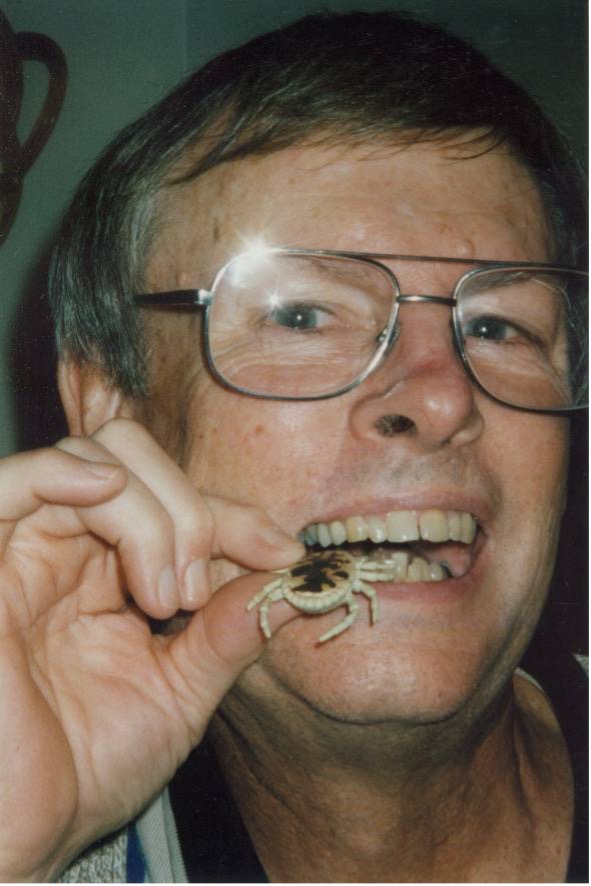 Bob and Kim often hosted visiting scientists from all over the world in their home and in his lab. Many of his former students, USM collaborators, and our colleagues have fond memories of visiting GCRL and the long days/nights looking through a variety of animals in Oceanography room 137. Kim was often a lab mother to his students and was probably the only person that could correct his grammar. Bob retired from USM in 2014 and was awarded Professor Emeritus status. Although faculty meetings were much less entertaining without him, he maintained an active lab for several years after retirement. Throughout his life he maintained a passion for hunting birds (and collecting their parasites of course), spiders, and classic cars. His colleagues, friends, and former students will certainly miss him and his anecdotes. There is a certain sadness that goes with knowing future students of parasitology will not have the opportunity to use Oceanography 137 as a home base for conducting fieldwork along the Gulf Coast. Likewise, there is sadness in knowing we will never again feel the frustration of dealing with his scathing comments on a draft manuscript and, moreover, being able to work it all out over a Mello Yello in his office. He occasionally remarked that if you want to live "forever", be a taxonomist (the authority, or person that described the species, is maintained with that organism's name), and he certainly will live on in our memories and through his contributions to the field of aquatic parasitology.