USM Professor's Textbook Decodes the Hidden Curriculum and Inequality in Early Education
Wed, 04/27/2022 - 09:40am | By: Ivonne Kawas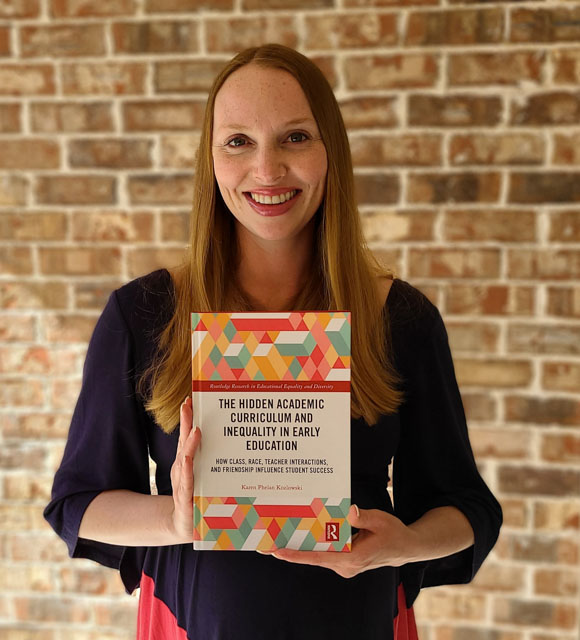 How does class, race, teacher interactions, and friendship influence student success?
Drawing on a rich ethnographic study conducted in first grade classrooms in the U.S., Dr. Karen Kozlowski, Assistant Professor of Sociology at The University of Southern Mississippi (USM), seeks to reveal the potentially invisible, yet significant ways that race and social class impact student success in the earliest years of their schooling in her latest textbook published by Routledge, "The Hidden Academic Curriculum and Inequality in Early Education."
As her text highlights, children from affluent and racially advantaged households experience and perform in school better than economically and racially disadvantaged children in the U.S. Therefore, there is a critical need for improved understanding of how this inequality emerges in order to be able to provide better and more equitable education to children.
"These differences exist at every level of education, from preschool through college, and set kids on lifelong trajectories of inequality," said Dr. Kozlowski. "My research aims to explore how this inequality emerges and grows in students' early years of school, by understanding how first graders come to learn — from their families, their schools, and their peers—what it takes to be academically successful. Decoding the hidden curriculum and processes can help us provide better and more equitable education to children in the U.S."
As part of her study, Dr. Kozlowski conducted an eight-month ethnography in four first grade classrooms, across two racially and socioeconomically diverse schools. In addition to observing how teachers deliver instruction and how students experience it in class, Dr. Kozlowski interviewed families of varying racial and socioeconomic backgrounds about what they thought it took to be academically successful, the kinds of strategies they used to teach their kids those skills, and how kids themselves interpreted their own classroom experiences.
For teachers in early education, Dr. Kozlowski encourages them to develop strategies to be aware of the hidden curriculum.
"Teachers need to be cognizant of the hidden academic curriculum and be much more explicit about what students are supposed to be learning — and how students can convey their knowledge of what they're learning—from instructional activities. Strategies for doing this could be learned and practiced in teacher training and professional development."
She adds, "Families, teachers, and peers all play a role in shaping kids' skills and conceptions of what academic success is. Encouraging, modeling, and even evaluating good collaboration for students across demographic and friendship groups could help foster skill development and content mastery for all students."
The text offers key recommendations and in-depth analysis that will be of interest to postgraduate students, researchers, and academics in the fields of Early Childhood Education and the Sociology of Education. Those with a focus on racial, ethnic, and social inequalities more broadly, will also be interested in the analysis.
To learn more about Dr. Kozlowski and her research, check out her USM faculty profile. To learn more about the textbook, visit Routledge.