Southern Miss Accounting Student Finds Internship with Energy Innovator an Exciting Opportunity
Mon, 11/07/2022 - 02:25pm | By: Dena Temple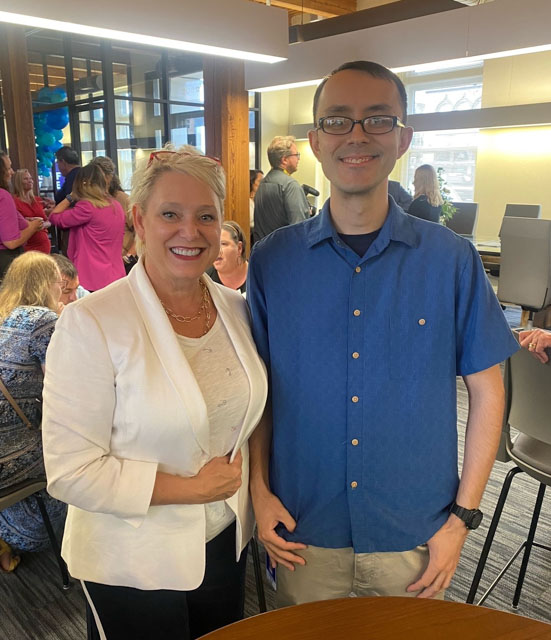 Alexander Gray, an accounting major in The University of Southern Mississippi's School of Leadership / Gulf Park campus, recently completed an internship with Hy Stor Energy that provided an exciting, real-world opportunity.
Hy Stor Energy is an innovative company addressing the challenge facing today's energy industry – long-duration storage of renewable energy at scale to provide reliable alternative energy. By operating large-scale green hydrogen hubs, Hy Stor Energy is creating a model for producing, storing, and delivering 100% carbon-free energy to help transition to non-fossil fuels.
Gray, who served his internship over the summer, applied for the position at his professor's urging through Handshake, a website which gives students direct access to employers eager to recruit them. "I was eager to return to the workforce," said Alexander.
He continued, "My job responsibilities were rather open; this let me gain as much experience as possible. My favorite part of working for Hy Stor Energy was representing the company at different conventions. It is exciting to meet people and share the company's goals."
JT Blalock, vice-president of finance and accounting at Hy Stor Energy, said the company's recruiting team contacted USM's Career Services at the direction of Dr. Jason McKenna, director of research at USM's Center for Ocean Enterprise.
"Alexander assisted our accounting and purchasing teams in daily operations, represented the company at industry and community events, and performed industry research and summarized his findings for other team members." Said Blalock. "His attention to detail and willingness to help others made him a valuable asset to our team."
Blalock said that Alexander performed so well during his internship that he was offered a permanent part-time position while he completes his degree at Southern Miss. In fact, Blalock said, "I expect offers of full-time employment once he completes his education."
Alexander's takeaways from the internship are significant. "I learned more about the energy industry than I ever imagined, and I discovered that flexibility, both from the employee and the employer, remains a core aspect of working," he said. "Hy Stor Energy was amazing about accommodating my school schedule when they hired me on as a part-time employee. I appreciate that."
Dr. Heather Annulis, Director of the School of Leadership, noted, "We are proud of Alexander for representing Southern Miss during his internship at Hy Stor Energy. We encourage our students to build competencies which make them workforce-ready in our ever-changing dynamic economy."
Alexander recommends that all students at Southern Miss reach out to Career Services when looking for internships or employment.
"They have a lot of resources, and they can connect both students and employers," he said. "Career Services works harder than most students think, and they can point a student in the right direction."
Local employers can also avail themselves of this service if they have open positions. Blalock also noted that "Our experience with USM Career Services and Southern Miss students ensures that we will continue to seek internship opportunities with USM."
For more information about the services provided by Career Services, contact careerservicesFREEMississippi.
The School of Leadership is housed within the College of Business and Economic Development at USM. To learn more about the degree programs offered by the School of Leadership, visit https://www.usm.edu/leadership or email SchoolOfLeadershipFREEMississippi.