USM Alumna Receives Prestigious National Award for Excellence in Teaching
Thu, 05/05/2022 - 13:17pm | By: Margaret Ann Macloud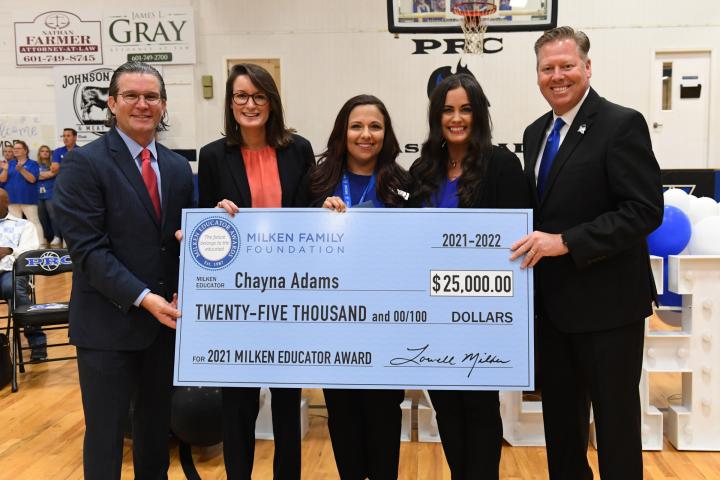 A University of Southern Mississippi (USM) graduate recently received a $25,000 national Milken Educator Award for her outstanding accomplishments as a teacher and her commitment to student achievement.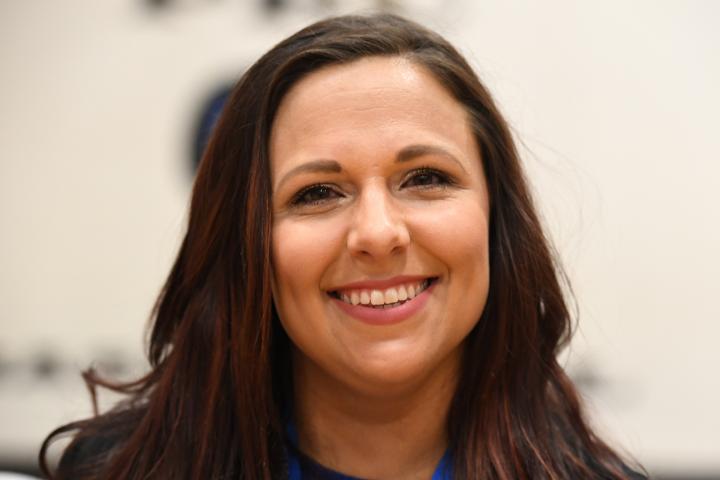 Chayna Adams (BS 2009), lead teacher at Pearl River Central High School (PRCHS) in Carriere, Mississippi, is the only educator in Mississippi and among more than 60 nationwide to be recognized with this prestigious award during the 2021-2022 school year. She is the first educator to receive the Award in the Pearl River County School District.
"I teach because kids need us, and we're there for them not only academically but we can also be their people. We give them a safe space to learn and grow and decide what they want to be," Adams said.
At a school assembly this spring, Adams was caught by surprise when representatives from the Mississippi Department of Education (MDE) and Milken announced her as the recipient of the prestigious honor.
"I thought the state Department of Education was coming down to recognize us and tell us we did a great job because our Algebra I scores were Top 10 [in Mississippi] this year for the first time," Adams said.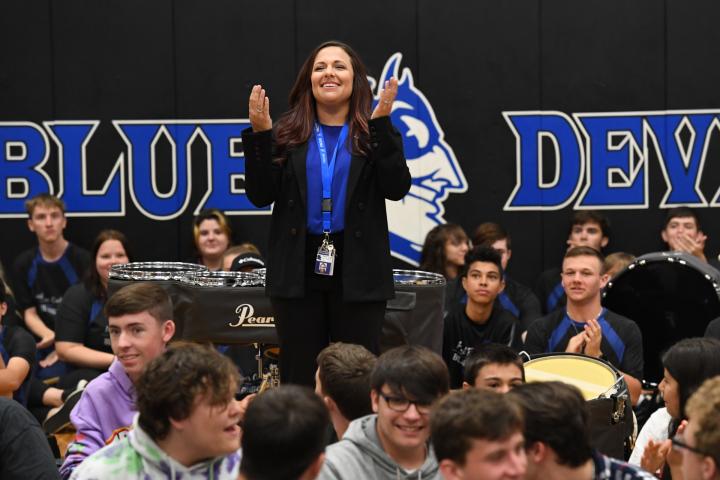 Adams was part of the Algebra I team at the high school. After years teaching math and heading the math department at PRCHS, she is now the school's lead teacher, responsible for academic tier, schoolwide data, and coaching support for instructional staff. She coaches new teachers in instructional practices, organizational skills, student interventions and data analysis. Adams also coordinates school-level professional development based on school and state data. To support the school's goals for constant improvement of academic and behavior goals, Adams plans and organizes schoolwide incentives for students who meet weekly and monthly targets. Her dedication to student outcomes delivered notable results: The algebra pass rate at PRCHS is 94 percent, and students in the bottom 25 percent consistently meet growth and proficiency targets on state assessments.
"As a lead teacher, Ms. Adams serves as a model for her peers and works daily to elevate and strengthen the teaching profession," said Dr. Courtney Van Cleve, Director of Educator Talent Acquisition and Effectiveness for MDE. "She is a worthy recipient of this year's Milken Award. I join her students, school and community in congratulating her for this accomplishment."
State Superintendent of Education Dr. Carey Wright added her congratulations: "Ms. Adams has done an extraordinary job challenging her students to meet and exceed high academic standards. She is a wonderful example of our dedicated Mississippi educators who work hard every day to help students learn and succeed."
The Milken Educator Awards was conceived by Lowell Milken in 1987 to celebrate, elevate, and activate the teaching profession. It is the nation's preeminent teacher recognition program, often hailed as the "Oscars of Teaching." The Milken Family Foundation has devoted over $140 million in funding to the Milken Educator Awards, including $70 million in individual awards to more than 2,800 recipients plus powerful professional learning opportunities and networking with leading education stakeholders.
"An important quality of an instructional leader is leveraging talents of the team to advance teaching and learning for all," said Greg Gallagher, Milken Educator Awards Senior Director. "Chayna Adams' experience in bringing out the best in others serves her well in her current role helping to drive instruction and improvement across Pearl River Central High School. We congratulate her and look forward to the value and insights she will bring to the national Milken Educator Network."
The Milken Educator Award is not a lifetime achievement honor. Recipients are heralded while early to mid-career for what they have achieved and for the promise of what they will accomplish given the resources and opportunities inherent in the award.
Adams earned a Bachelor of Science from USM in 2009 and a Master of Educational Leadership from Arkansas State University in 2014. She is a National Board Certified teacher.
Photo credits: Milken Educator Awards