Adams to be Conferred Honorary Doctorate by USM
Thu, 12/08/2022 - 11:54am | By: David Tisdale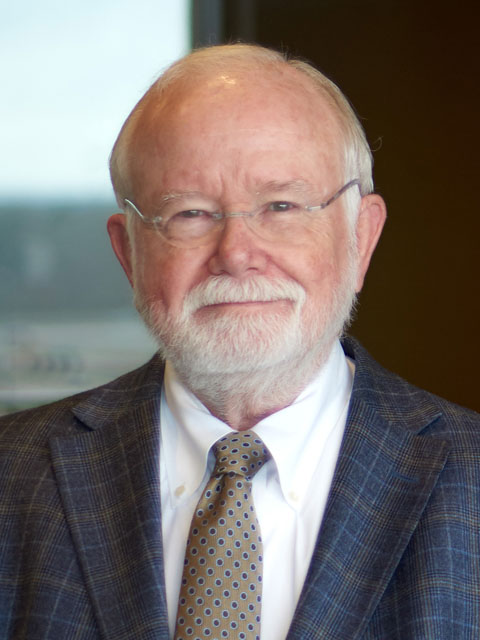 A prominent Mississippi attorney who has been rated among the best in the country for his areas of expertise, and whose outstanding philanthropic work has advanced education opportunities in his home state, will be honored by The University of Southern Mississippi (USM) during its fall 2022 commencement ceremonies.
Holmes S. Adams, of counsel with the regional law firm Adams and Reese LLP, will be presented with an honorary doctorate during graduation exercises at the university's Hattiesburg campus Dec. 9, in recognition of his significant contributions to education, public service, and the legal profession in Mississippi.
Adams served as chairman of the Luckyday Foundation Board of Managers for more than two decades and was instrumental in leading the development of the Luckyday Scholars Program at USM and across the state. His servant leadership mindset has enabled thousands of Mississippi students, including more than 2,200 USM Luckyday Scholars, to grow into exceptional community leaders. In recognition of his leadership, the Board of Managers conferred upon Adams the title of Chairman Emeritus of the Luckyday Foundation.
"Through his dedication to investments in educational opportunities for young people, Mr. Adams has transformed the lives of generations of Southern Miss students," said Dr. Joseph S. Paul, University President. "His legacy is truly immeasurable, and we are so grateful for his commitment to supporting our students on their path to advance their communities for many years to come."
Founded by the late Frank Rogers Day of Jackson, Mississippi, the Luckyday Foundation funds scholarships for Mississippi high school seniors who are exemplary students and display strong leadership skills and community engagement with leadership programs at USM, the University of Mississippi and Mississippi State University. The Luckyday Scholars Program was established at USM over two decades ago and provides students opportunities for continued scholarship, engaging in community, experiencing service, and growing as servant leaders through a variety of programming options.
"Having the opportunity to work with Holmes Adams has been one of the great joys of my career," said Dr. Larry Sparkman, director of the Luckyday Scholars Program at USM. "His thoughtful and engaged leadership, dedication to students, and sincere interest in their individual and collective experience has led to the development of a thriving and robust scholarship experience. While Mr. Adams is a pillar in his profession and community, his open and endearing posture toward others coupled with an eclectic range of interests illustrate the extraordinary person we are recognizing with this high honor."

Adams has shaped education law for nearly 50 years through his representation of numerous public school districts, community colleges, and universities; he has also advised on constitutional law issues, board governance and ethics, election laws, employment, finance, real estate, and contracts. Adams has pursued appeals before the Fifth Circuit Court of Appeals and the United States Supreme Court and has counseled families on commercial business matters and estates and trusts. He has consistently been named one of the best lawyers in America for trusts and estates.
Beyond the Luckyday Foundation, Adams' wide range of community service leadership roles include chairman of the Eudora Welty Foundation, the Mississippi Museum of Art and its foundation, the Capital Area United Way, and Stewpot Community Services. He recently retired as a trustee of the Episcopal Diocese of Mississippi and is a former member of the Advisory Board of the Junior League of Jackson. He has served as warden and vestryman for the Episcopal Cathedral of St. Andrew in Jackson.
"Holmes Adams' giving spirit and commitment to community service has been demonstrated by his service to the Luckyday Foundation, Southern Miss and other Mississippi universities," said Stace Mercier, executive director of the USM Foundation. "Mr. Adams has championed USM's Luckyday programming for more than two decades, all the while realizing Frank Day's noble vision of investing in the education of young Mississippians. We recognize and appreciate his outstanding and tireless work."
A native of Greenville, Adams earned his bachelor's degree at the University of Mississippi, where he was a recipient of the Phi Kappa Phi award. Following service with the U.S. Army, including a tour in Vietnam, he earned his Juris Doctor at Harvard Law School. He and his wife, Gayle, have two children and five grandchildren.
The honorary doctorate is among the highest forms of recognition at the University. Nominees for the honorary degree should have demonstrated, in their life and their work, high standards of excellence as evidenced by criteria of scholarship, creative activity or service. Nominations are reviewed by the institution's Honorary Degree Committee, whose recommendation is transmitted to the University Provost, who then makes a recommendation to the University President. Ultimately all honorary degree recommendations are submitted to the State Institutions of Higher Learning Board of Trustees for final review and approval.
For more information about the Luckyday Scholars Program at USM, visit usm.edu/luckyday.