Longtime USM Scientist Honored with Prestigious Fisheries Award
Tue, 11/08/2022 - 11:16am | By: Van Arnold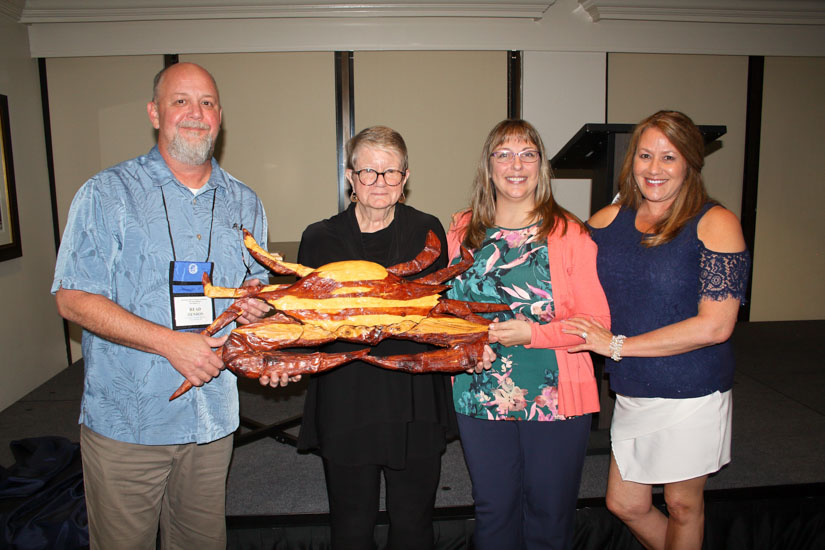 Pictured left to right: Read Hendon, Harriet Perry, Jill Hendon, and Lisa Hendon. Read Hendon and Harriet Perry are former directors of the Center for Fisheries Research and Development. Jill Hendon serves as the current director. Lisa Hendon previous worked at CFRD.
Recognized as a "fishery giant" and affectionately known as the "crab lady," longtime University of Southern Mississippi (USM) scientist and researcher Harriet MacGill Perry received the 2020 Lyles-Simpson Award recently in a ceremony that was delayed due to the COVID-19 pandemic. The award was presented during the Gulf States Marine Fisheries Commission's 73rd Annual Meeting held on Oct. 17 in San Antonio, Texas.
This prestigious award is presented annually to an individual, agency, or organization which has contributed to the betterment of the fisheries of the Gulf of Mexico through significant biological, industrial, legislative, enforcement, or administrative activities.
Over the past 50-plus years, she has been an educator, researcher, and collaborator in the disciplines of environmental science and aquatic biology. She developed USM's Center for Fisheries Research and Development (CFRD) located at the Gulf Coast Research Laboratory (GCRL) in Ocean Springs, Miss, and served as its director until her retirement in 2011. Perry, active in the fisheries arena in her retirement, still serves as a CFRD Senior Research Scientist and is Professor Emerita with USM's Division of Coastal Sciences.
"This award has a special meaning for me as I consider Charles Lyles a great mentor and a friend. Larry was also a great friend and one of my students," said Perry during her acceptance speech. "Working with the commission has been one of the highlights of my career. I was also fortunate to work with a talented group of biologists. It was so easy to be a director when you had people like that. A piece of cake, and I certainly appreciate all of your efforts. Many of you I know, are no longer at the lab but you're in a good place."
During her career, Perry's primary interests include the research of Brachyuran (true) crabs, population dynamics of estuarine and marine invertebrates, invertebrate taxonomy, blue crab aquaculture, invasive species, and management of marine fisheries. In addition to these studies, she has also mentored, trained, and educated people around the entire Gulf of Mexico ranging from fishermen to environmental groups, to students and scientists.
Dr. Jill Hendon, Director of USM's Center for Fisheries Research and Development, congratulated Perry on a well-deserved honor and thanked her for invaluable mentorship.
"As I've come up through USM and worked at the Center for Fisheries Research and Development, I am very proud to have worked under you, and I am very proud of the leadership you gave," Hendon told Perry during the ceremony. "If you didn't know, Harriet started the Center for Fisheries Research and Development at The University of Southern Mississippi, and she was the cornerstone of that program and a lot of the research that was initiated there. And being a female, I didn't quite understand the hurdles that you went through to be in that position and to excel in that position and have a voice at the table. And now that I've followed in your footsteps, I fully recognize the shoes that are there to fill and I want to acknowledge how proud I am to be following in your footsteps and how I hope that I can one day actually fill those shoes."
Over her career, Perry has formed numerous partnerships, published more than 50 articles, and given more than 30 presentations across the United States and the Caribbean. She procured grants totaling over $6M between 2000 and 2012 that supported her students and their projects.
To see the full awards ceremony, visit: https://www.youtube.com/watch?v=peEo8Mv9AoU
To learn more about the Center for Fisheries Research and Development at USM, 228.818.8823 or visit: https://www.usm.edu/fisheries-research-development/index.php