USM Founders' Day Ceremony Honors Student Achievements
Wed, 04/06/2022 - 16:49pm | By: David Tisdale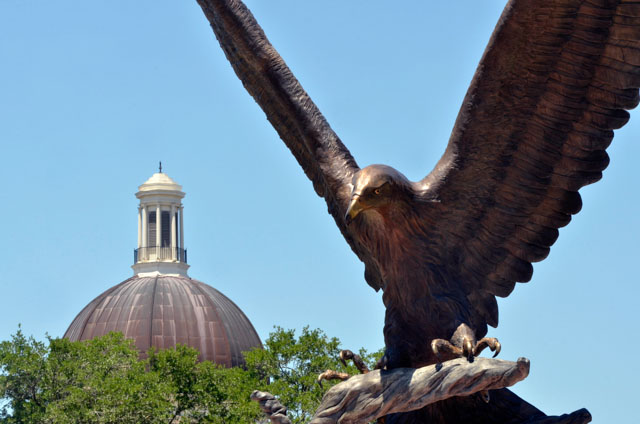 In conjunction with the 112th anniversary of its founding, The University of Southern Mississippi (USM) honored the achievements of its students March 30 during the annual Student Awards Ceremony, held at Bennett Auditorium on the Hattiesburg campus. The ceremony also included a swearing-in ceremony of new Student Government Association (SGA executive officers.
Student recognition included those in the following categories:
*Outstanding Freshmen
Jason Ang
Raela Bridges
Kelly DeVoe
Anders Estorge
Jakeem Greer
Tim Leonhardt
Dylan Littles
Kyleigh Remerow
Gabriela Wilcox


*Most Outstanding Freshmen

Andrew Le
Gracie Lewis


*Best Citizens
Isabella Brocato
Ciedarius Jacobs
*"Leave It Better Than You Found It" Award

Marquan Lewis
*Phi Kappa Phi Silver Bowl
Wryleigh Shearin-Anderson


*Judge R.J. Bishop Mississippian Award

Lindsey Wilbur


*Who's Who Among Students at USM
Zachary Ahman
Taylor Alleman
Chipper Baudry
Sydney Boyd
Taylor Boykin
Ansley Brent
Isabella Brocato
Mina Burton
Bailey Jones
Campbell Cave
Taylor Collum
Mia Cornelius
Kennedy Evins
Julia Folse
Esther Goita
Max Greenough
Hannah Guichet
Kennedy Hanna
NaTosha Harris
Ashley Hines
Grace Kellicut
Josie Lewis
Jordan Maxwell
Cynthia Myles
Alyssa Necaise
Krijn Paetow
Sawyer Rials
Cole Russell
Rebecca Sheffield
Ethan Sherwood
Kenechukwu Sibeudu
Kenzie Smith
Nah Jelah Taka
Reagan Todd
Ginger Trochesset
Jayla Williams
Lucas Williams
Jordan Wilson
Sherrice Wright
*Student Hall of Fame

Taylor Boykin
Max Greenough
Kennedy Hanna
Grace Kellicut
Cynthia Myles
Sawyer Rials
Cole Russell
Nah Jelah Taka
Jordan Wilson
Sherrice Wright
SGA officers sworn in during this ceremony included Ashely Lankford, president; Christopher "CJ" Lee, senior vice president; Caroline Genius, vice president of judicial affairs; Patterson White, vice president of finance and administration; and Angel Walker, vice president of communication.