Gulf Coast Research Laboratory Appoints USM's Darnell as Interim Director
Mon, 05/16/2022 - 10:06am | By: Margaret Ann Macloud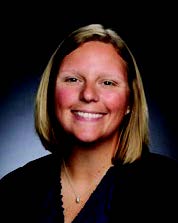 Dr. Kelly Darnell has been appointed Interim Director of The University of Southern Mississippi's (USM) Gulf Coast Research Laboratory (GCRL). She currently serves as an Assistant Research Professor in the University's Division of Coastal Sciences and is Director of the Mississippi Based RESTORE Act Center of Excellence.
"I am honored to have the opportunity to continue GCRL's legacy of providing science support to the State and advancing research and discovery in Mississippi and beyond," Darnell said.
Dr. Darnell has been with USM since 2017. She is a coastal and benthic ecologist whose research focuses on nearshore habitats, with a primary focus on seagrass ecosystems. Her specific research interests include seagrass-animal interactions, seagrass reproductive biology and ecology, and long-term monitoring to identify trends and drivers of seagrass distribution and condition. Dr. Darnell uses a combination of laboratory and field experiments and surveys to address hypothesis-driven questions to inform coastal management, conservation, and restoration.
"Dr. Darnell is well known for her research and her collaborative research efforts across the Gulf of Mexico," said Dr. Kelly Lucas, Associate Vice President Research, Coastal Operations at USM. "As Director of the Mississippi Based RESTORE Act Center of Excellence, she leads a multidisciplinary team of researchers from across the state to provide a better understanding of coastal processes to facilitate sustainable resource decisions. Dr. Darnell also works alongside the other Centers of Excellence in the Gulf to ensure broader research impacts. I am confident that her work building collaborations in the state, across the Gulf and at a national level will be beneficial for the Gulf Coast Research Laboratory and the University's Coastal Operations."
The Gulf Coast Research Laboratory (GCRL) is a research and teaching unit of The University of Southern Mississippi dedicated to the advancement of scientific discovery and promotion of academic growth in the fields of marine biology and coastal sciences for the betterment of society, the wise use of natural resources, and the advancement of sound economic development. The GCRL is the State of Mississippi's designated marine laboratory.
Darnell earned her Ph.D. at The University of Texas at Austin (2014), her M.S. at The University of South Alabama (2008) and her B.A. at Wittenberg University (2005).