USM Gears Up for New Semester with Golden Eagle Welcome Week
Tue, 08/16/2022 - 16:35pm | By: Van Arnold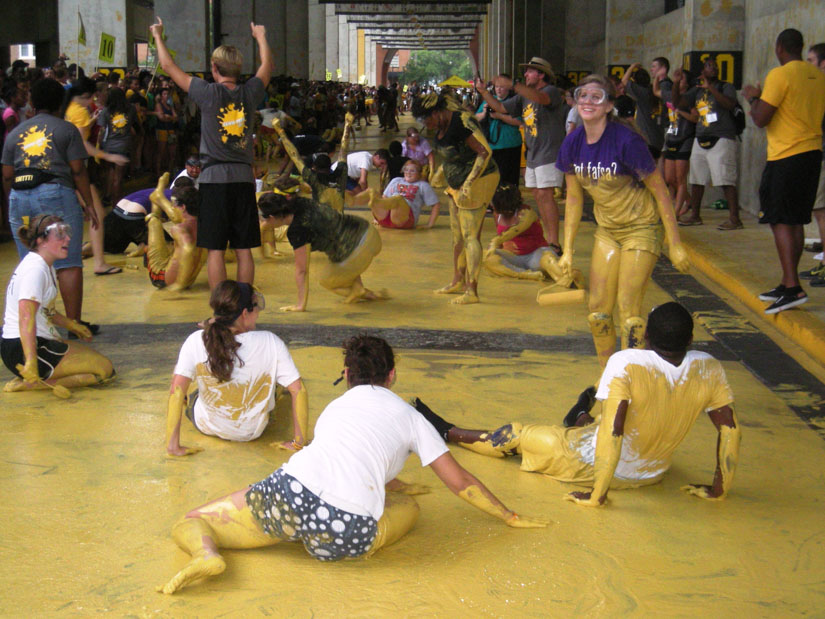 Another academic year at The University of Southern Mississippi (USM) presents another opportunity to roll out the red carpet for incoming students with Golden Eagle Welcome Week (GEWW) festivities.
GEWW is the second part of the three-part orientation process for incoming students, taking place directly before the start of the fall semester, with the idea of helping them transition to campus before classes begin. GEWW events get underway Wednesday, Aug. 17 and continue through Sunday, Aug. 21. The 2022 fall semester begins on Monday, Aug. 22.
During GEWW, students are divided into small groups with their assigned crew leader to learn more about USM spirit and traditions, campus life, and student resources. A unique involvement fair will enable students to connect with University organizations of interest while also highlighting opportunities to connect on and off campus.
Kayla Mitchell, Director, Orientation and Transition Programs at USM, describes Golden Eagle Welcome Week as her favorite time of year.
"You get to welcome students back to campus, while incoming students begin to feel affirmed in their decision to attend Southern Miss," said Mitchell. "This is when current students get to share their love for the University, while helping incoming students pave their own paths. Seeing everyone come together – not just the University, but Hattiesburg as a whole – to celebrate the start of a new school year is heartwarming."
Mitchell notes that the University places supreme importance on providing programming to help new students transition from high school or community college.
"Whether they are joining us from the comfort of the home they grew up in, or a community college that served as a home for them the past couple of years, this is the start of a new chapter for all incoming students, and anything we can do to make that transition smoother matters," said Mitchell. "Our hope is that welcome week allows incoming students time to acclimate to campus before the rush of the fall semester.
GEWW is required for incoming freshman students, while incoming transfer students are encouraged to participate. Mitchell explains that the GEWW staff includes both populations in the planning process and typically anticipates between 1,500 and 2,000 students to become involved.
GEWW kicks off with keynote speaker Curtis Zimmerman Wednesday, Aug. 17 at Bennett Auditorium on the Hattiesburg campus. Zimmerman's message centers around an empowering metaphor: Your life is a show, and you are the star. You are challenged to Be the Director, Write Your Script, Define Your Character, Cast Your Show Wisely, and Be the Star of Your Life.
A best-selling author and host of the popular podcast, The Next 24 Hours, Zimmerman has impacted more than one million people around the globe with his life-changing message. People connect with Zimmerman as he incorporates the skills he gained from 25-plus years in the entertainment industry as a nationally-recognized mime, juggler, and fire-eater into his powerful programs. He is the author of the nationally best-selling book "Life at Performance Level."
Another highly popular activity associated with GEWW is the Painting of the Eagle Walk. Each year, the freshman class gathers to leave its signature on the University by giving the Eagle Walk beneath M.M. Roberts Stadium a fresh coat of gold paint. Painting of the Eagle Walk, which is hosted by the Student Alumni Association, is a time-honored tradition that began in 1997 and transforms Eagle Walk Drive into a street of gold every year.
"This is a beloved tradition on campus that is unique to Southern Miss," said Mitchell. "Students have heard stories of this event throughout the recruitment process, and it really has built up this unrivaled joy. Those two hours on the Eagle Walk become core memories for generations of Southern Miss students."
To learn more about Golden Eagle Welcome Week, visit: https://www.usm.edu/orientation-transition-programs/golden-eagle-welcome-week.php. Students, faculty, and staff can access the full schedule of events on the iSouthernMS App.