USM Graduate Student Aids Hometown Devastated by December Tornadoes
Fri, 01/14/2022 - 05:01pm | By: David Tisdale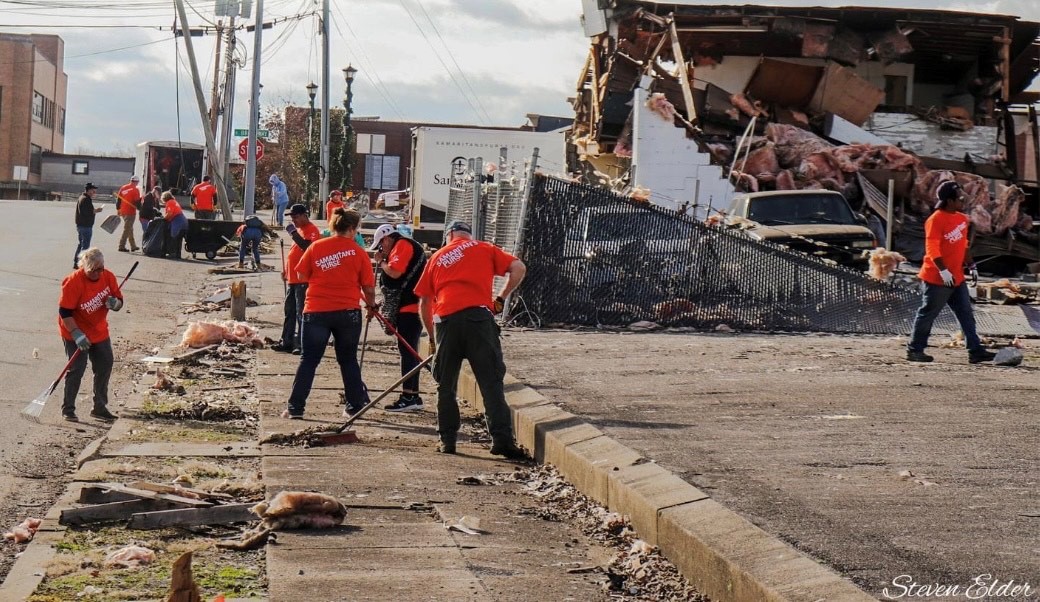 Residents of Mayfield, Kentucky work alongside volunteers from across the country to recover from tornadoes that struck the state and throughout the Midwest in December.
Destruction, debris, and the dismay in the eyes of survivors – at first, that's all Jessica Beckham could see in her hometown of Mayfield, Kentucky, following a deadly weather system in December that ripped through the western half of the state. More than 75 people lost their lives in the storms, and many more were left homeless and without work with the destruction of homes and businesses by tornadoes that devastated several communities the Midwest.
But now Beckham, a doctoral student in the USM School of Communication, is witnessing hope slowly replace despair as volunteers and donations have poured into Mayfield from across the country in the last several weeks, as she also pitches in along with one of her sisters and a USM alumnus to help those in need.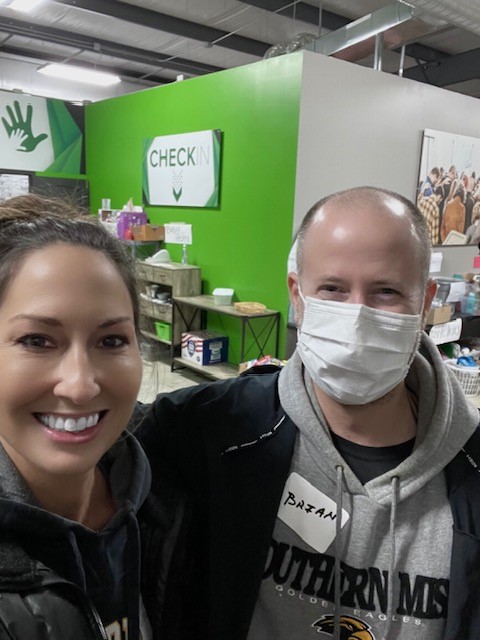 "I've been amazed at the support we've received from all over the United States," Beckham said. "At the donation center I have worked with people from Arizona, Colorado, Florida, Georgia, Illinois, Missouri, Tennessee and many other states who have come to help. Samaritan's Purse is here, McDonald's says 'open house' - get what you need. Denny's has a mobile food truck - everyone is just eager to help."
Beckham hopes the nation's generosity will continue until her hometown and state can get back on its feet.

"There are still many needs, things like adult incontinence supplies, disposable wash cloths/wipes, pullups, nutritional shakes - these things are often overlooked yet needed," she continued.
"I have quite a few friends who lost everything, and while they are thankful for all the donations, they have wanted things like fresh food, fruits, and vegetables. Those sorts of things can't exactly be donated, but gift cards to grocery stores so they can get fresh food instead of eating canned goods and fast food all the time would be greatly appreciated."
Beckham initially learned the gravity of the situation the night of the storm when her oldest sister texted "Courthouse, police station, FNB bank, Hall Hotel, Greg Taylor's office, Dominos, Candle Factory - all destroyed." She was in disbelief.
"We've had many tornados and straight-line winds do damage throughout the years, but usually just knocking out some walls, taking off some shingles, so when my sister texted us that, I thought it was that kind of damage," Beckham said. "I couldn't imagine the places she listed were indeed destroyed, and that that was just the beginning. Our whole town was destroyed."
"​Thankfully, me and my entire family did not incur any damage from the tornado. We were without power and water for a few days, which is nothing in comparison to what many others are dealing with."
Surveying the damage to Mayfield is still a surreal experience for Beckham.
"I'm honestly still in shock. I had just stopped by Stone's Drugs, literally the day before the storm, to pick up medicine for my grandmother, and now it's gone," she said. "One of our nursing homes and rehabilitation centers is gone. What does a community do when it loses places like that? I'm usually way better with words, but I still can't adequately describe the devastation, the hope for renewal, my thoughts, and the emotions I'm experiencing. I just can't.
"Something like this only happens in the movies, it seems. It's not just about the buildings being gone, and our town being wiped out - it's knowing that people died, knowing my community members lost loved ones. Buildings we can get back, but people, we cannot."
​Beckham's sister Jennifer Brooks works for the Purchase Area District Development (PADD) Office in Mayfield as Assistant Aging Director, providing food and assistance to area seniors as well as distributing food to those and need and shut ins. Now the two of them join others in a wide variety of volunteer tasks coordinated through the PADD office to help the community.
"I'm so proud of her," Beckham said. "Under normal circumstances the PADD office helps with economic development, infrastructure planning, and ensures that the needs of the community are met. The day after the tornado she didn't wait for assistance to come, she immediately went and got food and medical supplies, and took it to clients she knew needed help. Ever since then, we have been collecting and donating necessary items to all in need.
"I've also had the privilege and opportunity to work with Brian Perna (a USM School of Communication doctoral alumnus and faculty member at nearby Murray State University) in volunteer efforts at Catalyst Church, organizing and distributing household items like batteries, candles and organizing donated clothing by categories for men, women, children, infants, sizes, etc. to make it easier for families coming through to find what they need."
As she helps distribute material needs, Beckham also lends an ear and shoulder to cry on, hearing the stories from those who have lost everything.
"Working at the donations center, I've met many families and it breaks my heart, especially when young children come in," she said. "Surprisingly, the children recount what happened in an almost excited tone. Maybe that's best that they look at it that way. The parents, however, are still in shock, saying they don't really know what they need and may not know for months to come.
"I, along with everyone I've met in the community, have shed many tears at the devastation, but for the most part we're just thankful for what we do have. There are obvious losses, but there may be other things that go unnoticed for a while.
"But again - it's not the things that make up our community, it's the people. Thankfully, we have each other."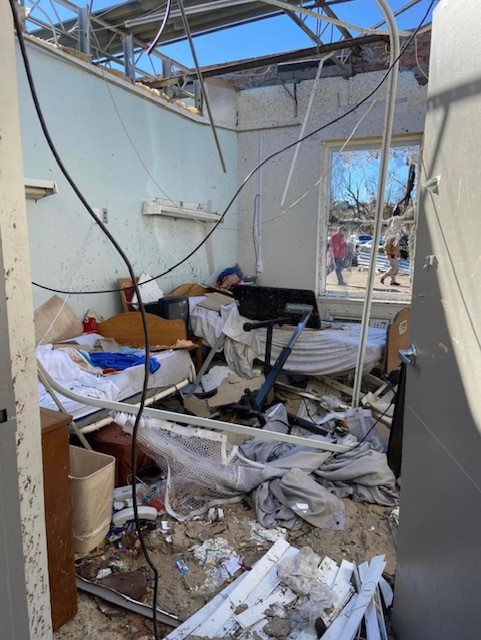 ​Beckham's academic advisor and mentor, USM Associate Professor Dr. Kathryn Anthony, described Beckham as "bright, kind, compassionate and always willing to help those in need around her."
"When I heard of her efforts to assist her fellow Kentuckians following the tornadoes, I was not surprised in the least," Dr. Anthony continued. "She is an excellent ambassador for Southern Miss, and I am so proud to serve as her advisor."
Beckham says that despite the political and cultural divisions that have polarized the country in the last few years, "leaving some to wonder what good is left," you can come to Mayfield and witness kindness and the best of humanity.
"Friend helping friend, neighbor helping neighbor, stranger helping stranger - there are no political parties here. There is no debate of vaccinated or unvaccinated. It's just people helping people.
"Amid devastation, we have found hope."
To help residents of the Mayfield area and others affected by December's tornadoes, send donations to the following:
*Mayfield/Graves County Tornado Relief Fund
P.O. Box 9
Fancy Farm, KY 42039
*Jennifer Brooks
C/O Purchase Area District Development
1002 Medical Dr.
Mayfield, KY 42066
(Include your name/contact info for a response and for the agency to keep a record of donations sources)
*Independence Bank's Western Kentucky Tornado Relief Fund: Western KY Tornado Relief Independence Bank (1776bank.com).
For more information or questions, contact Beckham at jessica.beckhamFREEMississippi.
For information about the USM School of Communication, visit https://www.usm.edu/communication/index.php.