Bower Foundation Grant Strengthens Pathways to the Social Work Profession
Fri, 09/30/2022 - 10:25am | By: Karelia Pitts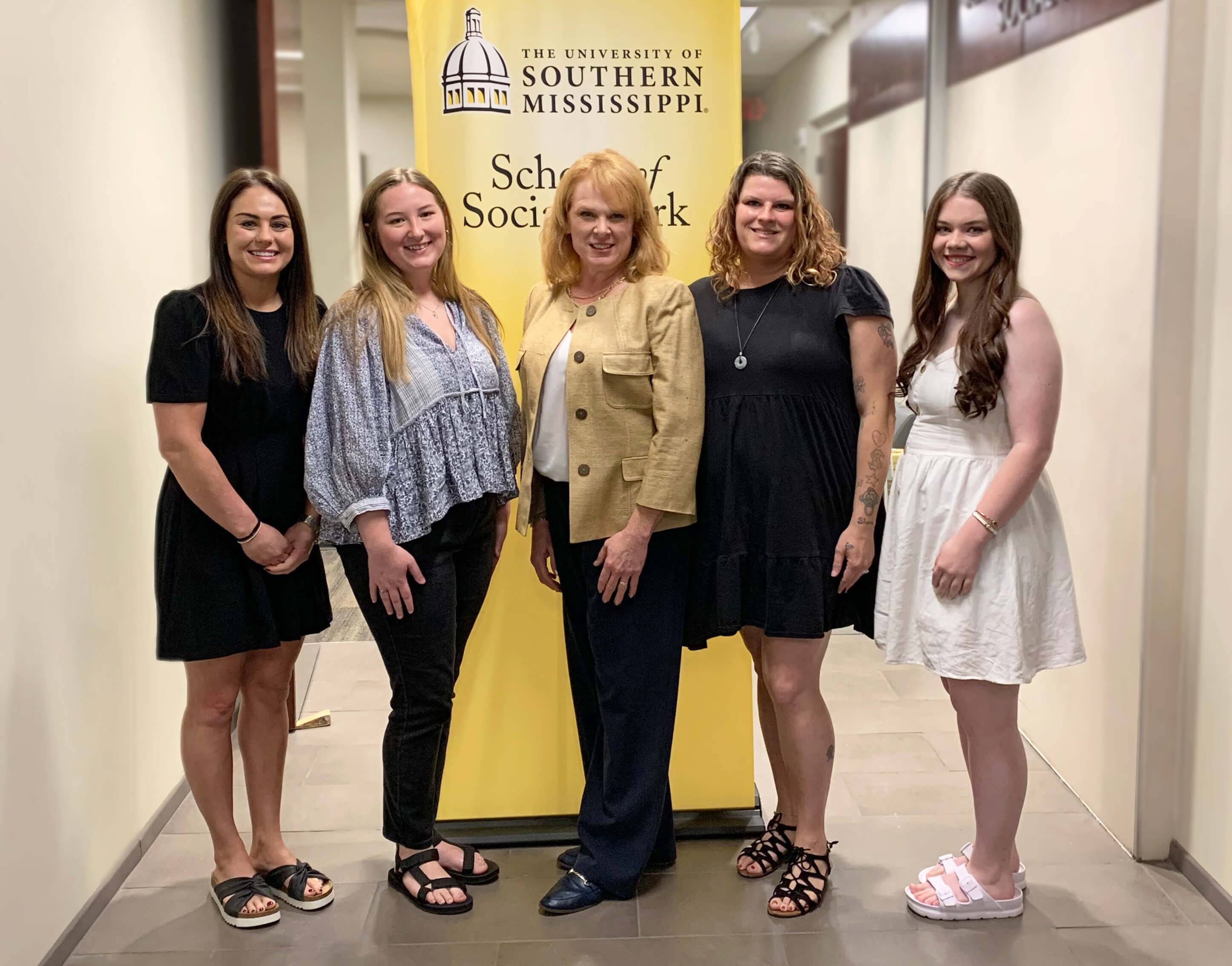 Bower Scholars at USM meet Rebecca Cockrell of the Bower Foundation; From left: Brooklyn Reynolds, Lundyn Huhn, Rebecca Cockrell, Shayna Clark and Elise Duke. Not pictured: I'Eaisha Trevillion
The Bower Foundation of Ridgeland, Miss., has awarded $386,000 in grant funding over five years to The University of Southern Mississippi (USM) School of Social Work to enhance workforce development.
Through the newly formed Pathways to the Profession program, the path is being strengthened for local community college students to continue their education at USM and help meet the demand for social workers in South Mississippi.
"Mississippi's need for competent and caring social work professionals is great, especially in the communities near to our institution," said Dr. Jerome Kolbo, director of the School of Social Work. "We are thrilled to partner with the Bower Foundation to address this need by providing aspiring social workers with opportunities to further their education through tuition assistance, mentorship and additional supports to obtain licensure and become employed back in their local communities."
Over half of the Bachelor of Social Work (BSW) students at USM are transfer students, most of whom have studied at one of the following community colleges in South Mississippi: Copiah-Lincoln Community College, Jones College, Mississippi Gulf Coast Community College, Pearl River Community College and Southwest Mississippi Community College.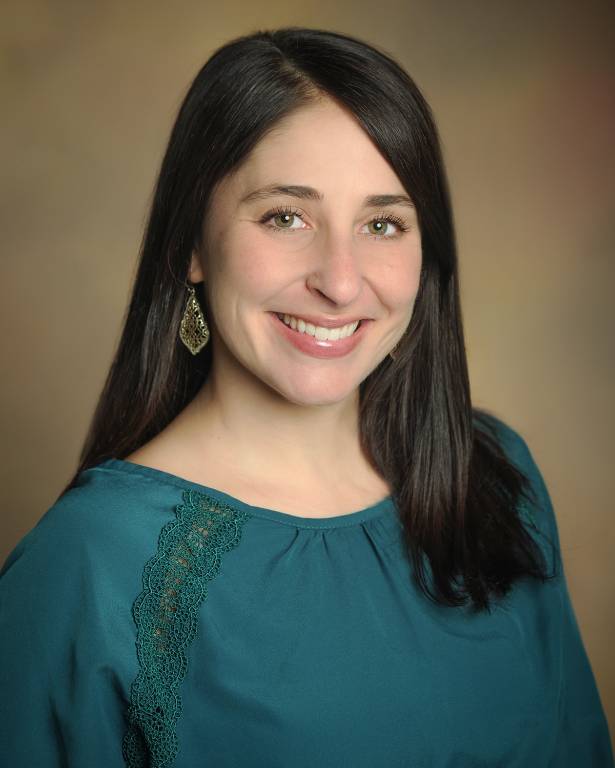 Rachel Lahasky, coordinator of USM's BSW program and instructor in the school, has kicked off the new Pathways to the Profession program by identifying representatives at those five colleges who have agreed to help coordinate enhanced professional development opportunities for students interested in learning more about the social work profession.
"Many students with a passion for helping others gravitate toward nursing and other jobs in healthcare before discovering that social workers can meet similar needs through different avenues. We often hear those students say they wish they had heard about social work earlier in their academic journey, so we're working to do a better job of getting the word out and promoting the important work of social work," said Lahasky. "By helping students at local community colleges cultivate an interest in social work, we are working to broaden and diversify the pool of individuals pursuing careers in the field. We thank the Bower Foundation for investing in these efforts focused on making a difference in our state."
The recently formed team of community college representatives selected the inaugural cohort of Bower Scholars. Each recipient will receive $12,500 over the course of five semesters, plus an additional $382 toward obtaining their license. The following students have been awarded for the 2022-2023 academic year, each representing a different community college they recently transferred to USM from:
Shayna Clark of Hattiesburg, Miss., representing Jones College
Elise Duke of Picayune, Miss., representing Pearl River Community College
Lundyn Huhn of Tylertown, Miss., representing Southwest Mississippi Community College
Brooklyn Reynolds of Flowood, Miss., representing Mississippi Gulf Coast Community College
I'Eaisha Trevillion of Hermanville, Miss., representing Copiah-Lincoln Community College
Similarly to how all five Bower Scholars reacted, when Elise Duke learned she would be receiving tuition assistance for five semesters, in addition to mentorship and additional support, tears welled up in her eyes. She struggled to find the words to express her immense gratitude in the moment, but she excitedly responded, "Wow! Thank you so much! I am so appreciative… I don't even know what to say. That is so helpful… and I'm so excited!"
"While it's no secret that we have a strong desire to see students attend USM, this initiative has a far bigger goal than simply recruiting Golden Eagles," said Lahasky. "The long-term impact of our efforts will be realized when there is an increase in licensed social workers who can meet the critical needs of residents in South Mississippi. Our School's mission is to serve the poor, oppressed and underserved in our communities. We are passionate about educating and equipping the next generation of social workers who will make a difference in the lives of at-risk Mississippians."
Given the vast health challenges facing Mississippians, The Bower Foundation directs its funds and energies toward making sustainable, systemic improvements in the state's health and education infrastructures. The living legacy of Dr. John D. Bower's work inspires the Foundation to continue caring for the health of Mississippians through strong partnerships and leveraged resources that transform systems and accelerate better health outcomes and policy.
"The USM School of Social Work's long-standing commitment to educate and inspire students to work, provide services and care for Mississippi clients is a state treasure," said Anne Travis, CEO of the Bower Foundation. "The Foundation is pleased to help more community college graduates become USM graduates and social workers in our state."
To learn more about the USM School of Social Work, visit usm.edu/social-work. For more information about the Bower Foundation, visit bowerfoundation.org.
---
About The University of Southern Mississippi
The University of Southern Mississippi (USM) is a comprehensive public research institution delivering transformative programs on campuses in Hattiesburg and Long Beach, at teaching and research sites across the Mississippi Gulf Coast, as well as online. Founded in 1910, USM is one of only 146 universities in the nation to earn the Carnegie Classification of Institutions of Higher Education's "R1: Doctoral Universities – Very high research activity" designation, and its robust research enterprise includes experts in ocean science and engineering, polymer science and engineering, and large event venue safety and security, among others. USM is also one of only 39 institutions in the nation accredited in theatre, art and design, dance and music. As an economic driver, USM generates an annual economic impact of more than $663 million across the state. USM welcomes a diverse student body of more than 14,000, representing more than 70 countries, all 50 states, and every county in Mississippi. USM students have collected four Truman Scholarships and 37 National Science Foundation Graduate Research Fellowships, while also leading Mississippi with 27 Goldwater Scholarships, an honor that recognizes the next generation of great research scientists. Home to the Golden Eagles, USM competes in 17 Division I sports sponsored by the National Collegiate Athletic Association (NCAA). For more information, visit usm.edu.