Howden Named Director of USM's Hydrographic Science Research Center
Wed, 04/27/2022 - 09:33am | By: Margaret Ann Macloud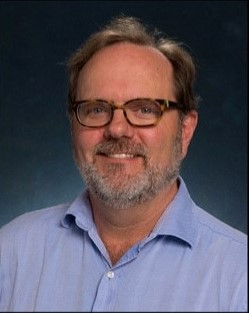 The University of Southern Mississippi (USM) named Dr. Stephan Howden the Director of the Hydrographic Science Research Center (HSRC). Howden served as the interim director and is a faculty member in the School of Ocean Science and Engineering, where the HSRC is housed.
"It is an honor to be named Director of the Hydrographic Science Research Center at The University of Southern Mississippi," Howden said. "Soon after being hired as an Assistant Professor in the then-Department of Marine Science at USM to teach in the nascent Master's in Hydrographic Science program, the late Rear Admiral Ken Barbor, recently retired from the US Navy, was hired as the founding Director of the HSRC. I watched and admired his career as he led the HSRC to be a leading hydrographic research organization funded by the US Navy, US Army Corps of Engineers NOAA, and others, to solve important questions and problems in hydrography for those organizations. I will endeavor to carry on that legacy, and those of the other previous directors, while steering the center into the future."
Hydrographic science provides the essential geospatial framework required for all activities in the marine and limnological environments, including navigation, maritime security, earth and environmental sciences, and sustainable resource management, among many others. As such it plays a crucial role in sustainability, resilience, and adaptation to climate change for ocean, coastal and inland water environments. Some of the research at the Center includes a partnership with the National Oceanic and Atmospheric Administration's (NOAA) Ocean Exploration Cooperative Institute, which explores, maps, and characterizes the nation's vast ocean territory to develop and implement new technologies. HSRC also has multiple uncrewed systems that are currently being used for research, including underwater systems capable of surveying down to 3,000 meters, surface systems that can survey for more than a week, and airborne systems.
"Dr. Howden has been instrumental in driving research, education, and training in hydrographic science," said Dr. Kelly Lucas, Associate Vice President for Research, Coastal Operations. "His connections among federal, state and industry partners are important in building programs and training scientists to collect information that not only supports navigation and sustainable resource management but is at the core of national and environmental security to expand economic opportunities and defend democracy. I am confident his leadership will continue to advance research and address topics of importance to the nation."
USM is one of only two universities in the nation that provides a master's degree in hydrographic education, and it recently started a bachelor level-program. The Center proudly claims 100 percent job placement of its students.
"It is an exciting time for hydrographic science. There is a recognition that hydrographic data need to move from single use, supporting purposes such as nautical charts, integrated ocean and coastal mapping, coastal zone management, response to disasters, where hydrography serves many users with differing survey requirements," Howden said. "The field is also rapidly developing among multiple fronts driven by technological innovations such as uncrewed vessels and aircraft, low-cost, mass market sensors, cloud storage and computing, and artificial intelligence and machine learning. The United Nations Decade of Ocean Science for Sustainable Development has embraced initiatives such as Seabed 2030 that has a goal of mapping 100% of the world ocean by 2030. I look forward to continuing to work with USM faculty, staff and students involved in all of these exciting developments."
Dr. Howden received his Ph.D. in Physical Oceanography from the University of Rhode Island, a Master of Science from Michigan State University, and a Bachelor of Science from the University at Buffalo. He has been with USM since 2000.
For more information on the HSRC, visit www.usm.edu/hydrographic-science-research-center/