USM Honors Newest Class of Hydrographic Science Program Graduates
Fri, 08/05/2022 - 11:03am | By: Van Arnold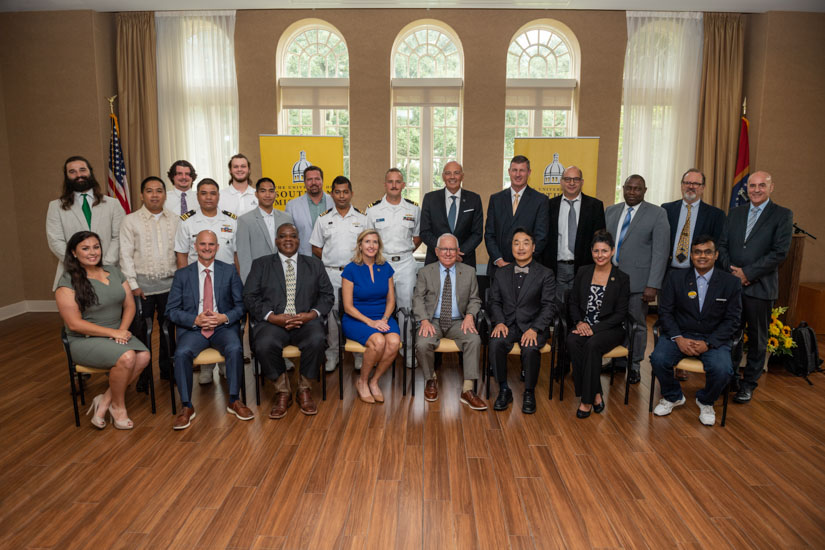 The University of Southern Mississippi's unique hydrographic science program has produced another diverse and talented group of graduates who were honored during a Class of 2022 recognition ceremony held July 29 on the University's Gulf Park campus in Long Beach, Miss.
USM is the only university in the United States to offer an undergraduate program in hydrography and one of just two to offer master's and doctoral degree programs in this challenging field. Since the program's debut in 1999, USM has graduated 240 students, including 59 international students from 33 different countries.
Hydrographic Science Program Coordinator Alberto Neves described this year's class as "a very international and committed cohort, ready to improve hydrography around the world."
The hydrographic science program is administered through USM's School of Ocean Science and Engineering. The graduation ceremony honored all recipients of certificates that indicate the student successfully completed either a Category "A" or Category "B" program in hydrographic science. At USM, Category "A" certification customarily identifies those who earn master's degrees, while Category "B" recognizes those who earn undergraduate degrees. Some doctoral students opt for the Category "A" certificate on route to their degree without receiving the master's degree.
Those earning Category "A" certificates include:
Md Zubayer Ahmed, Lieutenant Commander, Bangladesh Navy, Bangladesh
Marlon E. Estropia, Lieutenant, National Mapping and Resource Information Authority, Philippines
John Willis Gray, oceanographer, U.S. Navy, Naval Oceanographic Office
Nuttachai Luangaram, Lieutenant JG, Royal Thai Navy
Allan Noveno, Lieutenant Commander, Philippine Navy
Evan Earle Rohde, graduate assistant, Division of Marine Science, USM
Joseph P. Yott Jr., Lieutenant, U.S Navy, Fleet Survey Team


Those earning Category "B" certificates include:
Brindy Marie Bissett
Brandon Hewitt
Matthew H. Suddith
The USM master's program is a demanding and intensive curriculum covering all aspects of hydrography and related sciences. The program is core to the advanced requirements of the U.S. Navy and other federal agencies and sough-out by government agencies and industry worldwide to meet their need for highly trained hydrographers.
Dr. Leila J. Hamdan, Interim Associate Vice President Research, Coastal Operations at USM, expressed pride in the School of Ocean Science and Engineering's ability to serve the needs of the nation and coastal communities through the prestigious program.
"In addition to being part of rich learning environment made up of students, staff and faculty studying coastal systems to deep ocean areas, professionals in this program gain highly specialized and immediately sought-after skills in ocean data collection, mapping and observing right here on the Mississippi coast," said Hamdan.
Hydrographers produce information that directly affects the daily lives of people across the globe, yet many may be unaware. Hydrographers work in such demanding areas as:
Enabling exploitation of gas and minerals
Construction of ports and offshore alternative energy sites
Laying of communication cables and pipelines
Establishment of aquaculture farms
Optimization of shipping routes
Dredging of navigation channels
Preparation and response to natural disasters
Neves notes that the need for qualified hydrographers is ongoing, thus the significance of USM's esteemed program cannot be overstated.
"The demands are current and there is an overall lack of hydrographers everywhere," he said. "Companies and government agencies are struggling to find qualified professionals."
To learn more about the hydrographic science program at USM, call 228.688.7123 or visit: https://www.usm.edu/graduate-programs/hydrographic-science.php