USM's Institute for Disability Studies Resumes In-Person Summer Academy
Mon, 08/01/2022 - 11:08am | By: Jerry Alliston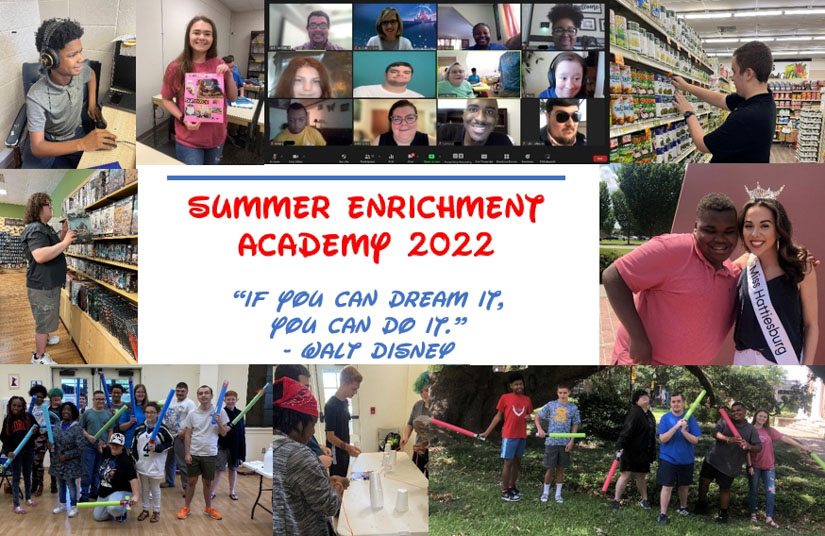 For the first time since 2019, the Institute for Disability Studies' (IDS) Summer Enrichment Academy provided in-person options to youth and young adults wanting to increase their employability skills.
Beginning in 2018, IDS, through its Transition of Teens to Adult Life (ToTAL) Program, has hosted youth and young adults for a multi-week training and internship experience during the summer.
While other students may be taking vacations, spending times with friends and enjoying time out of school, a group of youth and young adults chose to spend this summer learning how to prepare for future employment and participating in an internship experience.
The 2022 Disney themed Academy was the fifth offering of this annual event, and the third time virtual participation options were made available. This year's Academy was built upon a quote from Walt Disney himself . . . "If you can dream it, you can do it."
In early June, a total of 30 young people participated in this year's Academy. Students had the option of in-person training at the Hattiesburg campus of The University of Southern Mississippi (USM) as well as the Gulf Coast campus in Long Beach. In addition, a virtual option was provided for those students unable to meet at either of the campuses.
The Academy consisted of a general two-week training session followed by individualized six-week work-based learning experiences. Internships were provided in the student's local area and for those under age 16 and outside the campus local communities, virtual educational internships were provided.
This year's Academy was led by Beth Robertson, Transition Coordinator who provided oversight for all virtual aspects of the program.
"The excitement, attentiveness, and eagerness to learn has been unsurpassed in our students this year. If the pandemic has given us anything, it is an appreciation to be together again," said Robertson. "This group of students has been a joy to serve as they are dreaming big for their futures and becoming equipped in their job readiness and self-advocacy skills."
One new activity for this year's Academy was the addition of a youth self-advocacy summit. All attendees received copies of National Self-Advocate Emily Ladau's book, "Demystifying Disability," and were able to virtually meet with Emily during the event. Students were able to ask questions, learn about Emily's self-advocacy journey and receive advice as they navigate their own journeys.
The self-advocacy summit was a collaboration with the Mississippi Council on Developmental Disabilities. The Academy is student driven and focused with student input sought throughout the event. Several students have voiced their enthusiasm for participating and learning in the Academy.
"This experience has been fun because I'm able to connect with people like myself and getting to learn new things." – Jeremy
"My favorite thing to learn about were various career opportunities and interview skills. After this course, I feel a lot more prepared to enter the workforce." – Nasia
"I learned so many good things during the Summer Enrichment Academy. My favorite part of the virtual program was meeting with all of my new friends." – Olivia
The ToTAL Program is provided through IDS at The University of Southern Mississippi, Mississippi's University Center for Excellence in Developmental Disabilities, and is funded by the Mississippi Department of Rehabilitation Services. For over 40 years, IDS has maintained its mission to "positively affect the lives of Mississippi citizens with developmental and other disabilities and their families across the lifespan and to work toward increasing their independence, productivity, and community inclusion." IDS concentrates its work in four emphasis areas: Early Childhood Inclusion and Education, Housing, Transition to Adulthood and Wellness.
To learn more about IDS or the ToTAL program, visit www.usm.edu/ids, call 601.266.5163 or email idsFREEMississippi.