USM Alumnus Jackson Building Outstanding Career in Higher Education
Wed, 11/16/2022 - 09:23am | By: Van Arnold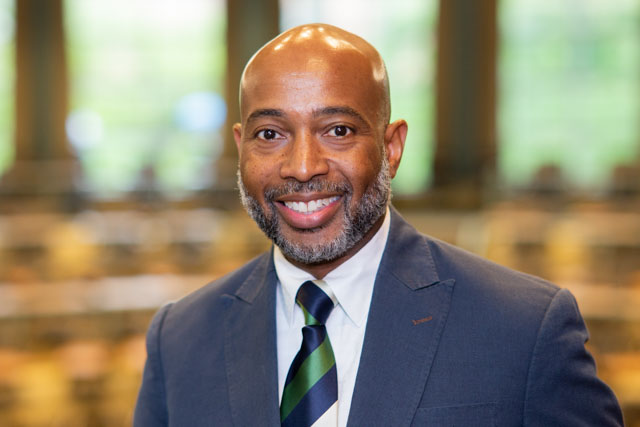 As a percussionist in the Pride of Mississippi marching band and undergraduate student at The University of Southern Mississippi (USM), Dr. Jerlando L. Jackson realized the importance of teamwork, precision, and discipline.
While marching to the beat of a persistent drum, Jackson has built an impressive career in higher education as a renowned author, professor, and scientist. He currently serves as Dean of the Michigan State University (MSU) College of Education and the MSU Foundation Professor of Education. In addition, he serves as the Director and Chief Research Scientist of the Organizational Disparities Laboratory.
Jackson received his Bachelor of Music Education at USM in 1996 before earning his Master's degree in Higher Education Administration at Auburn and his Ph.D. in Higher Education at Iowa State University. Jackson says that his time at USM paved a distinct pathway to the professional success he enjoys today.
"Without question, my experiences in and outside the classroom at USM formed a foundation that allowed me to navigate graduate school, a career in the professoriate, and now in college leadership," said Jackson.
Jackson has authored or co-authored articles in more than 125 publications. He has authored or edited six books, including, "Measuring Glass Ceiling Effects: Opportunities and Challenges" and Ethnic and Racial Administrative Diversity: Understanding Work Life Realities and Experiences in Higher Education. He has been credited with coining the term "organizational disparities" after conducting years of research on hiring practices, career mobility, workforce diversity, and workforce discrimination.
He has established multiple groundbreaking initiatives that include serving as Founding Executive Director of the Center for African American Research and Policy (CAARP) in 2005, Founding Co-Director of the Asa G. Hilliard III and Barbara A. Sizemore Research Course on African Americans and Education held at the American Educational Research Association since 2007, Founding Director of Wisconsin's Equity and Inclusion Laboratory (Wei LAB) in 2010, and Co-Founder of the International Colloquium on Black Males in Education in 2011.
Jackson has also received external funding to develop the Beyond the Game program and the National Study of Intercollegiate Athletics, transformational projects related to the experiences of student-athlete and staff in intercollegiate athletics.
A native of Ashburn, Ga., and born into a military family, Jackson lived in Germany for several years before settling in Ft. Benning, Ga. He enrolled at USM in 1991 after learning about the University's stellar reputation in the arts.
"As a music major, I selected USM because it had one of the best percussion studios in the country, and I wanted to study with Dr. Sherman Hong (longtime USM music professor, now retired)," said Jackson.
While at USM, Jackson became actively involved in Greek Life and counts his membership of the Kappa Iota Chapter of Kappa Alpha Psi Fraternity as a highlight of his time on the Hattiesburg campus. He fondly recalls becoming closely acquainted with Dr. Joe Paul, who served as Vice President for Student Affairs during Jackson's days as an undergraduate. Paul now serves as the University's 11th president.
"I was fortunate enough to forge a relationship with Dr. Paul while an undergraduate, which continued after my graduation," said Jackson. "Those interactions were connected to being a member of Greek Life on campus, being a student leader on campus, and career exploration when I learned about career pathways that led to working on college campuses. He was always genuine, responsive, and helpful to me."
As colleges and universities across the country grapple with the task of boosting enrollment, Jackson offers some insight as to how they might tackle the challenge.
"Two factors that will be critical to addressing the enrollment challenges in public higher education are clarifying and communicating the value proposition of a college degree in society and articulating clear career pathways for future and current students," he said.