Distinguished Marine Policy Fellowship Awarded to USM Student
Fri, 08/12/2022 - 11:35am | By: Margaret Ann Macloud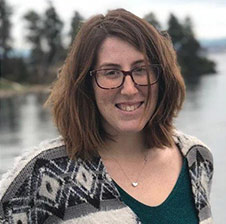 A University of Southern Mississippi Ph.D. candidate has been selected as a finalist for the distinguished 2023 class of the Sea Grant John A. Knauss Marine Policy Fellowship program, which gives professional-level students hands-on experiences transferring science to policy and management through one-year appointments with federal government offices in Washington, D.C.
USM's Sara Marriott, a marine scientist who describes herself as determined to support the production of sustainable seafood through effective domestic and international fisheries management, was one of 86 finalists chosen for this competitive fellowship. The Mississippi-Alabama Sea Grant Consortium endorsed her application for the fellowship, and she is the only finalist from a Mississippi university. Following a rigorous interview process this fall, she will be matched with a federal government office to begin her fellowship in February 2023. Some of the offices in which she may be placed include the National Oceanic and Atmospheric Administration, The White House, the Department of State, the Environmental Protection Agency, the National Science Foundation and other agencies, as well as many Legislative placements.
"After doing my master's program, I really enjoyed the problem-solving aspect of policy analysis and being presented with an environmental problem and trying to figure out different ways to craft a solution," Marriott said. "The Knauss Fellowship will provide vital experience in the federal government to launch my ideal career pathway working in fisheries and coastal management. I look forward to the mentorship and networking opportunities presented through the fellowship, which will provide me with an invaluable experience working within a government agency to learn how policy gets crafted and implemented."
Marriott earned a Bachelor of Science in Marine Biology and a Master of Science in Coastal and Ocean Policy from the University of North Carolina- Wilmington, and she's on track to complete her Ph.D. in Coastal Sciences this semester. Her dissertation analyzes community-based fisheries in the Philippines and how marine protected areas benefit when enforcement power is given to local communities. She previously worked as a fishery observer for NOAA, where she collected data at sea for the organization, and she was also a part of the monitoring and evaluation team at Rare, a global non-profit focused on community-led solutions.
"This fellowship really is a great fit for Sara," said her graduate advisor, Dr. Kim de Mutsert. "Her interests and work are focused on the interdisciplinary field of marine science and policy, and she on a path to a great career in science-driven policy implementation."
The Knauss Fellowship is supported by Sea Grant, a national network of 34 university-based programs and the Sea Grant Collection at the NOAA Central Library, with the mission to enhance the practical use and conservation of coastal, marine and Great Lakes resources to create a sustainable economy and environment. More information on the Knauss fellowship can be found by visiting: seagrant.noaa.gov/Knauss-Fellowship-Program