USM's Meet the Firms Event Sees Impressive Turnout
Wed, 10/05/2022 - 11:55am | By: Van Arnold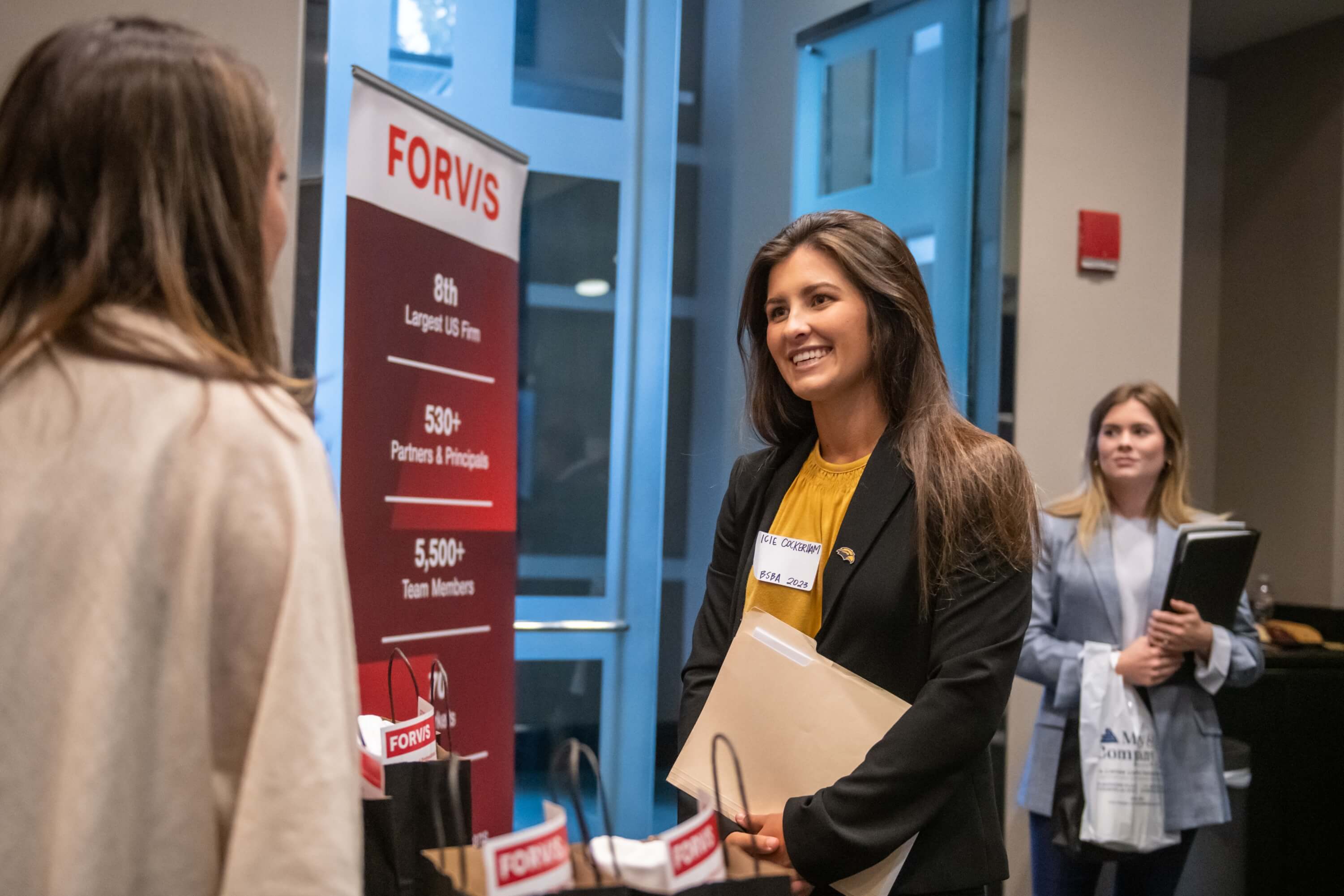 Accounting students at The University of Southern Mississippi (USM) enjoyed a unique opportunity to interact and network with organizations from across the Pine Belt region and far beyond during the Meet the Firms" event held Sept. 8 at the Trent Lott Center on USM's Hattiesburg campus.
The annual recruiting event is hosted by USM's School of Accountancy in the College of Business and Economic Development. For the first time since the COVID-19 pandemic began, Meet the Firms was held in a traditional, robust format. More than 220 attendees participated in this year's event with 30 different firms and organizations represented.
"After the past two years, it was exciting to see so many firms and students physically in attendance at the 'Meet the Firms event'. Plus, the amount of opportunities that were available to our students was very encouraging," said Dr. Bret Becton, Dean of USM's College of Business and Economic Development. "We certainly appreciate every firm that was present and hope that we will be able to help them meet their hiring needs."
Amber Hatten, Professor of Practice and the Director of the Master of Professional Accountancy (MPA) graduate program, noted that this was the first "back to normal" recruiting event for the school since the pandemic started.
"It was wonderful to have members of the accounting profession return to campus and reconnect and recruit our students, without masks and other strict COVID-19 protocols," said Hatten. "We are hopeful that the Meet the Firms event will result in many internship opportunities and full-time positions for our students, and we are very grateful to the participating organizations for their commitment to Southern Miss and their continued interest in recruiting and hiring our talented accounting students at USM."
School of Accountancy Director, Dr. Blaise Sonnier, expressed gratitude to the organizations that participated in Meet the Firms.
"The event allows our students to engage with the top accounting and business professionals in the area while pursuing internship and employment opportunities," he said. "It was also rewarding for faculty to hear from employers about how well prepared and impressive our students are — Southern Miss To The Top!"
Participating Firms/Organizations included:
Alexander, Van Loon, Sloan, Levens & Favre PLLC (AVL)
Blue Cross & Blue Shield of Mississippi (BCBS of MS)
C Spire
Carr, Riggs & Ingram, LLC (CRI)
Donnell CPA Group, PC
Ernst & Young (EY)
Examiners of Public Accounts - State of Alabama
Federal Deposit Insurance Corporation (FDIC)
FORVIS (Formerly BKD / DHG)
GranthamPoole PLLC
Haddox Reid Eubank Betts PLLC (Haddox Reid)
Hancock Whitney Bank
Hannis T. Bourgeois, LLP (HTB)
Harper Rains Knight & Company (HRK)
Holt & Associates, PLLC
HORNE
KPMG LLP
Matthews, Cutrer and Lindsay PA
May & Company, LLP
Mississippi Department of Revenue (DOR)
Mississippi Society of Certified Public Accountants (MSCPA)
Mississippi Office of the State Auditor (OSA)
Parish Tractor
Piltz Williams LaRosa and Company (PWL)
Postlethwaite & Netterville (P&N)
PricewaterhouseCoopers LLP (PwC)
Silas Simmons
Southern Farm Bureau Life Insurance Company
TMH
Trustmark Bank
To learn more about the School of Accountancy at USM, call 601.266.4641 or visit: https://www.usm.edu/accountancy/index.php