USM School of Psychology Announces Psychology Scholars for 2022-2023
Mon, 04/18/2022 - 13:53pm | By: David Tisdale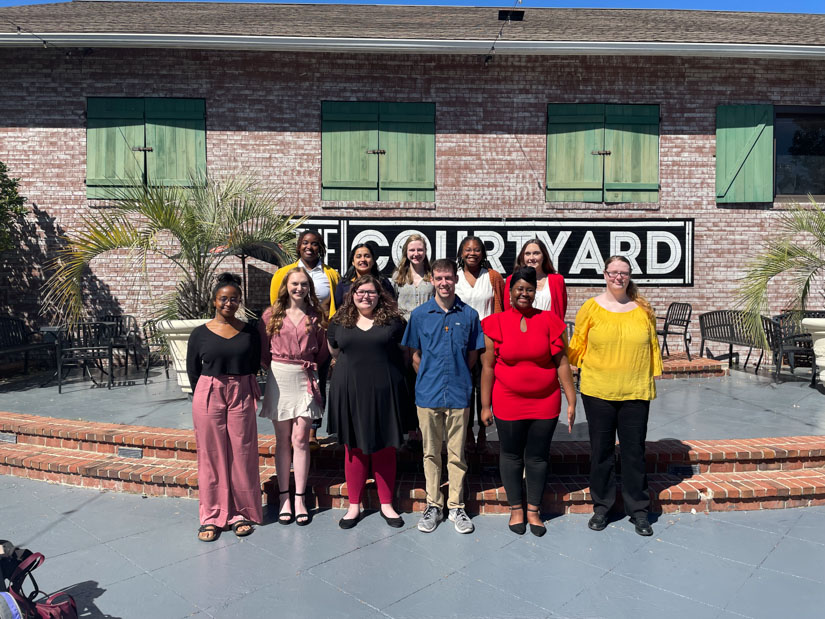 The University of Southern Mississippi (USM) School of Psychology recently announced the 2022-2023 class for its Psychology Scholars Program, a select group of high-achieving psychology majors who are offered specialized training in interpersonal communication skills, peer mentoring, and applying to graduate programs from the school's faculty.
Psychology Scholars serve as models of a successful psychology major for other students in the school by representing the School of Psychology at various events, providing student success presentations, and offering peer mentoring to new and transfer students. The program specifically aims to help students from underrepresented groups achieve admission to and succeed in graduate school.
Since its inaugural class in 2017, the Psychology Scholars Program has successfully helped students gain acceptance to masters and doctoral programs in psychology, social work, neuroscience, education, leadership, and human resource development, as well as medical school.
"For many fields, including psychology, advanced degrees are required to perform in research or applied practice settings, such as in becoming a psychologist," said Dr. Michael Madson, professor of psychology and advisor to the program. "The Psychology Scholars program strives to help high achieving USM psychology majors acquire the tools and skills necessary to gain entry to and perform well in graduate school.
"Many of our majors come from backgrounds underrepresented in graduate school and advanced education, so part of our mission is to help many of our high achieving students realize their potential, and realize they can succeed as a graduate student," Dr. Madson continued. "Within the first five years of the program, we have been relatively successful in helping the majority of Psychology Scholars gain access to graduate programs of their choice. Many of the early Scholars who have earned their graduate degrees have said this program helped them feel confident as a graduate student and that they belonged in graduate school."
The 2022-2023 Psychology Scholars include:
*Andrew Moore of Mandeville, Louisiana
*Garima Puri of Mozang, Nepal
*Olivia Dampier of Madison, Mississippi
*Ambir Amacker of Collins, Mississippi
*Klaria Holmes of Oxford, Mississippi
*Sydney Lord of Portland, Connecticut
*Sunny Jo Young of McHenry, Mississippi
*Caroline Carmody of Grenada, Mississippi
*Lorilynn Thigpen of Walls, Mississippi
*Zoe King of Braxton, Mississippi
*Makyla Edwards of Fayette, Mississippi
The USM School of Psychology is housed in the College of Education and Human Sciences. For more information about the School of Psychology, visit https://www.usm.edu/psychology/index.php.