Renowned Right Field Roost Elevates Baseball Game-Day Atmosphere
Thu, 06/09/2022 - 02:58pm | By: Van Arnold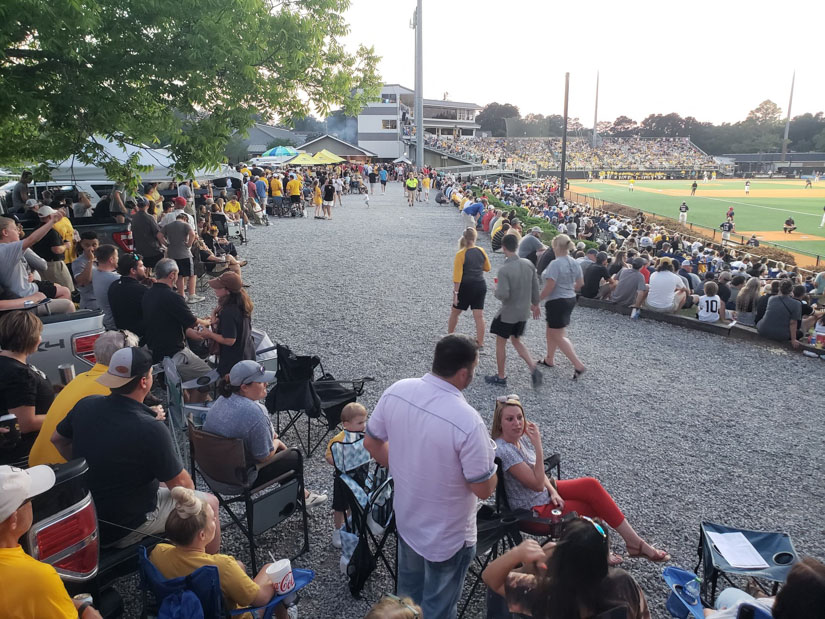 The Right Field Roost at Pete Taylor Park (photo courtesy of Bill Carney)
They have been crowing like crazy for the last few weeks in the Right Field Roost at Pete Taylor Park/Hill Denson Field. Things are bound to get even rowdier this weekend when The University of Southern Mississippi Golden Eagles host the University of Mississippi in an NCAA Super Regional series.
For the first time in school history, Southern Miss is hosting a best-of-three Super Regional – beginning Saturday, June 11 at 3 p.m. - to decide which team advances to the College World Series. Might want to bring along some earplugs.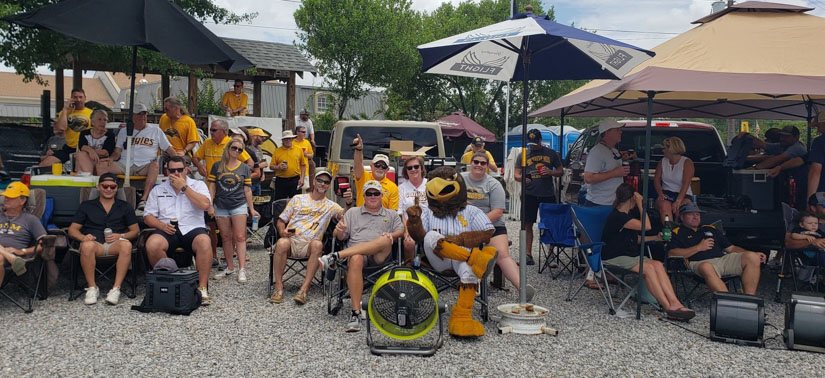 USM mascot Seymour spends some time in the Roost. (Photo courtesy of Bill Carney)
You've got to experience the atmosphere first-hand to fully understand how special the Roost has become since its inception almost 40 years ago. On game days at the ballpark, an otherwise non-descript gravel lot beyond the rightfield wall becomes a black and gold clambake, featuring crawfish boils, sausage grilling, horn blowing and beverages to quench any thirst. A smattering of pine trees helps shade the sun on sweltering afternoons. The ground is raised just enough to offer a unique, panoramic view of the park.
"Those who have spent time watching USM baseball from the Roost know that it is a completely different experience than watching from the stands," said Bill Carney, a 1981 Southern Miss graduate who has been a Roost member since 1993 and has occupied spot No. 18 for approximately 15 years. "We arrive at least an hour before gametime, get everything set up, light the grill and start cooking. At some point during this pre-game ritual, the first top is popped, and the festivities begin."
Carney notes that the festivities sometimes begin earlier than normal on days when the team has an 11 a.m. or noon starting time. "For the occasional early Sunday games, we have 'breakfast in the Roost,' which is always fun and rivals Cracker Barrel," he said.
The beloved Roost is the brainchild of former Southern Miss Head Baseball Coach Hill Denson, who came to the University in 1984 and led the program for 14 years, compiling a 468-386-2 record. From his first day as head coach, Denson pushed the idea of a modernized college facility, complete with advertising logos on the outfield wall and interactive promotions for all who attended Southern Miss games.
Denson had a vision for the space beyond the rightfield fence right from the start. "In 1984 when we went there, we knew at some point that we would add that area to the ballpark," he said.
He notes that the popular name was not conceived until a few years after Pete Taylor Park officially opened. "When we finally got the okay to do it, we decided between naming it the Nest or the Roost," said Denson.
In fact, Denson points out that the original proposal of charging fans to park vehicles in a spot such a considerable distance from home plate required some convincing of then Director of Athletics Bill McLellan.
"Bill said to me and (Eagle Club fundraiser) Ben Willoughby, 'Ya'll can offer that silly idea, but nobody will pay $100, join the Eagle Club and buy at least four season tickets.' That was what we were telling him that we wanted to do. This all happened two days before the season opener," said Denson.
Never tell a fellow named Hill that something appears too steep. "We marked off 10, might have been 12, spots in the curve," said Denson. "Ben walked around to a few people at the games that opening weekend and mentioned it to them. All of them sold right then!"
Get this: when Denson took over, the University did not even charge admission to baseball games, which were played on a field with portable bleachers that doubled as a practice field for the football team. By the end of 1984, Denson had raised enough awareness and donor contributions to see his concept come to life, and Pete Taylor Park hosted its first games the following year.
Today, the Right Field Roost includes 40 designated parking spaces. "Roosters" pay a premium to reserve their spot each season, are required to purchase four season tickets and maintain Eagle Club membership to retain their spots. The waiting list is more than 15 years long.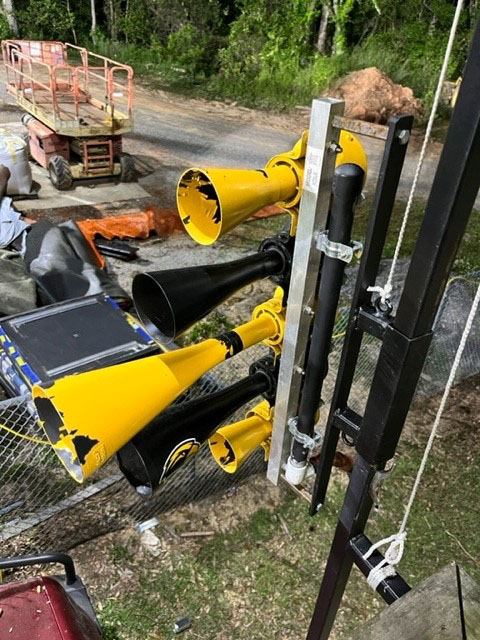 Few fans, or their vehicles, are more recognizable in the Roost than 1992 graduate and longtime supporter John Adams. Adams is easy to locate in spot No. 40 with his 1995 Toyota T-100 pickup sporting a double-decker platform ideal for optimum viewing above the outfield wall. The 8 X 12 surface includes jack stands and supports to hold eight to 10 fans at a time.
Adams' claim to Roost fame involves the blowing of a train horn that can be heard across the USM campus and even a few streets beyond. He explains that the horn's origins can be traced to the Roost's early days when fans blew their vehicle horns to celebrate home runs by Southern Miss players.
"Once we got our spot and after the first-generation deck was put on the truck, I started thinking those car horns aren't loud enough," he said. "My old Toyota truck had an air compressor that I had installed on the engine years before, so I told the guys we needed some truck air horns. Well, one of the guys had access to some old horns from decommissioned military vehicles and that's when the first generation of air horns was born. Those horns were high-pitched and had a weird sound, but they were louder than everyone's vehicle horns, so we went with it."
A few years and a couple of truck platform alterations later, Adams and his cohorts decided a louder, more distinctive, horn sound was needed.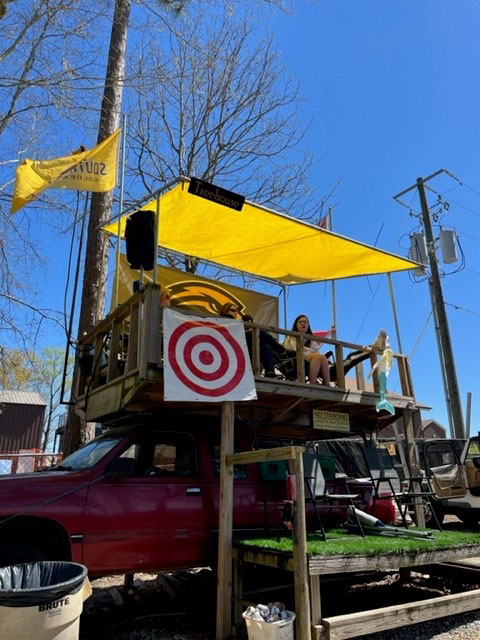 "I started looking for real train horns but those are expensive," he said. "An Internet search put me on a guy that makes replicas of train horns out of PVC and funnels. This guy makes custom horns that replicate all the different train horns out there. He makes and tunes them to exact sounds. I got in touch with him, and he made me a set that are the same horns that are on the CSX trains that run through Hattiesburg. I even got him to paint them black and gold."
The train horns are run by an electric air compressor that maintains a 65-gallon tank at 125 psi. In other words, a lot of air is needed to blow those horns. Adams saves the blasts for the National Anthem, USM home runs and victories.
"On home runs, the horns blow until the runner steps on home plate," he notes.
When the Golden Eagles knocked off the LSU Tigers last weekend to capture an NCAA Regional title, Pete Taylor Park shook to its foundation, and the Roost erupted in bedlam. In a scene that has become customary following key USM victories, several players sprinted to the Roost, climbed the outfield wall and celebrated with the fans.
The Roost has been an integral part of Steve Lawler's family since the first spots became available. Lawler, a 1976 Southern Miss graduate, says the family purchased an original space – No. 7 – along the rightfield line side.
"The Roost spot has been part of the Lawler family for as long as I can remember. It has to be one of the best ways to watch USM baseball, with the friendships, the tailgating, the grilling and the atmosphere," said Lawler. "My son, Hunter, grew up in the Roost playing behind the fence and chasing foul balls. Back when Coach Denson was there, I remember he had ball girls who would chase the fouls ball to put them back in play, and it was about as much fun to watch those kids runs from the ball girls than the game itself."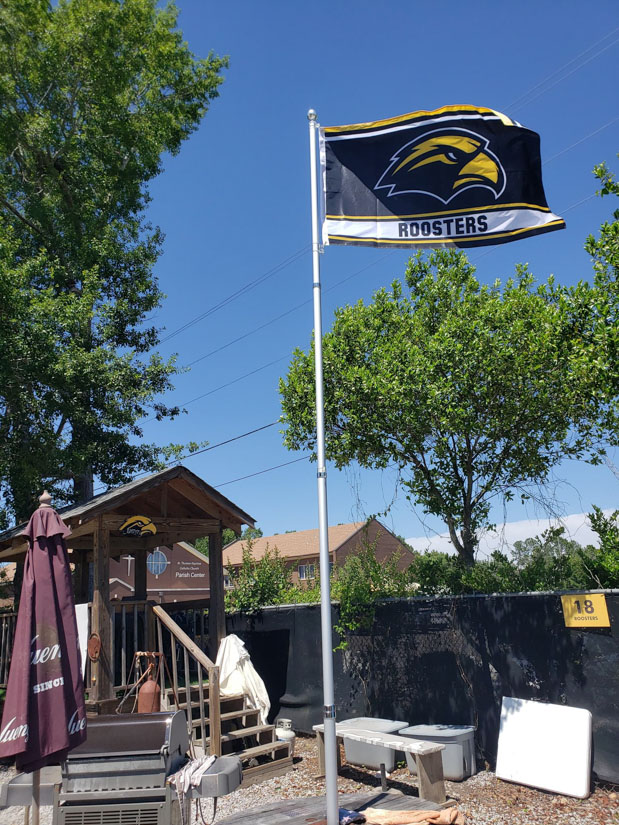 Now nearing the age of 40, Hunter Lawler brought his 2-year-old daughter to her first Southern Miss game during the latter part of the season. "That was the only game my dad (former Hattiesburg Chief of Police Dempsey Lawler) was able to attend, so that makes four generations for us in the Roost," said Steve.
The Roost represents so much more than a meeting place to simply watch a college baseball game. Friendships have been created and cemented there. Traditions have been hatched on that hallowed ground. There remains a spirit of camaraderie; a kinship that almost defies explanation.
"USM baseball and the Right Field Roost have been a big part of the springs in this half of my life," said Carney. "I raised two kids in the Roost and my daughter is now raising my grandson there. I enjoy hanging out with old friends, making new ones, watching some great baseball games and making memories to keep me company when I'm old and can't do it any longer."
What would a party scene like the Roost be without some shenanigans or saucy stories? While it may not be classified as a secret society, a code exists for those who spend any time in the renowned Right Field Roost.
"We follow the same rules as Vegas and most deer camps," said Carney. "What goes on in the Roost, STAYS in the Roost."