Catching Up with USM Alumna Sarah Holder
Mon, 05/09/2022 - 09:38am | By: David Tisdale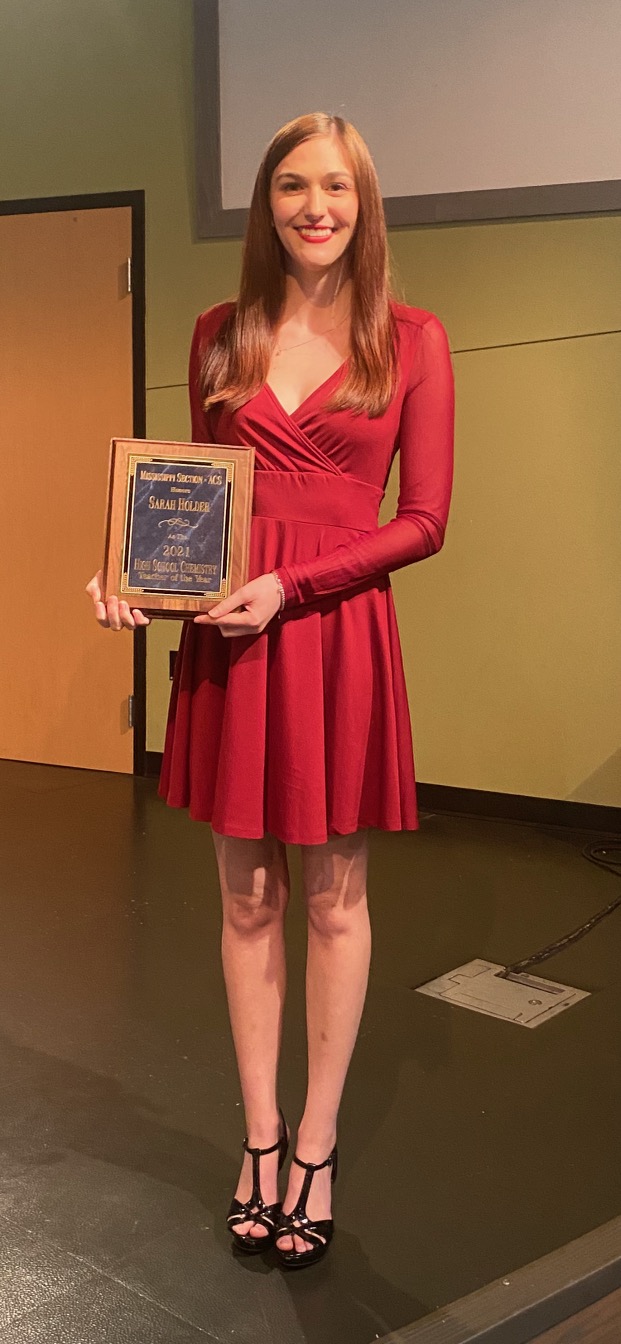 Sarah Holder made her way back to Hattiesburg in 2020 via Los Angeles, California, after deciding the career path she was pursuing there just wasn't for her. A native of Mobile, Alabama who has strong ties to the Pine Belt, Holder was in Hattiesburg two years ago visiting family when she met with her friend Linda Bass, who is the online student support specialist for the USM Office of Online Learning. Holder told Bass she wasn't certain what steps to take next in pursuit of a career path. Bass encouraged Holder to investigate USM's online Masters in the Art of Teaching (MAT), and how through it she could be a high school teacher in the sciences, which she received her undergraduate degree in, and use an alternate route provision for teachers to start working while she pursued the MAT.
Holder applied to the MAT program in the summer of 2021 semester, was accepted, and began her first three courses. She soon secured a job at East Marion High School teaching science, and continued with her USM coursework while teaching, and graduated with her MAT in 2021. Since then, she was named East Marion High School Teacher of the Year, and Chemistry Teacher of the Year by the American Chemical Society. Southern Miss Now caught up with Holder recently to talk to her about her path back to Mississippi and the achievements USM has helped her attain.
SMN: Tell us a little about yourself and how you made your way back to USM and the Pine Belt.
HOLDER: I am from Mobile, Alabama and started my undergraduate career as a chemistry major at USM before transferring my junior year to the University of South Alabama back in Mobile and changing my major to Biology with a minor in Related Sciences. That move also resulted in a change from Pre-Med to Pre-Dental. At South Alabama, I helped found the USA Pre-Dental Society and served as treasurer my senior year. I graduated in 2019 and moved to California to attend Western University of Health Science in pursuit of a master's in biomedical science. However, after one semester, I realized I was very homesick and decided to return to Mobile.
I have connections to USM through several family members and family friends who attended there and since a young age, I wanted a degree from USM, and getting my masters from USM was a big check off my bucket list. I have many ties to the Hattiesburg area since my mother grew up in Bassfield. I adore this area and have always found myself back in the 'Burg over the years.
SMN: Describe your experience with the MAT program, and how you turned toward a career in education.
HOLDER: When I left California, I was struggling to decide what my next move was. I knew I wanted to use my biology degree, and I still hadn't given up on dentistry. However, I was also burned out on school as I'd never taken a break between high school, undergrad, and graduate. I took six months off and in March of 2020, my friend Linda Bass contacted me about the MAT program. I was hesitant at first because I had grown up with people telling me I'd be a great teacher, but I always pushed away from it. After working in a corporate industry for six months I realized that was not the life for me. I finally gave in and thought "I can teach for a few years and then maybe try again for dental school." Little did I know…teaching is definitely my calling.
My experience with the MAT program has been the most positive experience with education I have ever had. It's rigorous but still efficient. You aren't just being fed information and expected to memorize it for a test. Every course uses practical discussion and application of things that really happen in a classroom. You actively apply everything you learn by creating projects and materials that you could use in your career.
I think the best part of my experience was that the intern year isn't just as a student teacher in a classroom for a set number of weeks. I had my own classroom, content, and students and I learned as I went with the help of my advisors and teachers. It was a real-world way of becoming an educator and not just a simulated scenario. Is it tough at times? Absolutely. But education is tough and learning to be a teacher while actually doing it is the best way to go.
SMN: Any individual USM professors you would like to recognize as mentors who positively influenced your growth as an educator?
HOLDER: Dr. Jay Howell and Dr. Bridgette Davis were by far the best advisors and instructors I could have ever hoped for. Going from a program with little support to a program with more support than I ever thought possible was amazing. Both were always available. Anytime I had a question, all I had to do was send them a message and they would set up a Zoom call as soon as possible. They never sugar-coated or made a situation seem like it was something I couldn't handle. They gave real-world advice and always supported me.
SMN: What were some of the courses in the MAT program that stand out?
HOLDER: Classroom Management was by far the best class I could ask for. I have teacher friends who never received a classroom management course in their programs, and they struggle with things that I don't struggle with from students. Of course, I am by no means perfect, but I have an advantage in my classroom from what I learned in that class.
SMN: Talk about what's going on now in your day-to-day life at work.
HOLDER: I have spent both of my two years as a teacher at East Marion High School. I teach Chemistry, Human A&P, and Zoology to grades 10-12. I revived the National Honor Society at East Marion last year and have about 50 students as members. This year, we added a performing arts department to the school, for which I serve as assistant Director. I was voted Teacher of the Year by my colleagues at the school, which was a humbling honor. I don't do what I do for accolades or recognition; I do it to give my students every opportunity that they can have to be successful humans. I was also recognized as High School Teacher of the Year for the Mississippi Section of the American Chemical Society this school year.
SMN: What is your teaching philosophy?
HOLDER: My teaching philosophy is centered around compassion. I'm only 26 and have spent 20 of those years as a student. I know how tough it can be to juggle home life, exhaustion, extracurricular, and class work activities. Yes, teenagers need discipline and structure, but they are still human beings. We cannot expect a 15–18-year-old to think and do the same way we do. Discipline for one's goals is a learned behavior. I give my students every opportunity to succeed while still maintaining high expectations from them. I believe strongly in social emotional learning. I may be the only person to tell a child I'm proud of them or to have a good day, and I make sure I do that even when they are not having the best day.
SMN: What advice would you give to others who may be considering the USM MAT program and a career as an educator?
HOLDER: My best advice is to just do it. The support USM provides for their students is untouchable. They even send out new job opportunities. Teachers will always be needed and taking the first step to become a teacher opens the door to many other career opportunities. It took me a while to realize that the little girl who used her allowance to buy grade books and activities for her pretend classroom was born for education. However, the MAT program and the experience I have had in my classroom has made me realize that teaching is my calling. I may not stay in the classroom for my entire career, but the love I have for teaching is greater than I could have ever imagined.