USM Scientist Collaborates with Scholastic Publishing on Shark Activity Kit
Thu, 04/14/2022 - 03:12pm | By: Van Arnold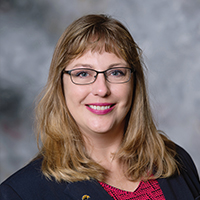 Jill Hendon, Director of the Center for Fisheries Research and Development at The University of Southern Mississippi (USM), has collaborated with the Scholastic Corporation on the creation of an activity kit that features the fascinating world of sharks and rays.
The "Shark Lab" kit is designed for kids in grades 2-7 (ages 7-12). In this deep dive, they can learn all kinds of shark facts and meet a shark expert. The kit also includes a 32-page book of facts and activities, diving shark toy, growing shark in dissolving bag, and two fossilized shark teeth.
Hendon points out that as a scientist who studies sharks, Scholastic reached out to her to help develop a book and activity kit that features sharks and rays.
"For this endeavor, they were focused on highlighting 'women who inspire girls to get involved in STEM' (Science, Technology, Engineering and Math). I worked with a wonderful editor at Scholastic to review and revise content and make contributions to the book that would be of interest to the target age group," said Hendon.
Scholastic Corporation is an American multinational publishing, education and media company that publishes and distributes comics, books and educational materials for schools, parents, and children. Products are distributed via retail and online sales and through schools via reading clubs and book fairs.
A native of Minnesota, Hendon notes that being from a land-locked state inspired a love of reading that really deepened her interest in fish and ocean science.
"Scholastic books played a big role throughout my elementary school years and put so many stories and adventures at my fingertips," she said. "I am honored to now share this love with a new generation."
Despite their somewhat scary image and demeanor, sharks remain a fascinating topic for kids. Hendon explains that these unique fish elicit a multitude of emotions in readers and observers.
"What is important however is that we learn to understand these fish so that the emotions and awe that we feel are based in reality," she said. "Sharks actually play a very important role in our ocean ecosystem, and that toothy smile they have serves a purpose that does not involve human interaction."
Not to be overlooked, Hendon stresses that rays merit a share of the spotlight. "It is also important to highlight rays as many people do not realize that they are one of the closest relatives to sharks. From their cartilaginous skeleton to their mode of reproduction, these fish are unique compared to their other fish friends," she said.
Hendon expresses hope that the "Shark Lab" gives youngsters a platform to learn about sharks and rays from a source that is factual.
"I hope this also inspires them to learn as much as they can about whatever interests them and to realize that knowledge and determination can really take you places. If you love fish and science, I may work alongside you one day!"
To learn more about "Shark Lab" visit: https://clubs.scholastic.com/shark-lab/9781338753349-rco-us.html?cgid=A_2#BVRRWidgetID