Interim Board Chosen for New Gulf Shellfish Farmers Association
Tue, 09/13/2022 - 03:48pm | By: Van Arnold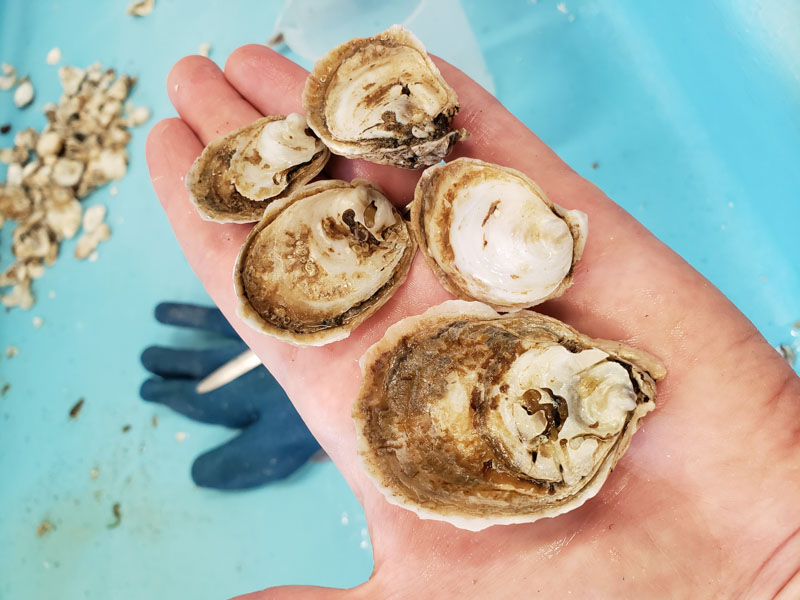 The University of Southern Mississippi's Thad Cochran Marine Aquaculture Center (TCMAC) has spearheaded efforts to unite diverse segments of the oyster industry in the Gulf of Mexico, resulting in the formation of the Gulf Shellfish Farmers Association (GSFA).
On June 30, representatives from across the Gulf of Mexico convened in Ocean Springs to take the necessary steps in electing an interim board for the new organization.
The interim board includes:
President – Terry Boyd, of Ocean Springs, Miss.
Treasurer - Lindsay Allday, of New Orleans, La.
Secretary – Gretchen Kelly, of Cedar Key, Fla.
Earlier this year, the TCMAC received a $100,000 grant from The Nature Conservancy as part of its Supporting Oyster Aquaculture and Restoration (SOAR) Shellfish Growers Resiliency Fund. The grant called for USM to lead the charge in creating an industry-driven association designed to develop the relationships among regulatory agencies, industry stakeholders, and academia required to facilitate a common vision for sustainable industry growth.
Boyd is the owner of Magnolia Key Oyster Company in Ocean Springs. As interim president he plans to help facilitate the official formation of the trade association by overseeing the legal process of founding a new, non-profit 501c (5) organization. He points out that as aquaculture grows in the region, taking the right steps to ensure its success is critical.
"Associations like the GSFA are important to help push the industry forward, whether that be to tackle regulatory issues in one state or to help streamline the permitting process in another," said Boyd. "We can accomplish these goals better in numbers rather than individually. We need the farming community in the Gulf to have a unified voice to help influence the growth of the industry and create change where needed."
Reports show that traditional oyster harvests have experienced decreases in recent years. The Nature Conservancy's SOAR Fund has provided more than $1 million to support struggling oyster farmers and build resiliency into the industry.
Dr. Reginald Blaylock, Research Professor and Interim TCMAC Director, explains that the off-bottom oyster farming industry in the Gulf of Mexico is relatively new.
"Current regulations were designed to deal with traditional on-bottom practices," said Blaylock. "The new Gulf Shellfish Farmers Association represents industry interests across the Gulf of Mexico and is positioned to advocate for the development of regulations that will facilitate the growth of the off-bottom industry."
He stresses that USM's leadership in helping establish an organization that will facilitate development of the aquaculture industry positions the University as a key player in integrating the aquaculture industry into opportunities provided by the blue economy.
The Thad Cochran Marine Aquaculture Center is located in Ocean Springs, Miss., at the University's Gulf Coast Research Laboratory. The Center's research focuses on alleviating the bottlenecks that constrain the production of marine species. TCMAC researchers work with industry, government, and non-profit organizations to advance sustainable aquaculture on land and in coastal and marine environments.
To learn more about the TCMAC, call 833.467.2782 or visit: https://www.usm.edu/marine-aquaculture-center/index.php