Songfest 2022 Helps Chi Omega Sorority at USM Top $1 Million Mark in Support of Make-A-Wish
Mon, 11/14/2022 - 14:32pm | By: David Tisdale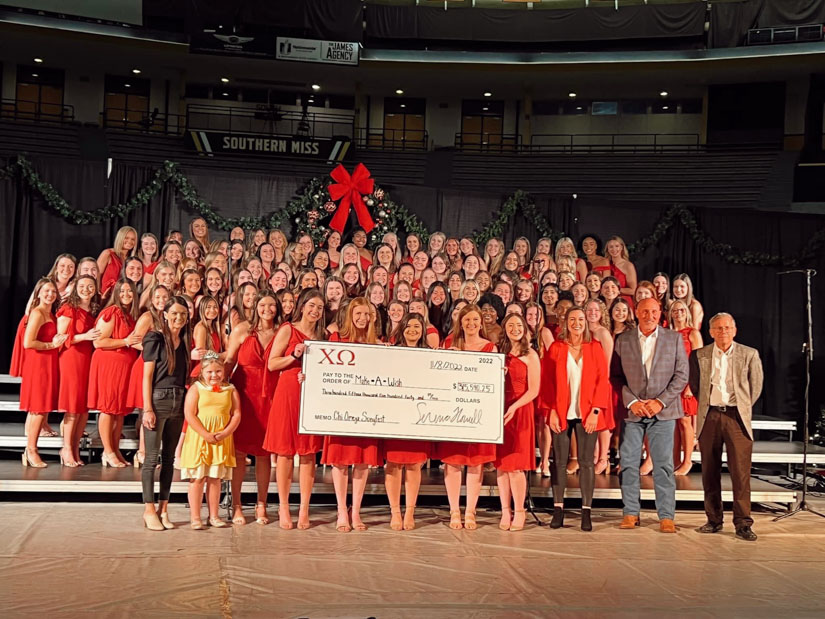 Chi Omega Sorority and its supporters celebrate a successful Songfest 2022 (submitted photo).
The Epsilon Delta Chapter of Chi Omega Sorority at The University of Southern Mississippi (USM) not only surpassed last year's fundraising total in support of the Make-A-Wish Foundation with their longtime annual holiday music event, Songfest, but also reached a major milestone in their support of the charity's mission to grant wishes to children with terminal or life-threatening illnesses.
In surpassing last year's total by bringing in more than $315,000 this year, Chi Omega also went over the $1 million mark in its yearslong support of the charity.
"The event went incredibly well and exceeded my expectations," said Serena Howell, a member of the chapter who serves as its Songfest coordinator. "The FSL (Fraternity and Sorority Life) community didn't hold back when it came to helping us with this event. They were supportive, encouraging, and cheered so loudly when we granted the recipient her wish, which is to go to Disney World."
Songfest features holiday-themed musical performances, including those by USM's Fraternity and Sorority chapters, along with a silent auction to support Make-A-Wish. For more than 70 years, it has continued to be one of the more popular holiday traditions in the Pine Belt.
"I congratulate Chi Omega sorority and the entire fraternity and sorority system here at USM for another successful Songfest raising money for Make-A-Wish Foundation," said USM Vice President for Student Affairs Dr. Dee Dee Anderson. "This year's event was remarkable for raising over $300,000 and for passing the $1 million mark for their efforts over the years in support of Make-A-Wish. Songfest highlights Chi Omega's commitment to the wider community, as well as its longstanding relationship with the charity."