Stonebreaker to Receive Milton E. Ahlerich Distinguished Leadership Award at 13th Annual National Sports Safety and Security Conference & Exhibition
Wed, 05/25/2022 - 14:16pm | By: NCS4 Staff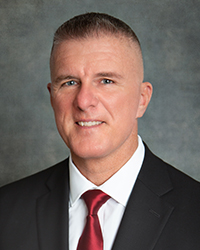 Jeff Stonebreaker, CSSP, Senior Vice President of Safety and Security for Major League Soccer (MLS), will be presented with the Milton E. Ahlerich Distinguished Leadership Award during the 2022 National Sports Safety and Security Conference & Exhibition on June 28-30 in Orlando. The event is presented annually by the National Center for Spectator Sports Safety and Security (NCS4) at The University of Southern Mississippi.
The Milton E. Ahlerich Distinguished Leadership award recognizes a professional whose career includes multiple achievements and contributions to sport safety and security. The recipient's service, commitment, ingenuity, and integrity must have elevated the profession to new levels to warrant this prestigious honor. The recipient is selected by a panel of subject matter experts on behalf of the NCS4 and awarded annually at the National Sports Safety and Security Conference & Exhibition.
"I was both humbled and very appreciative upon learning of this award. I have always believed the job is about bringing people together and forming relationships that allow effective communication," said Stonebreaker. "I have been a longstanding proponent of a risk-based, intelligence-led model to event safety and security. Getting the right stakeholders to collaborate and have their voices heard is key to a solutions-oriented approach. Event safety and security supports a wide cross-section of deliverables, from broadcast and communications to marketing and guest experience, as well as brand and reputation management."
He continues, "The goal is to build a team and create a culture committed to ensuring a safe and secure environment for players, officials, employees, and fans – from every segment of our community. While policy and process are important, the people are critical and deserve our best efforts. In the end, I do my best to be a good steward of what I have been entrusted with until it is time to pass it along."
In his current role, Stonebreaker oversees security standards and policy development for MLS as well as international matches, Supporter Group Management, the Soccer Security Agent program (Compliance), and Integrity initiatives. He has also been significantly involved in venue design standards and has worked with a number of new venues as MLS continues to grow.
After serving 31 years in law enforcement, Stonebreaker retired as a Major from the Orange County Sheriff's Office in Orlando, Florida. Stonebreaker worked as a Security Advisor to the England Football Association for ten years spanning over 50 matches in 22 countries, including the 2010 World Cup in South Africa and the Euro 2012 tournament in Poland and Ukraine. He also served in the Florida Army National Guard for ten years in an Infantry Scout unit.
"Jeff is a worthy recipient of this distinguished award, given his experience, industry contributions, and passion for ensuring safe and secure space for sports and entertainment patrons," said Dr. Stacey A. Hall, NCS4 Executive Director and Professor of Sport Management. "He believes in collaboration and leveraging expertise from the private sector, government, and academia."
Hall continues, "Jeff has been a longtime supporter of the NCS4. Since the Center's inception, he has served in many roles, including a FEMA-approved trainer, member of multiple advisory boards, and a leader and advocate for professional development programs. He currently serves as the Vice-Chair of the Certified Sport Security Professional (CSSP) Commission. Jeff is a highly respected professional within the industry, and his colleagues appreciate his assistance and insights into innovative practices and technologies in dealing with risk and emerging threats."
Stonebreaker co-chaired the DHS Commercial Facilities Sector Sports Leagues Subsector Council, which connects the major sports leagues and large sporting events. The collaboration and collective knowledge of the group has been invaluable as everyone continues to adjust to the new normal in a post-pandemic landscape. He was also instrumental in bringing a reporting hotline to fruition for MLS. The work around a formal Gambling Policy led to a need for anonymous reporting, which expanded to encompass a spectrum of potential issues, not just gambling. This has evolved into a process of reporting, case management, and effective follow-up that will allow for all voices to be heard and issues to be addressed.
Stonebreaker is a strong advocate of a risk-based, intelligence-led approach and places a heavy emphasis on education and prevention over enforcement. He believes security is a necessary part of game-day operations and should enhance the overall guest experience.
For more information, visit ncs4.usm.edu.
---
About the 13th Annual Conference:
The National Sports Safety and Security Conference & Exhibition will be held at the Omni Orlando Resort at ChampionsGate on June 28-30 in Orlando. The conference will attract over 450 attendees and 70 exhibitors representing professional sports, intercollegiate athletics, interscholastic athletics, marathon and endurance events, sport and entertainment facilities, and those who provide safety and security products and services to the industry. For more information, visit http://www.ncs4.usm.edu/conference/.
---
About NCS4:
Established in 2006, the National Center for Spectator Sports Safety and Security (NCS⁴) is the nation's only academic center devoted to the study and practice of sports safety and security. The NCS4 is partially underwritten by grants from the Department of Homeland Security (DHS) and the Federal Emergency Management Agency (FEMA). The NCS4 mission focuses on three key pillars – Training and Education, Research, and Outreach. For more information about NCS4, call 601.266.6183 or visit ncs4.usm.edu.