USM Center for STEM Education Partners with Hattiesburg Zoo for Inaugural Teachers-on-the-Move Collaborative
Tue, 05/17/2022 - 01:09pm | By: Ivonne Kawas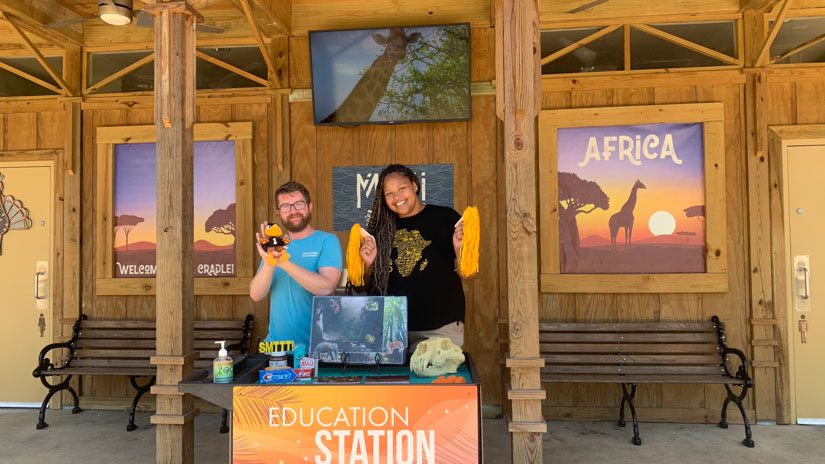 The University of Southern Mississippi's (USM) Center for STEM Education is partnering with the Hattiesburg Zoo to facilitate a year-long professional development opportunity for Hattiesburg-area teachers called NExUS2 Teachers-on-the-Move. Teachers from any grade level and any subject area are eligible to participate.
The program invites local Hattiesburg teachers to engage in a variety of hands-on activities including teaching with zoo educators and animal ambassadors to advance instructional repertoires and serving a diverse intergenerational community.
"This program was inspired by a formative experience during my early years of science teaching, as I participated in an education collaborative in Houston's Independent School District," shared Dr. Maria Wallace, Assistant Professor of Science Education at the Center for STEM Education at USM. "I've been wanting to create this professional development collaborative for the local teacher community for a long time," she added.
The program encourages teachers to look beyond schools for sites of inspiration to impact student learning and create positive experiences with science.
"It is no secret that the Hattiesburg Zoo has become a powerful heartbeat of the Hattiesburg community — making it the perfect place for our inaugural NExUS2 Teachers-on-the-Move
community site. Also, if teachers are looking to learn more about how to create culturally relevant science experiences for their students, it is essential that this learning happens beyond the classroom," she added.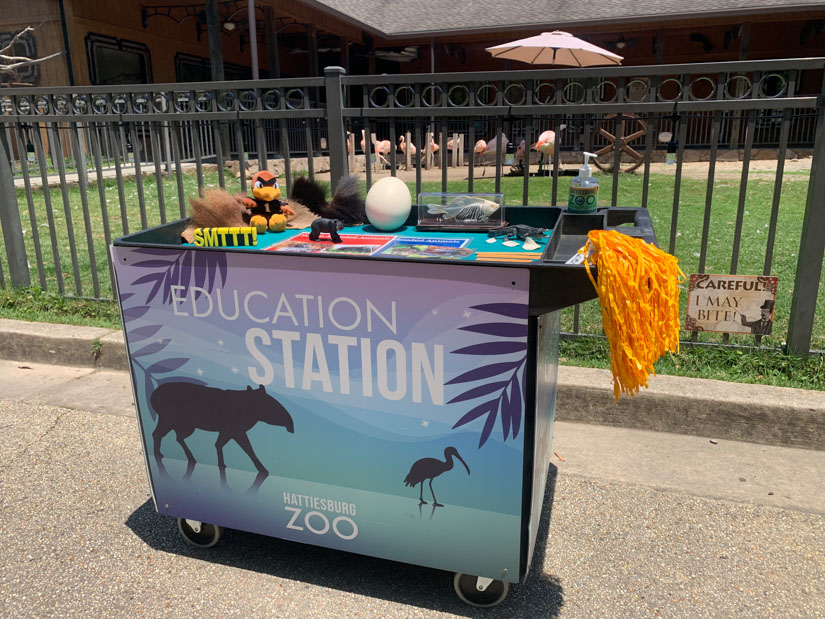 During the fall semester, USM partnered with the Hattiesburg Zoo for service-learning experiences with pre-service teacher candidates. Building upon the successes of the past year, the partnership will expand to include in-service teachers through this collaborative.
"Working with Dr. Wallace has been such a transformative experience for the zoo as a whole. This partnership has led to increased education opportunities for our guests, provided lots of insight into our docent programming, and we are excited to see this partnership continue to grow into an even more powerful tool for environmental education," said Jeremy Cumpton, Director of Conservation, Education and Wildlife at the Hattiesburg Zoo.
Gabby Howe, Education Programs Coordinator for Hattiesburg Zoo, adds that she sees great potential for this collaborative.
"We are looking forward to seeing how our efforts will both support the continued education of pre-service and in-service teachers, while enhancing the educational outreach of the zoo," she said.
Throughout the 2022-2023 academic year, NExUS2 teachers will participate in 12, 2-hour, professional development sessions and be expected to serve as recurring docents at the Hattiesburg Zoo. All of these activities will happen outside of the regular school day on the first Monday of every month.
The program focuses on the following learning objectives:
Exploring how informal and formal education partnerships can support meaningful teacher development
Gaining hands-on-experience working with zoo educational materials and animal ambassadors
Learning how to design for equity-driven curriculum and instruction
Leveraging informal education spaces to foster culturally-relevant education experiences within and beyond schools; and more
Toward the end of the program, teachers will be able to apply docent and professional development experiences to design an extension project specific for their classroom or school community. Teachers will also be able to showcase their new instructional repertoires and extension ideas to school administrators, teachers and community partners.
In addition, among the main benefits of the program are:
Docent experience and the materials participants will utilize are aligned with MS CCRS-based instruction
Professional learning experiences align with standards and requirements for National Board Certification (i.e., renewal & initial application)
Access to additional educational opportunities, animal encounters, and unique behind-the-scenes experiences with Hattiesburg Zoo education team
Access to USM Center for STEM Education faculty and graduate students for research projects that advance knowledge base of teacher education
Access to STEM on Demand lessons and materials for students; and more
Discounted registration rates for schools who want to support a team of teachers to go through this extended professional development experience together are available.
Participants must submit an administration support form to register. Program has limited capacity with 25 teachers in each cohort.
Register by May 31, 2022 to save your spot for the summer enrollment cycle or by July 15, 2022 for the fall at uosm.wildapricot.org.