USM Student Group Hosting Panel Discussion on Addiction Sept. 20 on Hattiesburg Campus
Tue, 09/12/2023 - 02:13pm | By: David Tisdale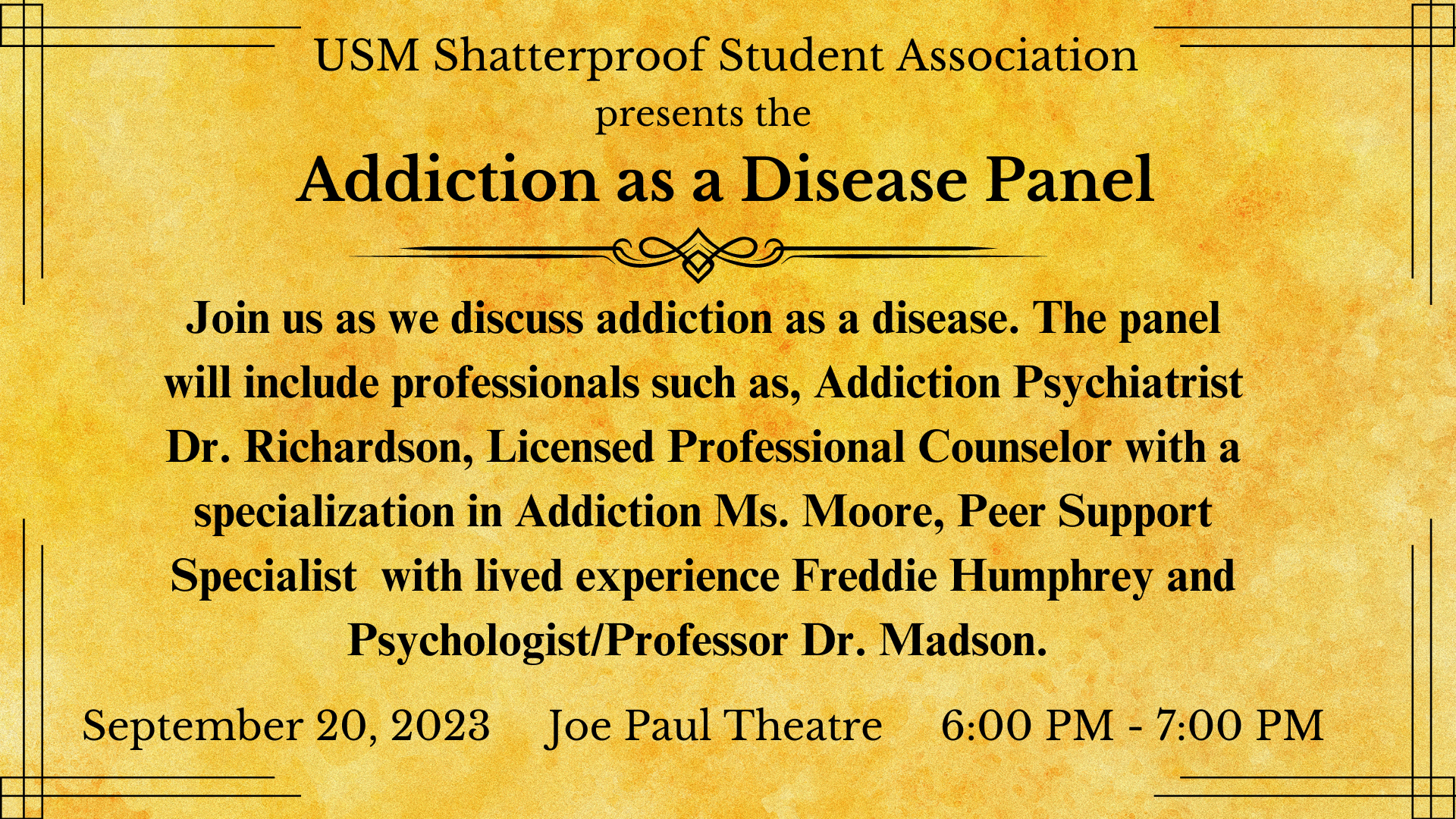 The University of Southern Mississippi (USM) Shatterproof Student Association (SSA) will host the panel discussion "Addiction as a Disease" Wednesday, Sept. 20 at 6 p.m. in the Joe Paul Student Theater, located in the Thad Cochran Center on the Hattiesburg campus. This free event is open to the public and is being held in conjunction with National Recovery Month (September).
The panel discussion will include input from local addiction professionals and individuals with a lived experience with addiction, including Dr. Charles Richardson, an addiction psychiatrist from Hattiesburg; Jan Moore, a licensed professional counselor from Hattiesburg specializing in addiction; Freddie Humphrey of Hattiesburg, a peer support specialist at a treatment facility who has a lived experience with addiction; and Dr. Michael Madson, a USM professor of psychology, licensed psychologist, and advisor to the SSA.
The SSA is made up of students devoted to combating the stigma of substance use disorder (addiction) through peer-based education. The group takes its lead from the national organization, Shatterproof, whose mission is to reverse the addiction crisis in the U.S. by transforming addiction treatment, ending addiction stigma, and empowering and educating communities.
"We're tremendously grateful to have the opportunity to host this event," said Sophie Denton, student president of SSA. "It is one of our group's goals to come together and talk about how we can reduce the stigma around addiction and educate the public on what really is happening in the life of someone with this disease."
Dr. Madson said it is rewarding to see USM students combating the stigma associated with addiction and recovery to create an environment on campus that supports individuals struggling with these concerns.
"The panel organized by SSA is a great way to begin the discussion around addiction by including the voices of professionals and individuals with lived experience when addressing the common beliefs and assumptions around addiction," Dr. Madson further noted.
For more information about this event, contact Denton or Dr.%20Madson.