USM College of Business and Economic Development Honors Alumni of Year
Mon, 03/27/2023 - 09:06am | By: Van Arnold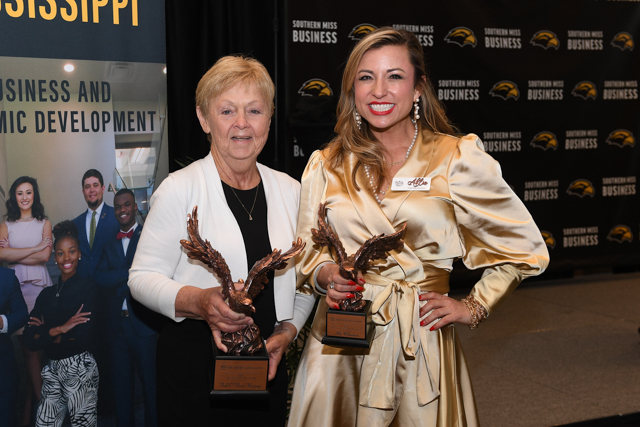 From left to right, Nell O'Neal Murray and Allie Williamson
The College of Business and Economic Development at The University of Southern Mississippi (USM) honored two distinguished alumni during a special luncheon held Friday, March 24 at the Trent Lott National Center on the University's Hattiesburg campus.
Each year, the College of Business and Economic Development recognizes an outstanding Alum of the Year and Young Alum of the Year for their professional achievements.
This year's honorees include:
Nell O'Neal Murray, 2023 Alumna of the Year
Murray has spent her life's work on business and economic research, marketing, project development, educational innovation, and community development. Having grown up in the family business, Murray's parents instilled in her at an early age a strong work ethic and the importance of community. She fulfilled those core values throughout her life's pathways.
With 15 years in higher education administration, she served on the President's Executive Council at Mississippi Gulf Coast Community College and was the Vice President for Development and Institutional Relations. Additionally, 10 years was filled with research and teaching at The University of Southern Mississippi. Murray is known for her dedication to working with young people to assist them with career and education choices.
Murray is quick to relate the pivotal role that Southern Miss Business played in her career choice and the preparation for that career. As she so often says, "my undergraduate in marketing and an MBA from Southern Miss has served me well for a lifetime."
Allie Williamson, 2023 Young Alumna of the Year
Williamson is the Owner and CEO of Southern Domestic Diva, a multi-services cleaning company operating out of Southwest Mississippi and Nashville, Tenn. Williamson is from Monticello, Mississippi and graduated from Southern Miss with her bachelor's in Hospitality Management. Following graduation, she accepted a position in Fairhope, Alabama and began her career in hospitality at the Grand Marriott. Williamson gained experience in sales through her roles in the hospitality industry and eventually landed a job with RJ Young in Nashville, Tennessee.
While Williamson loved her roles in the corporate world, she desired to make an impact in a new way. During her free time, she began cleaning homes to make a little extra money for the holidays. After her 9-5 corporate job, she would change clothes, grab her vacuum and a bottle of Pine-Sol and get to work. Her initial success encouraged her to pursue her entrepreneurial journey full-time and in 2014, Southern Domestic Diva was formed.
In 2019, she expanded the business to her hometown and a new division of Southern Domestic Diva opened in Southwest Mississippi. She has grown an empire made up of more than 70 women. Allie and her team serve over 800 clients in Southwest Mississippi and the Nashville metropolitan area, offering services for residential, commercial, and rental properties.
Dr. Bret Becton, Dean of USM's College of Business and Economic Development, praised the honorees for their professional success.
"Recognizing alumni who have made great contributions to their fields and alma mater is important to show appreciation for what they have done as well as hold them up as examples for others to emulate," said Becton. "Both of the alumni we honor have enjoyed successful careers and have represented Southern Miss Business with honor and distinction. I want to congratulate Nell and Allie on this most deserved recognition."
Visit the website of the College of Business and Economic Development to learn more or call 601.266.4659.