USM Business Welcomes Outstanding 2023-24 EAGLE Scholars Program Cohort
Thu, 09/21/2023 - 02:08pm | By: Bailey Harris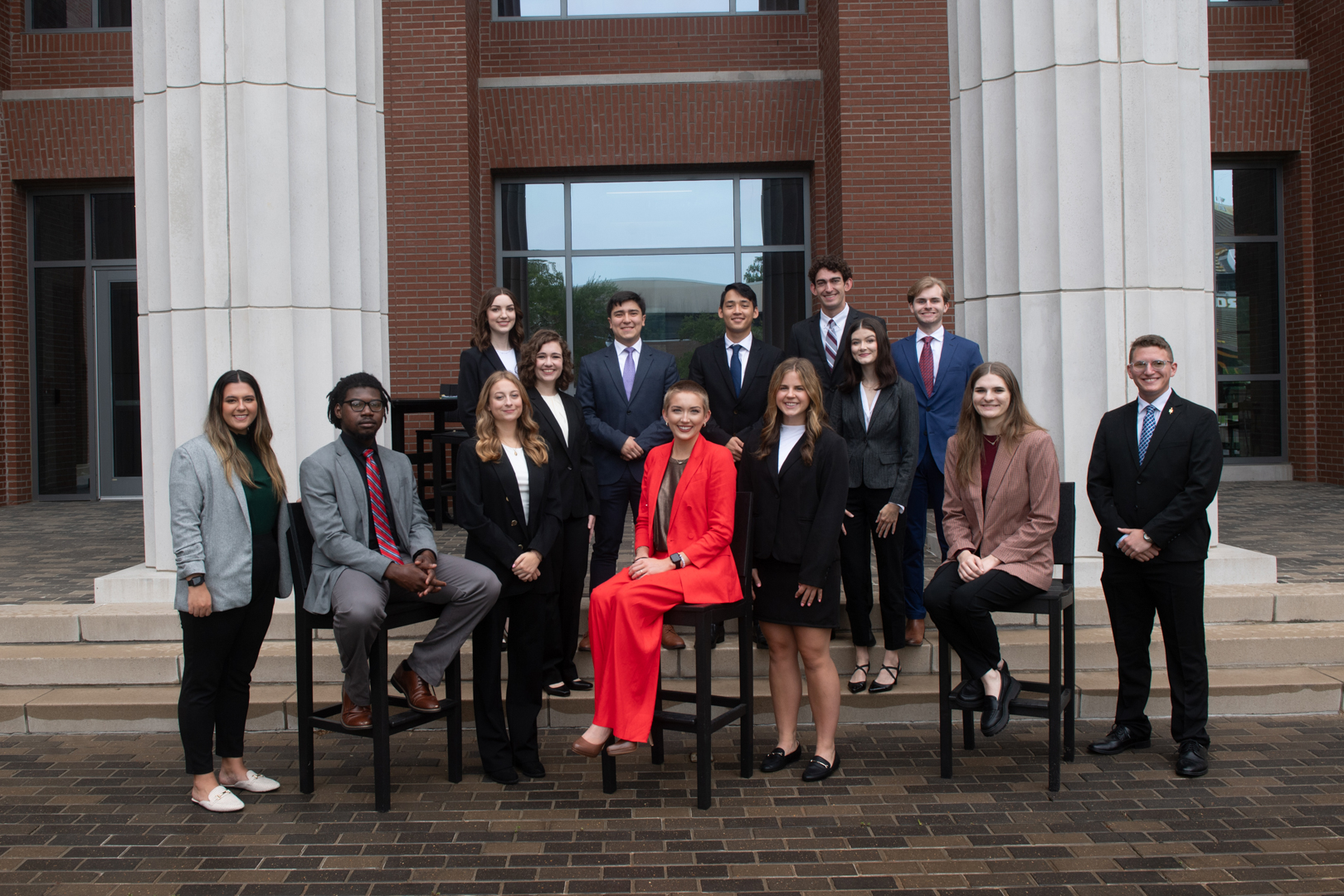 The University of Southern Mississippi (USM) College of Business and Economic Development is pleased to announce the 2023-24 selections for the EAGLE Scholars Program.
This prestigious scholarship and leadership development program is committed to fostering the growth and success of motivated undergraduate business students who embody integrity, a strong work ethic, dedication to completing their degrees, financial need, and outstanding academic achievement. The 2023-24 EAGLE Scholar recipients include:
Julian Atehortua – Junior, International Business; Hometown: Rionegro, Colombia
Lainey Bartlett – Junior, Accounting; Hometown: Vancleave, Mississippi
Abby Box – Junior, Accounting; Hometown: Jackson, Mississippi
DeAnthony Dickerson – Junior, Entrepreneurship; Hometown: Starkville, Mississippi
Kathleen Garraway – Senior, Human Resources Management; Hometown: Madisonville, Louisiana
Maggie Gressett – Senior, Marketing; Hometown: Lake, Mississippi
Alejandro Hung – Junior, Finance; Hometown: Porlamar, Venezuela
Faith Kitowski – Junior, Merchandising; Hometown: Plover, Wisconsin
Andrew Myers – Senior, Accounting and Finance; Hometown: Slidell, Louisiana
Haeden Overby – Senior, Hospitality and Tourism Management; Hometown: Oxford, Mississippi
Ashlyn Roche – Junior, Accounting; Hometown: Mandeville, Louisiana
Desiree Rodriguez – Senior, Marketing; Hometown: Biloxi, Mississippi
Charla Thomas – Senior, Accounting; Hometown: Clinton, Mississippi
Andrew Welch – Senior, Finance; Hometown: Hamilton, Mississippi
Russ Willis, director of the EAGLE Scholars Program, went on to congratulate these outstanding students and welcome them into a community of dedicated scholars and leaders.
"I am pleased to welcome these new EAGLE scholars to this program," said Willis. "Their selection into the program is not only an indication of what they have already accomplished at the university, but also their potential to be the next generation of ethical business leaders. This program helps students grow and mature in their professional development. We are not just training them for their first job but to be difference makers for their entire careers."
Dr. Bret Becton, dean of the college, had similar sentiments. "This cohort is comprised of exceptional students who embody the type of integrity and dedication the EAGLE Scholars program was created to foster. Their achievements reflect their commitment to excellence, and we look forward to supporting them in their academic and professional journeys," said Becton.
EAGLE Scholars receive annual scholarships of up to $8,000, with the possibility of additional support for study abroad or summer school programs, amounting to up to $2,000. In addition to financial assistance, EAGLE Scholars are provided with invaluable opportunities to participate in a comprehensive series of leadership and professional development programs tailored to enhance their collegiate experiences.
The selection process for EAGLE Scholars is highly competitive, with candidates being evaluated on several criteria, including their work ethic, clear career goals, and a demonstrated commitment to completing their degrees. The scholarship is eligible for annual renewal, and program activities are customized to align with the student's academic progress.
For prospective applicants, the application window for the 2024-25 EAGLE Scholars Program is already open and will close on March 1, 2024. Learn more on eligibility and the application process.