USM Student Named MYB Swayze Finalist
Wed, 05/03/2023 - 01:21pm | By: Bailey Harris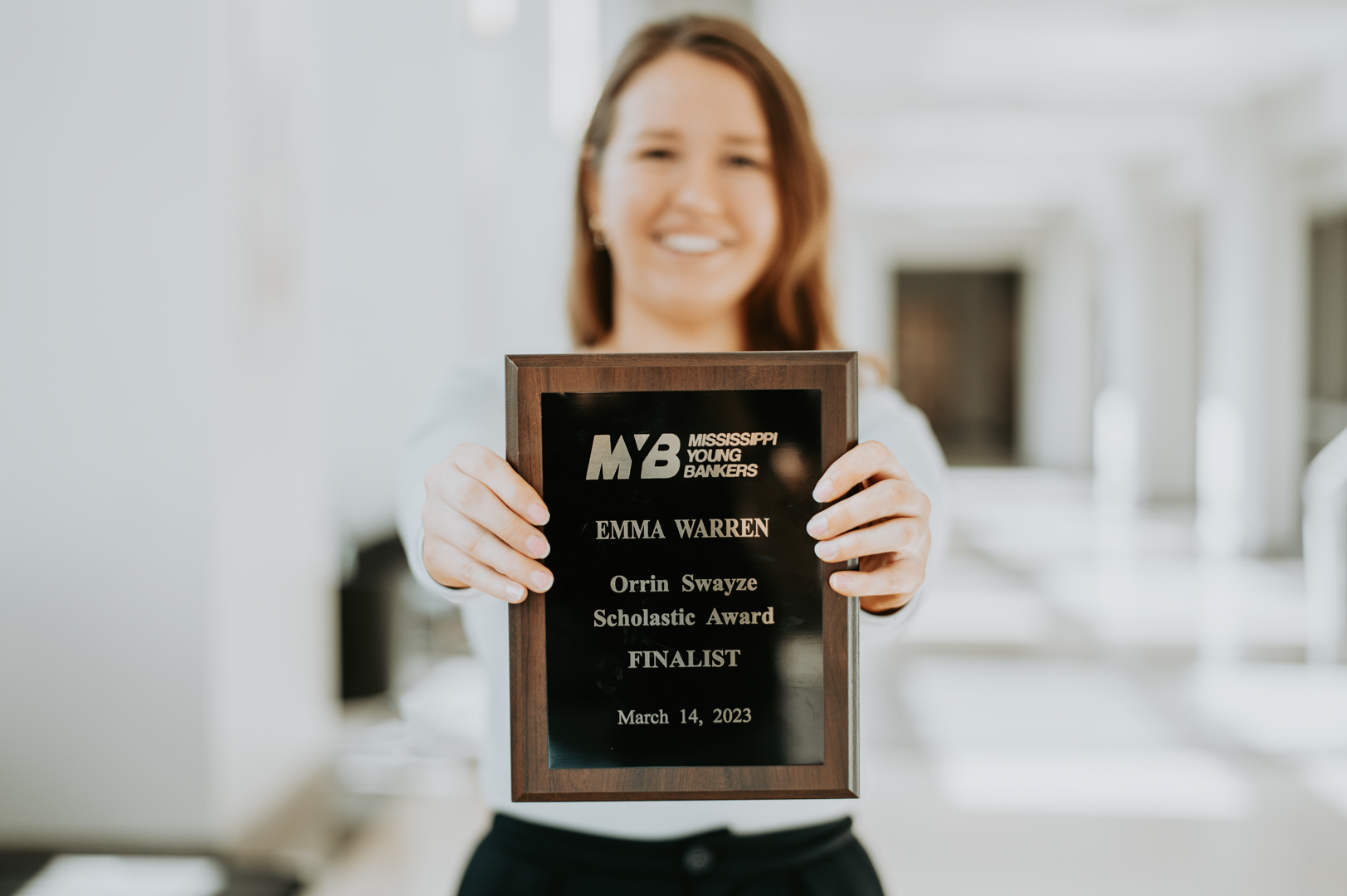 Emma Warren, a finance major and management minor at The University of Southern Mississippi (USM), was selected as one of five finalists for the 2023 Orrin H. Swayze Scholarship awarded by the Mississippi Bankers Association of Education Foundation and the Mississippi Young Bankers section of the association.
The Orrin H. Swayze Scholastic Awards are given each year to five outstanding college seniors who are majoring in banking and finance at state-supported universities. The awards are presented in honor of Swayze, who was a respected banker in Mississippi and a pioneer in continuing education in the field of banking.
Warren is from Slidell, La., and serves as the Vice President of Administration for the women's leadership honorary, The Black-Eyed Susans. Additionally, she is the VP for Finance for the Delta Sigma Pi business fraternity, the President of the Business Student Advisory Council, and an Eagle Scholar. She has maintained a 4.0 GPA during her time at Southern Miss and recently completed her undergraduate thesis titled, "Attitudes Towards Governmental Regulation of Cryptocurrency."
After completing the extensive application process, which included references, detailed involvement information, and accolades, Warren was notified of being a finalist and invited to attend the annual Mississippi Young Bankers Convention. During the convention, all five finalists interviewed with a committee before the final selection was announced at an awards ceremony banquet. She was recognized as a MYB Scholar and presented with a plaque and $1,500.
"I am honored to be selected as a Swayze finalist," said Warren. "Being able to attend the MYB conference, connect with banking professionals, and meet the other four Swayze finalists has been a once-in-a-lifetime experience. I know this experience will serve me well as I start my career in banking and finance."
Dr. Kimberly Goodwin, director of the USM School of Finance, also attended the banquet to celebrate with Warren.
"Being selected as a Swayze Scholar finalist is a tremendous honor," said Dr. Goodwin. "These five students from across the state spend several days getting to know each other and bank executives from across the state. It is a wonderful opportunity to network with future colleagues. Our students also gain confidence from the experience when they see that they are very well prepared to be a part of this group of elite set of students and banking industry professionals. Emma Warren represented the University of Southern Mississippi brilliantly, and everyone who met her came up to me to express their compliments."
Chase Blankenship, an adjunct professor of finance and Market President for The First Bank, reaffirmed that Warren is most deserving of the recognition.
"Emma is a truly exceptional individual, whose tireless efforts at USM have culminated in her being recognized by the Mississippi Bankers Association. Her remarkable achievements are a testament to her dedication and hard work. Emma has undoubtedly made a lasting impression on her university, leaving a legacy that will endure long after she graduates, and we look forward to seeing what she accomplishes during her career in the finance industry."