Doug and Susan Williams Honored as Entrepreneurs of Year by USM College of Business and Economic Development
Mon, 11/20/2023 - 10:12am | By: Van Arnold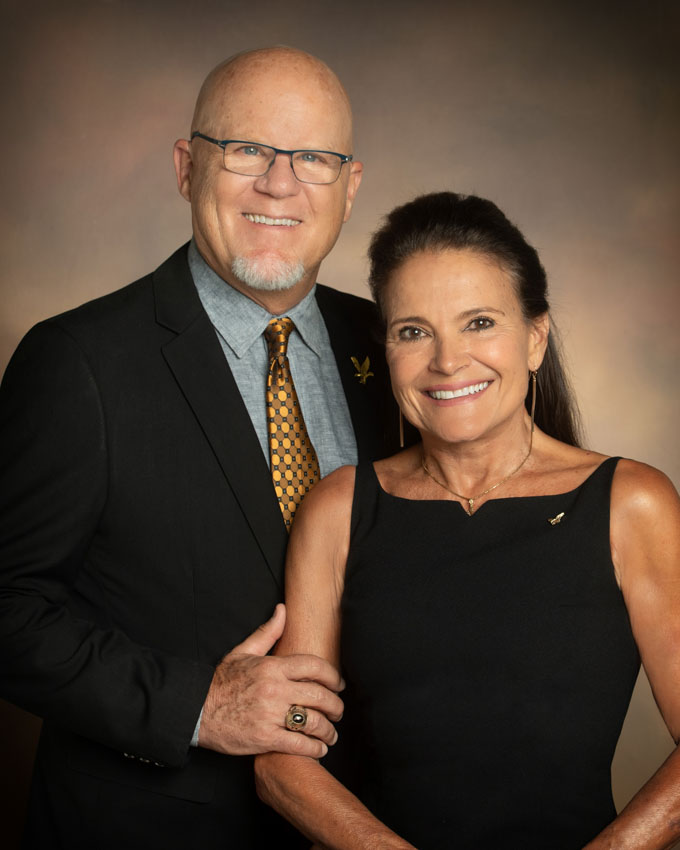 University of Southern Mississippi (USM) alumni Doug and Susan (Fasano) Williams have been recognized as the 2023 Boardman Distinguished Entrepreneurs of the Year by the University's College of Business and Economic Development. The couple were honored during a luncheon on Friday, Nov. 17 at the Trent Lott National Center on the Hattiesburg campus.
The Williams are owners of Kalalou, Inc., a home furnishings and décor wholesale company located in Jackson, Miss. With a catalog of 1,500 products and counting, Kalalou sells to more than 10,000 retail stores and mail order companies nationwide.
"Forty-nine years ago when we graduated, we had no idea where our great education from USM would take us. With our two Bachelor of Arts degrees, we developed a very creative business spanning the globe," said Susan Williams. "To be honored by the College of Business and Economic Development is the icing on the cake for our journey."
Nearly four decades ago, while vacationing in Ocho Rios, Jamaica, the Williamses became inspired by items they found at the local, vibrant market square. Their ideas of creating a thriving business flourished into an international wholesale company with a reach that spans nine countries. The couple continue to travel the globe in search of new additions to their product line.
Added Susan Williams, "As art majors, it is very special for us to also be recognized for our business acumen. We grew our business one step at a time by merging our art degrees with "by the seat of your pants" business techniques…And, here we are today. "Thank you USM for our great foundation and thank you College of Business and Economic Development for this great recognition."
Additionally, the Williams have established charitable projects in several of the countries where they conduct business, including the Doug and Susan's Kids Foundation serving children in Haiti, Honduras, Colombia, and the Philippines. Additionally, one hundred percent of the proceeds from the sale of certain products go directly to medical care, childcare, and other modern amenities for developing nations and their communities.
"With unwavering dedication and a shared vision, Doug and Susan Williams exemplify the epitome of the entrepreneurial mindset as they are honored as our Entrepreneurs of the Year," said Dr. Bret Becton, Dean of USM's College of Business and Economic Development. "Their steadfast commitment to transforming a humble idea into a flourishing home furnishings and decor empire showcases not only their business acumen but also their ability to turn dreams into reality. Beyond the boardroom, this dynamic duo's philanthropic endeavors underscore their commitment to making a positive impact, weaving compassion and kindness into the fabric of their success story."
The annual event is sponsored by the late Joseph Boardman Jr., a 1953 graduate of Southern Miss, where he majored in marketing. A past president of the Southern Miss Alumni Association and former member of the USM Foundation Board, Boardman also served 18 years on the Harrison County Development Commission. In 1972, he was elected to the Hancock Bank Advisory Board and served as a member of the Hancock Bank Holding Company Board until 2007, including chairman of the board from 1987 to 2007. From 2008 to 2009, Boardman served as Hancock Holding Company Board member emeritus.
To learn more about the College of Business and Economic Development, call 601.266.4659.