'Experience Business Casually' Provides Rewarding Opportunity for USM Students
Tue, 09/19/2023 - 10:44am | By: Van Arnold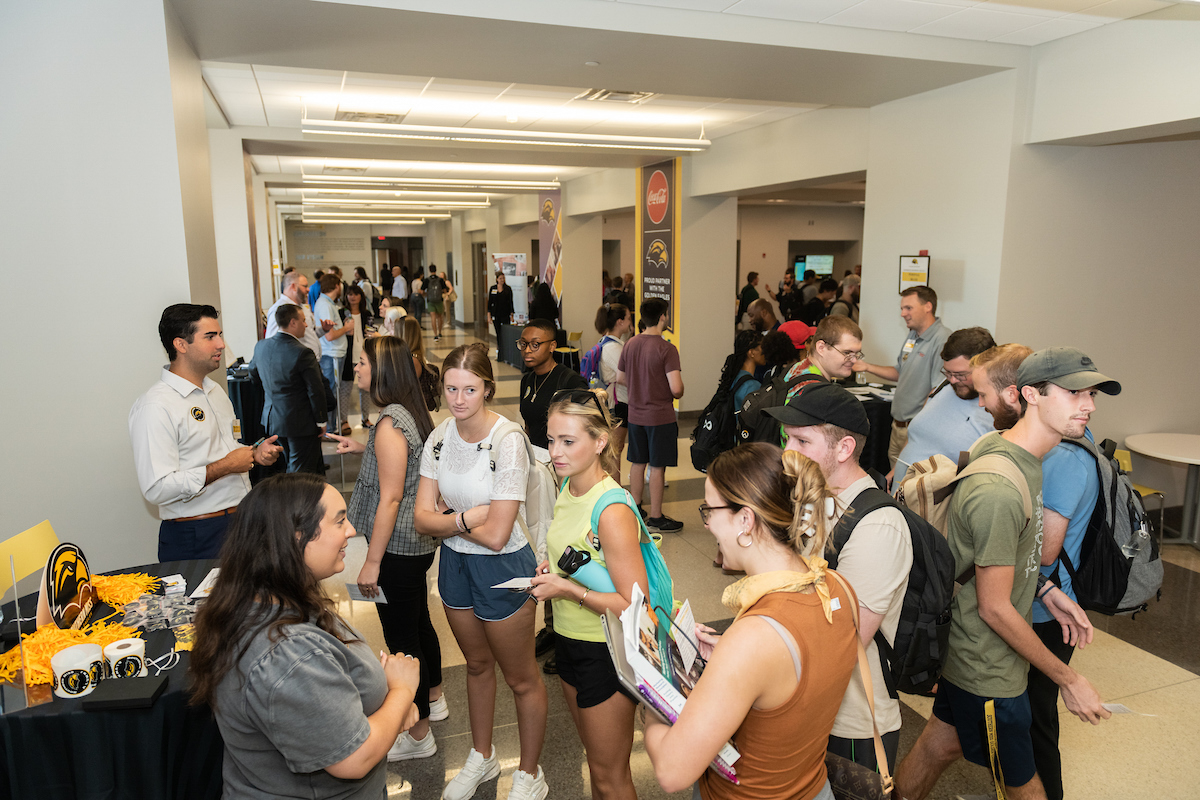 Preparing students for life after graduation remains the overarching theme of "Experience Business Casually" – an increasingly popular networking event hosted by the College of Business and Economic Development at The University of Southern Mississippi (USM).
The informal event fosters conversation between students and executives on topics such as handshakes, dressing for success, communication and social etiquette, interviewing strategies, and more. The fall semester event is set for Sept. 28, from 10:30 a.m. until 1 p.m. at Scianna Hall on the Hattiesburg campus.
Experience Business Casually began in 2014 and sprang from an idea posed by Dr. Faye Gilbert, former Dean of the College of Business and Economic Development. Dr. Amy Yeend, currently the Assistant Dean for Professional Development and Career Success in the college, concedes she was a bit skeptical when asked to organize the inaugural event.
"I couldn't visualize how it would work or why people would participate," she said. "However, the value of the event and how successful it can be was quickly proven to me. With just six discussion stations and a dozen executive volunteers, we had 118 students attend that first year."
Added Yeend, "The number of students and volunteers increases each year. We try to improve the event every year by adding new and relevant topics that will assist in students' professional development. It is now one of our signature events and a favorite with many of our business community partners and students, as well as members of our faculty and staff."
In 2021, the college started hosting the event during the spring semester at the Gulf Park campus in Long Beach.
Yeend notes that Experience Business Casually is open to all USM students, regardless of academic major. Since its inception, the event has drawn more than 1,000 students. Executive representatives from approximately 100 different companies have participated.
For the upcoming event, 19 different topic discussion stations are planned. Currently, 43 executive volunteers from 22 companies are scheduled to participate, with a few more likely to be added. Approximately 200 students are expected to attend.
Yeend points out that Experience Business Casually is held early in the fall semester, so students can practice what they learn throughout the remainder of the academic year. With every passing year, the event's significance amplifies, not only for the College of Business and Economic Development, but for all who participate.
"Experience Business Casually is an important event in the College of Business and Economic Development because it provides our students with the opportunity to build professional skills and connections in a low-stakes, relaxed environment. We are very appreciative of our corporate volunteers who help us provide this great development experience for our students each year," said Dr. Bret Becton, Dean of the College of Business and Economic Development at USM.
Yeend explains that retention of students and creating successful graduates serve as cornerstones of the event.
"We must prepare our students for their careers and life after graduation," she said. "We need to supplement the academic and industry knowledge they gain in the classroom with the skills they need to succeed throughout their careers. It also affects student retention. When students feel better prepared and see how industry professionals value their development, they are more committed and focused in the classroom."
The event also provides an excellent opportunity to cultivate relationships with the University's alumni and the business community.
"It gives our alumni and business community members a chance to give back to the University and engage with students," said Yeend. "These relationships grow the number of internship and career opportunities for our students and long-term support for the college."
To learn more about the Experience Business Casually and the College of Business and Economic Development at USM, call 601.266.4659.