USM's Gulf Coast Research Laboratory Celebrating 75 years of Rich History
Wed, 11/01/2023 - 10:34am | By: Gabriela Shinskie
The humble beginnings of the University of Southern Mississippi's (USM) Gulf Coast Research Laboratory (GCRL) are full of extensive history and fond memories. Nestled 60 miles west of Mobile, Alabama and 90 miles east of New Orleans, Louisiana, the Ocean Springs-based lab is known for its resilience and coastal impact to create a sustainable Gulf Coast.
Dr. Kelly Darnell, director of the GCRL, explained the importance of its location and history.
"GCRL is one of the largest marine labs in the southeast United States," she noted. "The work we do is innovative in answering real-world questions and setting the stage for future research and knowledge."
USM Vice President of Research Dr. Kelly Lucas says the lab is a premier marine and coastal research institution.
"The research conducted at GCRL informs marine policy decisions, including our local seafood regulations and national ocean policy," Dr. Lucas explained. "GCRL scientists routinely match the state investment through extramural grant funding. One of the lab's most notable features is the dedication to marine education for all ages."
GCRL was founded Aug. 29, 1947, later, Mississippi Legislature approved the bill in 1948 making it official. GCRL's first summer session was held at Magnolia State Park, now the Gulf Islands National Seashore. The idea for the lab was to establish a teaching and education laboratory focused on coastal Mississippi and surrounding ecosystems.
Today, GCRL upholds the values needed to continue the same vision and strengthen the blue economy with more than 200 students, faculty, staff. GCRL officially became part of USM in 1988 and has two campuses, Halstead and Cedar Point. Acquired in 1949, the 40-acre Halstead Campus is surrounded by beaches, marshes, and barrier islands; the 224-acre Cedar Point campus was secured in 1995.
Vision for GCRL dates to early 20th century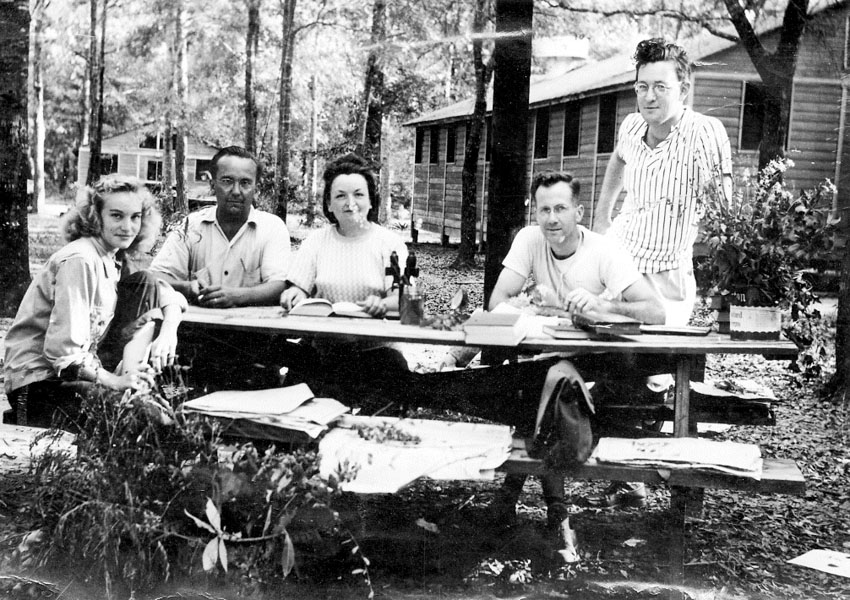 Archives indicate that as early as the 1920s efforts were made to establish a research lab along the coast by bringing students to the area during spring break. A group of researchers at the Mississippi Academy of Sciences actively met to discuss these efforts, visiting the coast on multiple occasions through the 1930s and 1940s to reviews logistics and create a vision of a place to focus on fisheries, marine biology, and coastal research. In 1946 a group of 20 students and the director and founder, Dr. Richard Caylor, launched the idea of GCRL.
Fond Memories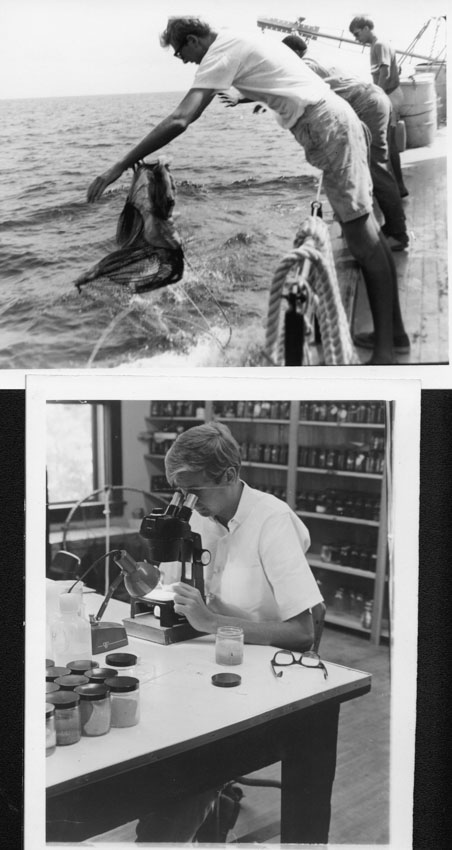 When talking about GCRL to many of its past and current employees, a common theme of nostalgia and persistence floods the conversation. Many of its longest serving employees have memories of student summer camps, undergraduate and graduate work.
Jim Franks began his time at GCRL in the summer of 1963 as an undergraduate student from the University of Tennessee in the summer program courses.
"I came that summer and found a wonderful place here," Franks said. "The teaching staff was tremendous. I think at that time there were about 12 people at the laboratory. It was small, but active. It was a fantastic experience and changed my life."
He returned the next two summers, and in 1965 became a teaching assistant and began his graduate work at the lab; he began his career at the lab in the late 1960s.
Franks is the longest-serving employee at the lab and works in fisheries biology in the Center for Fisheries Research and Development (CFRD) on a research projects. His passion is studying various aspects of fish species along the Mississippi Gulf Coast.
"It (GCRL) had tremendous growth," Franks continued. "It was one of the few marine labs along the Gulf of Mexico. We have a beautiful place here. It's a world-class marine science institution."
Persistence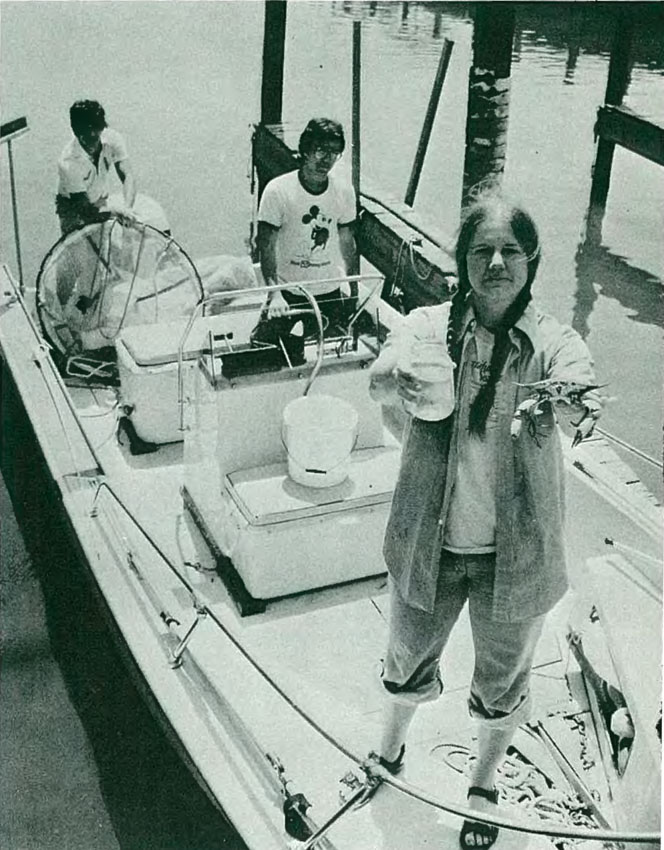 Harriet Perry arrived at GCRL in 1967 as a student in summer field work.
A graduate from Florida State, she was looking for a job, but was at a crossroads when many companies refused to hire women in marine science. Perry's passion for the field motivated her to continue looking for employment.
"They (private sector companies) didn't hire women. It involved a lot of field work, and they didn't think women could do that," Perry said. " I happened to get back to Mississippi and the lab had a project working with plankton samples, so they hired me."
Perry worked on researching blue crabs in the fisheries department. In August of 1969, Category 5 Hurricane Camille was approaching. Perry and her family were too late evacuating the area, so instead, hunkered down in the Oceanography building at GCRL. Camille brought turmoil, destruction and an 18.5-foot surge to the lab. GCRL lost teaching labs, offices, and years of data.
"That was a shock. I remember getting up and seeing a car in the pond and a boat was up in a pine tree," said Perry.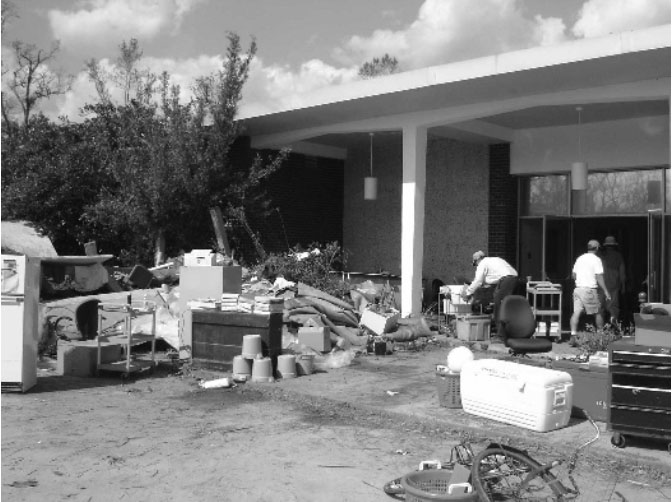 The lab persisted and continued with research and growth. In August 2005, Category 5 Hurricane Katrina made landfall with a 24-foot surge, 3-4 feet of water in buildings bringing damaging floods and destruction to many buildings on the Halstead campus. Recovery took longer.
"Everyone went back to the lab to clean up," Perry recounted. "This was much harder. It was grim."
Persistence was the word repeated when describing the lab during these trying times. Until buildings were rebuilt, research continued in a tent outside. But the GCRL community persisted.
A Vision of the Future
The lab continues its focus on higher education working with local, state, and federal organizations to promote jobs and research in the blue economy with facilities like the Thad Cochran Marine Aquaculture Center (TCMAC), Center for Fisheries and Research and Development (CFRD), the Division of Coastal Sciences, and the Marine Education Center (MEC).
The Thad Cochran Marine Aquaculture Center (TCMAC) is at Cedar Point and was established in 1995. Jackson County supervisors donated 224 acres to expand research efforts for the site. It is now home to the Physical Plant, Marine Education Center (MEC) and labs. Research consists of aquatic health and genetics along with nearshore and offshore aquaculture. The center helps expand seafood supply in the Gulf Coast with modern technology, and through partnerships with local industries.
Dr. Reginald Blaylock, research professor and interim director of the TCMAC, is excited to be a part of the history and advancements of GCRL along the coast.
"TCMAC is honored to continue the tradition of bringing the latest science to bear on culturing marine organisms for use in supporting local fisheries through responsible marine resource management, and economic and workforce development through expansion of commercial marine aquaculture," Dr. Blaylock said.
The CFRD promotes sustainable fisheries and ecosystems through research and partnerships with local, state, and federal entities. A popular initiative is the Cooperative Sport Fish Tag and Release Program, where fishers have tagged and identified species familiar to the Gulf of Mexico in various parts of coastal waters.
The Division of Coastal Sciences enhances students and prepares them for jobs in the blue economy, now with an ABET accreditation in the School of Ocean Science and Engineering (SOSE). Dr. Robert Leaf, director of SOSE, says the lab has been part of the fabric of the research community at USM and is making great strides, providing students with first-class programs.
"The laboratory's impact in fishery science, coastal ecology, aquaculture, and ecosystem and human health continues to have a direct and immediate impact and benefit to the citizens of Mississippi and our regional Blue Economy," said Dr. Leaf.
The MEC holds significant memory with the summer field programs for many students, researchers, and future employers. Today, its programs immerse students into exploration and transform them into aspiring scientists.
Dr. Jessica Kastler, director of the MEC, is proud to a part of the shaping of future scientists and researchers.
"Since its beginning, GCRL has hosted the Summer Field Program to provide transformative undergraduate classes in local environment that have inspired many students to enter marine science, training many scientists who go on to nationally prominent jobs," said Dr. Kastler.
For many, GCRL has become a remarkable place with progression in innovative education. A new oyster hatchery is breaking ground, and valuable opportunities for leaders to become involved along the Gulf Coast abound.
"I'm looking forward to the next 75 years," said Dr. Darnell.
Learn more about the Gulf Coast Research Laboratory and its research into the blue economy.