GCRL Offers Hands-On Summer Internships to Diverse Students
Wed, 06/21/2023 - 11:04am | By: Gabriela Shinskie
The University of Southern Mississippi's (USM) Gulf Coast Research Laboratory (GCRL) gives college students an opportunity for marine science exploration and research during the summer.
Located in Ocean Springs, Miss., GCRL is one of the largest marine laboratories in the Southeast. Although there are many internships that USM offers along the coast, three focus on partnering with Historically Black Colleges and Universities (HBCU) across the region.
The National Oceanic and Atmospheric Administration Ocean Exploration Cooperative Institute (NOAA OECI) is a program striving to build inclusive pathways to institutions, science, research, and exploration while collaborating with HBCU institutions. The OECI internship, allows students to participate in a 10-week all-expenses-paid research experience that focuses on career growth along with hands-on ocean experiences.
The MEC coordinates selection and interactions among 10 interns located at OECI partner institutions across the country. Two of the interns are stationed with USM marine science mentors. The Office of Naval Research (ONR) sponsors a similar, pilot program for three interns from Xavier University to work with scientists in the Division of Marine Sciences located at Stennis Space Center.
Megan Gary, a Marine Education Project Specialist with the OECI internship, said these internships are unique to USM.
"One of the really unique things about the GCRL internship opportunities is they [interns] get to work with leaders in their field and get early hands-on research experience," said Gary, "When you're working with researchers, you get to see what a career in marine science will be. This provides a great opportunity for college students."
Rae Quadara serves as the Internship Program Manager for OECI. She is excited that this internship provides partnerships with Tuskegee University in Tuskegee, Ala., and Jackson State University in Jackson, Miss.
The Minority Science and Engineering Improvement Program (MSEIP) internship is a short-term 3-week learning experience offered in partnership with Alcorn State University. Student interns focus on science, technology, engineering, and math (STEM) retention through learning opportunities early in their programs. The interns are often in their first or second year of college.
"For a lot of students, they may not even realize that Ocean Science is a potential career for them. This allows them to work on their resumes and create an actual hands-on network gives them an opportunity to pursue Ocean Science as a career," said Gary.
"Students are here for research experiences," said Quadara. "They are here for the whole student experiences with the goal of hands-on research with labs, data collection or field experience."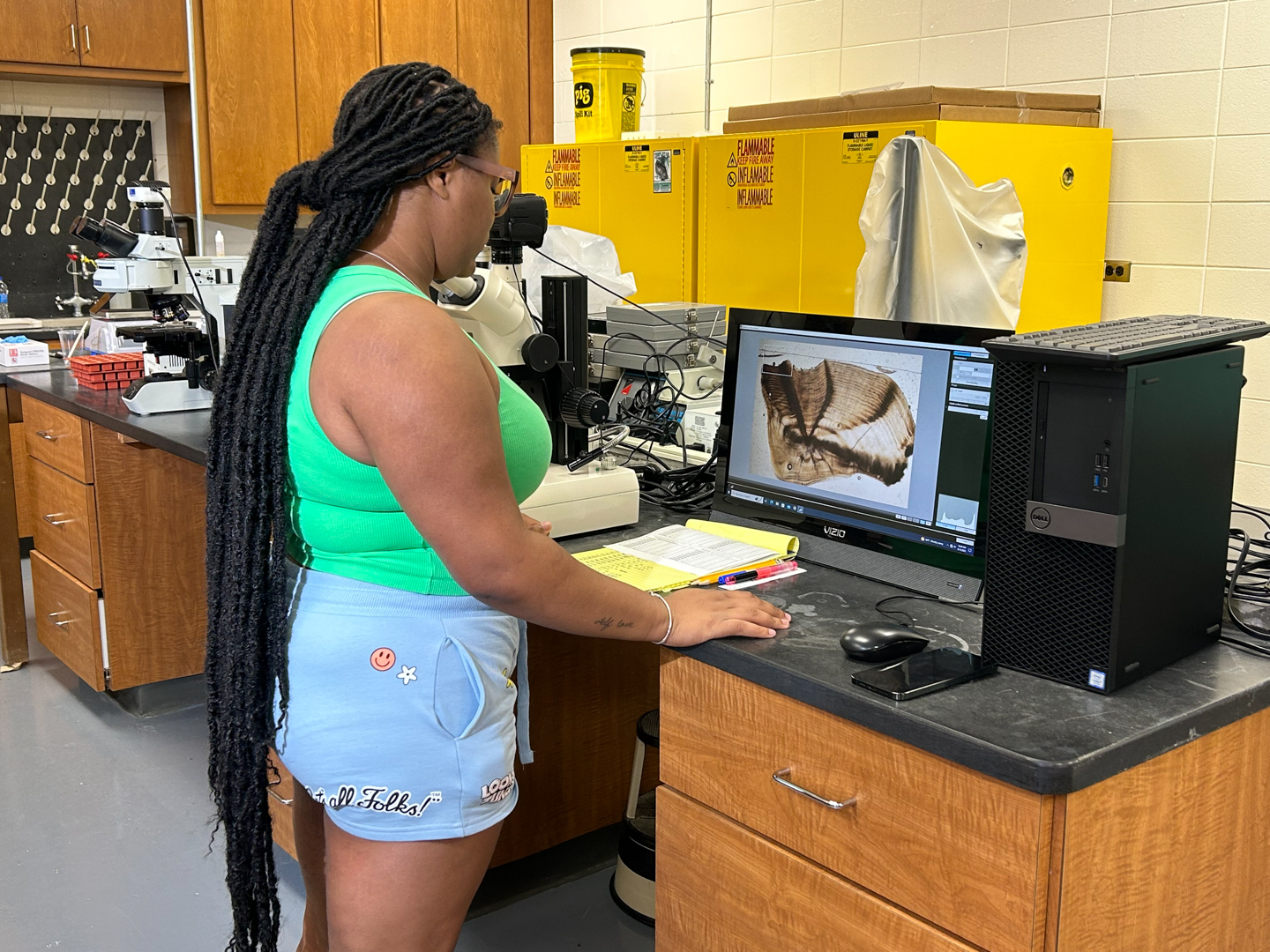 Andjule Davis, an intern from Alcorn State University, is a Chicago native with the MSEIP internship. Davis' major is in animal science at Alcorn State, and she heard about the internship through her college mentor.
"I think this internship will benefit me because it gives me experience with marine animals," said Davis. "I'm not very experienced with that. I've been working on farm animals. I'm from the city so this is a different type of experiment for me."
During her time as an MSEIP intern, Davis worked with USM's Center for Fisheries Research and Development under Director, Jill Hendon. Davis conducted and age and growth study on a popular sport fish, the Black Drum. Her research will help inform stock assessments for this species to ensure they remain at sustainable levels. She says that she is grateful for the MSEIP internship to allow her to experience a new environment along the Gulf Coast.
Through the MSEIP, OECI, and ONR programs, interns are stationed throughout USM's coastal locations including the GCRL, the Stennis Space Center in Kiln, MS, the Marine Research Center in Gulfport, MS, and the Coastal Campus in Long Beach, MS. These locations offer specialized opportunities to work on ocean technology, ecology, biology, or engineering sciences.
These internship programs reflect the trust and relationships Marine Education Center staff members have built with partner organizations to increase inclusivity in the ocean science workforce. They illustrate the MEC's commitment both to communicating the research of Coastal USM ocean scientists and to fostering a sense of belonging for members of under-represented groups entering ocean science careers.
Please visit the GCRL website to learn more about its programs.