USM Fundraising Campaign Exceeds Goal in Record Time
Fri, 11/10/2023 - 02:24pm | By: Megan Burkes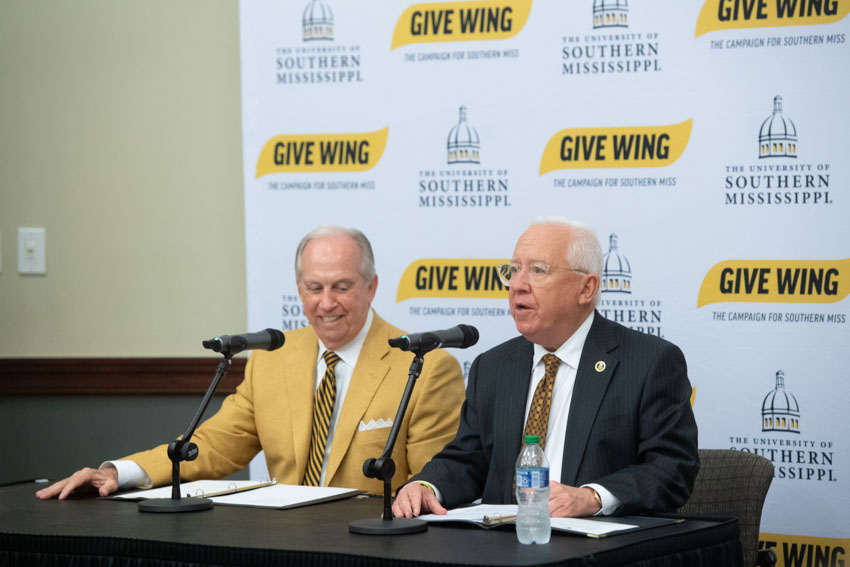 The University of Southern Mississippi (USM) celebrates another storied milestone as Give Wing – The Campaign for Southern Miss has been successfully completed two years ahead of schedule. USM alumni, faculty, staff, and friends collectively committed more than $156 million to support student success, academic excellence, and innovation and discovery during its most ambitious fundraising campaign.
"Give Wing is another example of Southern Miss grit," said University President Joseph S. Paul during an announcement held Friday Nov. 10 on the Hattiesburg campus. "We set audacious goals, pursued them with an uncommon passion and relentless persistence, and reached them in record time. I would like to thank all of our donors for helping us knock through the roof of our campaign goal."
In addition to the remarkable support received, USM is privileged to have invaluable guidance from its Campaign Leadership Council. Each member shares a passionate belief in Southern Miss while recognizing the importance of philanthropy to undergird the University as we continue to trailblaze, innovate and ideate at USM.
"Give Wing is a success on every level. The Golden Eagle family never wavers in their generosity, and they continue that tremendous generosity today. This achievement doesn't come as a surprise; our culture of determination, leadership, and grit drive who we are and map where we are going," said Joe Quinlan '73, chair of the USM Foundation Board of Directors and Give Wing campaign chair.
Student success was the most significant area supported during the campaign, with $124.3 million committed, which includes the establishment of 232 new scholarships. $54 million for endowed student scholarships, when fully matured, will generate over $2 million annually in support of our students.
Donors also gave over $26.8 million to fund programs and more than $21.2 million to transform USM's two campuses and multiple research sites through new facilities and renovations.
One of the pinnacle achievements was the completion of Quinlan-Hammond Hall of Honor, the home of the Center for Military Veterans, Service Members and Families, which was dedicated in early 2022. Named in honor of lead benefactor and USM alumnus, Joe Quinlan and the Center's founding director, Maj. Gen. Jeff Hammond (US Army, Retired) '79, '86, the 5,500-square-foot facility meets the needs and interests of the military-student community at USM.
Several notable achievements have occurred over the life of the campaign and here are just a few:
$112 million was contributed through the USM Foundation.


More than $70 million directly supports the endowment, invested funds that generate a perpetual source of income, which provides long-lasting financial security. The growth of USM's endowment is vital as it signifies our motivation to invest in future generations. A robust endowment is a trademark of an R1 university like ours.
Funding from the Blue Cross & Blue Shield of Mississippi Foundation is enabling us to provide outdoor classrooms and accessible playgrounds for The Children's Center for Communication and Development on both of our campuses.
A robust scholarship endowment for STEM students from disadvantaged backgrounds has been established by Wick and Randall Moorman, along with an endowed academic position to support these scholars.
We've seen a successful start for an initiative to endow the de Grummond Children's Literature Collection Curatorship.
During the pandemic, endowed support for and the naming of the Public Health program was committed by Drs. Geoff and Marcia Hartwig to honor its founder, the late Dr. Lynn Cook Hartwig.
$44 million was contributed through the Southern Miss Athletic Foundation during this campaign for scholarships and support for student-athletes.


Circle of Champions membership has grown to over 200 members.

Eagle Club memberships are at an all-time high topping over 2,800 members this year.
Athletic facility enhancements include:

Pete Taylor Park upgrades
The completion of the Bower Academic Center
Volleyball and beach volleyball facilities
M. Roberts Stadium improvements
A new golf facility
Other Notable Statistics:
Campaign Timeline: April 2018 to October 2023
Total amount raised: $156,170,884
Total number of gifts: 131,877
Total number of donors: 19,545
Total number of gifts of $1 million or more: 23
Of the $156.2 million:

$118.7 million was contributed through outright gifts.
$37.5 million comes from planned gifts, where a donor contributes a major gift after their lifetime through their estate planning.
Founded in 1959, the USM Foundation is a non-profit organization committed to serving the University community by overseeing fundraising efforts to raise private support for scholarships and other academic needs at Southern Miss. The Foundation manages donor dollars to provide the most advanced educational opportunities available to students, faculty, staff, alumni and friends of Southern Miss.
Find out more information on supporting The University of Southern Mississippi.