USM Graduate Students Honored with Hall of Fame Portrait Unveiling
Tue, 04/11/2023 - 08:53am | By: Van Arnold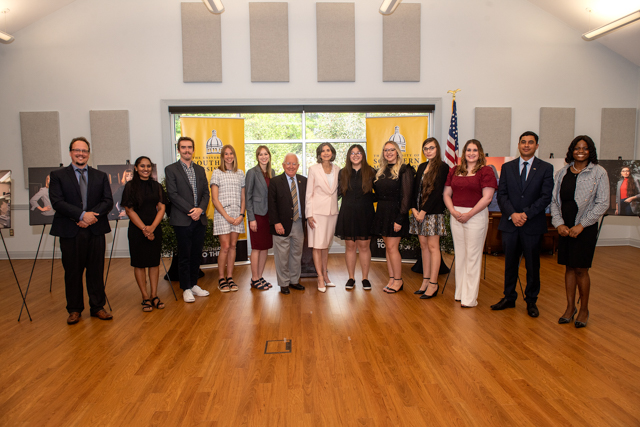 Eleven graduate students at The University of Southern Mississippi (USM) received special recognition earlier this month with the unveiling of their portraits in the Graduate Student Hall of Fame.
Since its inception in 2015, a total of 109 inductees have been honored with portraits in the Hall of Fame. Dr. Karen S. Coats, Dean of USM's Graduate School, notes that the research and creative activities of graduate students are essential to the University maintaining its Carnegie R1 designation.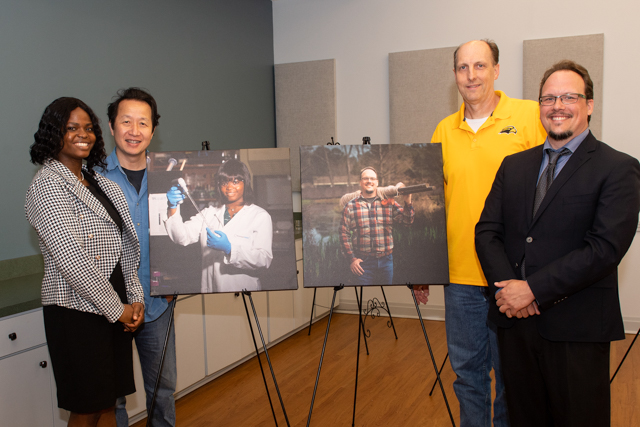 "They are an asset to Southern Miss, and it is important to recognize their contributions," said Coats. "Our students have very diverse backgrounds, interests, and accomplishments. The Graduate Student Hall of Fame provides a way to not only honor our most impressive students, but also to showcase their diverse research and creative accomplishments by photographing the students in their unique work environment and displaying those portraits for a complete year in the Graduate School."
Inductees are based upon selections made from deans of USM colleges: Arts and Sciences, Business and Economic Development, Education and Human Sciences, and Nursing and Health Professions.
The 2023 honorees include:
Tolulope Ayo, a native of Osun State, Nigeria, who is pursuing a Ph.D. in biological sciences. Her research is focused on the elucidation of the mechanisms that underlie tumor necrosis release from mast cells. Ayo's faculty advisor is Dr. Hao Xu.
Jose Barboza, a native of Chiclayo, Peru, who is pursuing a master's degree in economic development. His project involves an economic impact analysis of Mississippi Wildlife State Parks. Barboza's faculty advisor is Dr. Chad Miller.
Nicole Caulfield, a native of Hackensack, N.J., who is pursuing a Ph.D. in psychology (clinical). Her research explores the relationship between trauma, dissociation, and suicide, and she is focused on using new technology, such as virtual reality, to allow for a more comprehensive approach to understanding these complex relationships. Caulfield's faculty advisor is Dr. Daniel Capron.
Mary Christensen, a native of Phoenix, Ariz., is pursuing a Ph.D. in English (creative writing). Her research considers the intersections of contemporary indigenous literatures, elegy, and hybridity. Christensen's faculty advisor is Dr. Adam Clay.
Laura Hailey, a native of Louisville, Miss., is pursing a Doctor of Nursing Practice (nurse anesthesia). Her research project is titled: "An Objective Structured Clinical Examination for Pediatric Inhalation Inducted and Nasotracheal Intubation." Hailey's faculty advisor is Dr. Michong Rayborn.
Emilee Hoang, a native of Hattiesburg, Miss., is pursuing a Master of Business Administration and Master of Sport Management. Her research involves the field of athletic development and understanding how culture, mental health, player performance, and personal/college life affect student-athletes. Hoang's faculty advisor is Dr. Jamye Foster.
Ashley Jones, a native of Peoria, Ariz., is pursuing a Ph.D. in psychology (counseling). Her research focuses on exploring ways that technology (like videoconferencing and apps) can be used to meet the needs of people who are involved in the justice system and live in rural areas or otherwise have reduced access to high quality treatment or assessment services. Jones' faculty advisor is Dr. Craig A. Warlick.
Lindsey Legg, a native of Fort Walton Beach, Fla., is pursuing a master's degree in kinesiology (exercise science). Her research centers around understanding the how and the why behind the way the body moves in relation to its environment. Legg's faculty advisor is Dr. Tanner Thorsen.
Mark Robertson, a native of Pensacola, Fla., is pursuing a Ph.D. in polymer science and engineering. His research is focused on understanding how polymers move at a molecular level and using that understanding to elevate commonplace polymers into highly functioning materials. Robertson's faculty advisor is Dr. Zhe Qiang.
Sahithya Sakhamuri, a native of Guntur, Andhra Pradesh, India, is pursuing a Master of Public Health (epidemiology and biostatistics). She is working on a study titled, "Okla Achukma," aimed at determining the effectiveness of a holistic intervention to enhance health outcomes and program engagement among Native Americans. Sakhamuri's faculty advisor is Dr. Hwanseok Choi.
Loren Stearman, a native of Stillwater, Okla., is pursuing at Ph.D. in biological sciences. He studies freshwater fishes to learn how ecosystems respond to and recover from change. His research has focused on understanding how processes of landscape evolution, which fundamentally alter stream habitats, have affected stream fish ecological communities at multiple spatial scales. Stearman's faculty advisor is Dr. Jake Schaefer.
To learn more about the USM Graduate School visit their website or call 601.266.4639.