Green Recipient of IHL's Excellence in Diversity Inclusion Award
Wed, 03/08/2023 - 09:11am | By: David Tisdale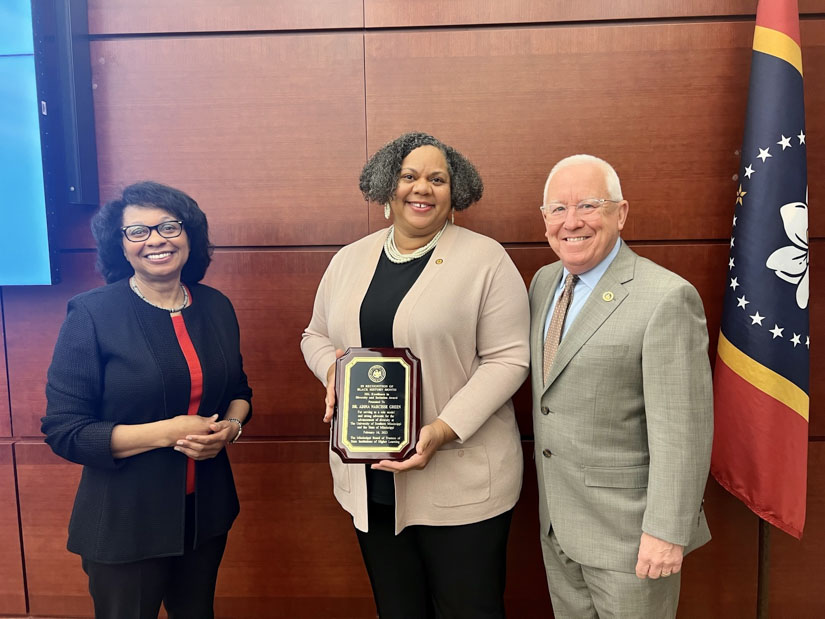 Mississippi Institutions of Higher Learning (IHL) Trustee Dr. Ormella Cummings, left, chair of the Board of Trustees' Diversity Committee, with Dr. Adina Green, center, USM's recipient of the IHL's 2023 Excellence in Diversity and Inclusion Award, and USM President Dr. Joseph S. Paul.
Dr. Adina Green, director of The University of Southern Mississippi's (USM) TRIO-Student Support Services Program, was honored in February by the Mississippi Board of Trustees of the State Institutions of Higher Learning (IHL) as the USM recipient of its Excellence in Diversity and Inclusion Award.
Dr. Green, a New Orleans native who has been with USM since 1998, received the recognition during the IHL's annual Diversity and Inclusion Awards ceremony, where campus and community leaders from across the state were recognized for efforts to advance diversity and encourage understanding and respect.
"I'm extremely humbled and honored to be recognized by Southern Miss and IHL in the area of diversity and inclusion," Dr. Green said. "I believe that I am only one among many who could have been nominated for this award, as Southern Miss is fortunate to have many faculty and staff members who are champions for diversity, equity, and inclusion.
"Establishing an authentic warm, welcoming, and inclusive environment in which all feel a sense of belonging, familial representation, and an ability to thrive is the inspiration for embracing the practice of diversity and inclusion. It is incredibly important that inclusivity is woven into the fabric of higher education in the community, curriculum, and at every turn."
Dr. Green holds a master's degree in counseling psychology and a Ph.D. in higher education administration from USM. As director of TRIO-Student Support Services, she is responsible for the leadership, organization, planning, implementation, review, and analysis of the TRIO-SSS grant, a five-year grant funded by the Department of Education for more than $1.5 million. In this role, Dr. Green also leads a team of professional and student staff who provide resources to increase the academic success, retention, and graduation rates of students who are first-generation or income-eligible, or who have a disability.
Along with her work with TRIO-Student Support Services, Dr. Green serves as a faculty fellow for the Luckyday Scholars Program; is an adjunct professor for Interdisciplinary Studies and Professional Development and an ACUE fellow micro-credentialed in Inclusive Teaching and Equitable Learning; a Green Dot Trainer and Certified Strengths Coach; and member of the university's Sexual Harassment Investigative Panel.
Dr. Green has also served on multiple committees over the years, including the University Pillars Task Force and the Office of Diversity, Equity, and Inclusion's Mission and Mission Statement Committee. She is a member of the Gold Leaf Society, an inductee of the Fraternity and Sorority Life Hall of Fame, and has received university and regional-level recognition for her service as advisor to USM's Iota Kappa Chapter of Alpha Kappa Alpha Sorority, Inc.
She is the proud mother of Jourdan Green, who received a Bachelor of Arts degree in psychology from USM in May of 2021 and was inducted in the university's Student Hall of Fame.
"Dr. Adina Green has advanced diversity, equity, and inclusion at The University of Southern Mississippi for over 24 years," said Dr. Joseph S. Paul, University President. "From her time as the University's first Minority Affairs Coordinator, to her years supporting countless students on their path to degree completion, to her decades spent mentoring underrepresented female high school students, Dr. Green's impact is truly immeasurable both at Southern Miss and throughout the community."