USM, Louisiana Governor's Office Set to Host Human Trafficking Symposium
Wed, 05/03/2023 - 09:07am | By: Van Arnold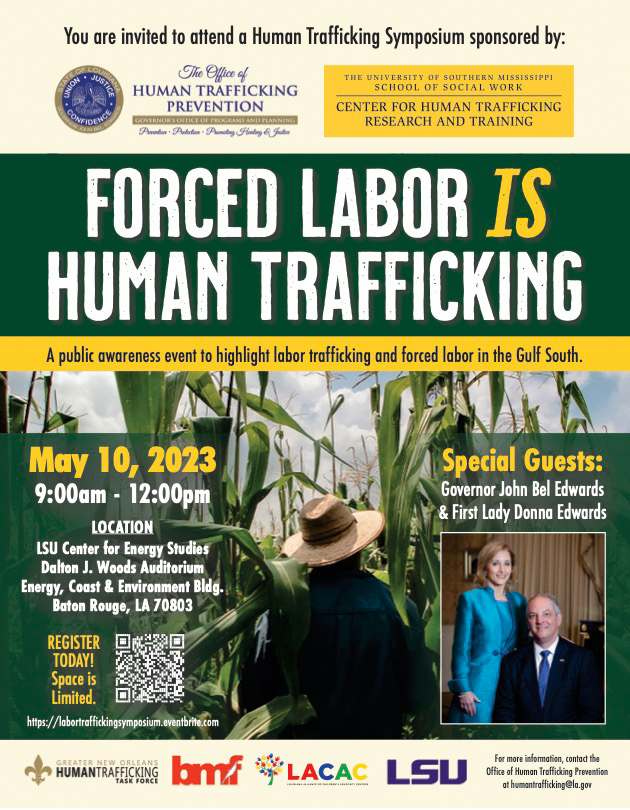 Labor trafficking and forced labor in the Gulf South region will be the primary focus of a special human trafficking symposium set for May 10 at the Louisiana State University Center for Energy Studies, Dalton J. Woods Auditorium on the Baton Rouge campus.
The symposium, scheduled for 9 a.m. until noon, is being sponsored by The University of Southern Mississippi's (USM) Center for Human Trafficking Research and Training (CHRT), and The Office of Human Trafficking Prevention in Louisiana Gov. John Bel Edwards' Office of Programs and Planning.
The symposium, titled, "Forced Labor is Human Trafficking," features national speakers, survivors, and other special guests, including Gov. Edwards and First Lady Donna Edwards. The event is free, but space is limited. Visit the registration page for more information.
Gov. Edwards expressed gratitude to Mississippi Gov. Tate Reeves and First Lady Elee Reeves for collaborating across both party and state lines to raise awareness about the horrors of human trafficking and collaborate on solutions to end the heinous crime.
"In 2021, they joined my wife Donna and me for the launch of Louisiana's first statewide public awareness campaign, and First Lady Elle Reeves is also an active member of Donna's National Coalition for the Prevention of Human Sex Trafficking," said Edwards. "Human trafficking can happen in any state or community, and if we are going to bring these perpetrators to justice, we must continue leveraging resources and working with our neighbors. Donna is a proud alumna of The University of Southern Mississippi, so we are especially excited that their Center for Human Trafficking Research and Training is partnering with our Office of Human Trafficking to host such an important conversation."
Dr. Kimberly Hogan, assistant professor in the School of Social Work at USM, points out that in the United States labor trafficking is overshadowed by sex trafficking.
"Labor trafficking thrives in the shadows of legitimate work, and current human trafficking stakeholders, including our community members, have minimal knowledge and training," said Hogan. "This symposium will bring together representatives from Mississippi and Louisiana, researchers, law enforcement, social service providers, community advocacy groups, and lived-experience experts who will provide their first-hand accounts of being victims of labor trafficking."
Hogan co-founded the USM Center in 2022 along with Dr. Tamara Hurst, assistant professor in the School of Social Work. CHRT is an interdisciplinary collaboration of researchers, trafficking survivors, and students who participate in the collection, analysis, and evaluation of human trafficking data from Mississippi's state and local agencies.
In January 2022 Gov. Edwards' office announced Louisiana's first Human Trafficking Prevention Resource Center and advocacy campaign. Through these efforts, victims, survivors, service providers, stakeholders and citizens will be able to learn about human trafficking, how to identify when someone needs help, how to report this heinous crime and about more specific services for victims.
Soon thereafter, First Lady Edwards established a national coalition for the prevention of human sex trafficking that includes eight first spouses who have committed to using their platforms to educate the public as well. They include: First Lady Cecilia Abbott of Texas; First Lady Susan Hutchinson of Arkansas; First Lady Marty Kemp of Georgia; First Lady Tracey Quillen-Carney of Delaware; First Lady Elee Reeves of Mississippi; First Lady Britainy Beshear of Kentucky; First Lady MK Pritzker of Illinois, and First Lady Donna Lombardo of Nevada.
Dr. Dana Hunter, executive director of the Louisiana Governor's Office of Human Trafficking Prevention, explains that the collective impact of collaborating with other states and multiple disciplines to address the issue of human trafficking can never be underestimated.
"As we do so, we close in the gaps and create increased opportunities for victims and survivors to be identified and rescued. We are so thankful for (Mississippi) Sec. of State Michael Watson's participation and USM's Center for Human Trafficking Research and Training for co-hosting such an important event with the Louisiana Governor's Office," said Hunter.
Hogan emphasizes that the significance of shining a spotlight on human trafficking issues is long overdue.
"What we know is that victims of human trafficking (sex and labor) often cross state lines. Therefore, it is essential that we work across state lines to build partnerships to serve victims and survivors the best that we can. It is time we begin this important conversation to elevate and bring to light the realities of forced labor in the Gulf South," said Hogan.