USM Business Student Wins International Sales Competition
Mon, 04/10/2023 - 01:58pm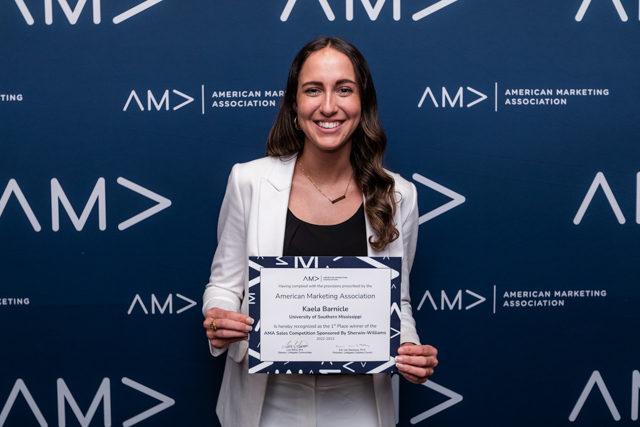 Kaela Barnicle, a senior healthcare marketing major in The University of Southern Mississippi's College of Business and Economic Development, claimed first-place honors at the American Marketing Association (AMA Sales Competition in New Orleans this spring.
AMA hosted its annual International Collegiate Conference (ICC) where hundreds of business students network, workshop, and compete in a variety of competitions.
The 2023 Sales Competition, sponsored by Sherwin-Williams, provided 60 sales students a platform to showcase their sales and communications skills. Waitlisted competitors came from university sales programs across the United States and included representation from Canada and the Caribbean.
Barnicle made it past the first round, uncovering buyer's needs and overcoming objections in 10 minutes to present a customized pitch in the final round. Only 18 students advanced to the final round where eight judges observed each sales performance. Utilizing her sales prowess, researched product knowledge, and unrelenting persistence, Barnicle clenched the top spot against competitors from recognized sales programs.
"As the current president of The American Marketing Association Chapter at USM, I was excited to just attend this conference with fellow classmates," said Barnicle. "However, the opportunity to be among the 60 students in the sales competition was even more exciting. The hard work and hours spent in our sales lab in Scianna Hall have gotten me this far.
Added Barnicle: "Since my first competition last fall, I have grown with the sales program, and I believe this win is a direct reflection of time, effort, and steadfastness by myself and the professors who coached me to this point. The Southern Miss Professional Sales Program has been a great addition to my degree, and I am grateful to be a part of it."
"Since the CBED Professional Sales Program began attending competitions in fall 2022, Kaela has been an active team player," noted her sales coach and USM marketing faculty Mr. Kevin Buckley. "She showed up to class sales roleplays and other collegiate competitions fully prepared. Listening to past judges and [her coach], Kaela took both positive and negative feedback to heart and mind, committing to the many hours of practice to fine tune her trade."
Buckley continued, "This competition placement at AMA you're seeing now is a culmination of all her past efforts and what I consider the true embodiment of Southern Miss grit."
Barnicle will graduate in May with her BSBA degree in healthcare marketing and undergraduate certificate in professional sales. She plans to pursue her MBA at Southern Miss with the end goal of working in medical device sales.
Sales students incur minimal costs to attend competitions thanks to sales program sponsors. Sponsors for 2022-2023 included Cintas, Jones Logistics, and Fastenal.
For more details on the professional sales undergraduate certificate, competing at collegiate sales challenges, or learning about the program, visit the LinkedIn website or email Kevin Buckley at Kevin.BuckleyFREEMississippi.
AMA ICC Details can be found here.